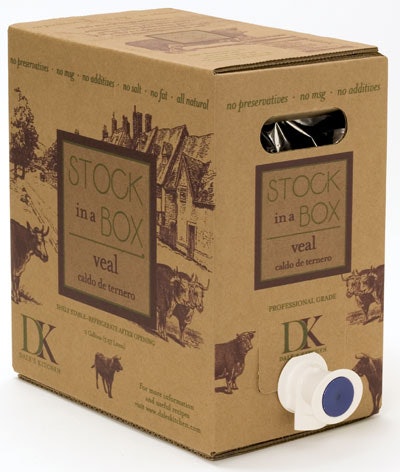 Dale's Kitchen is among the first to commercialize a new kind of dispensing fitment called the Fresh Flow Tap™. The patented device, from International Dispensing Corp., ensures aseptically packaged bag-in-box products maintain their sterility even after opening because of its one-way flow design.
The Fresh Flow Tap fitment consists of five parts: body, silicon seal, actuator, check valve, and breakaway ring for tamper evidence. There's also a small, pressure-sensitive seal over the flow orifice.
At Dale's Kitchen, Basalt, CO, a start-up venture co-founded by chef and restaurateur Charles Dale, a three-product BIB line of premium stocks called Stock in a Box will debut in October. The 2-gal BIB yields 64 4-oz servings of the stocks, which are used in restaurants as a base for soups and other foods. Thanks to aseptic technology, the premium stocks are formulated without added salt or preservatives such as monosodium glutamate. That's huge, according to Dale.
"Most of the stocks available today are products of food science, which real chefs shy away from," he says.
"Food science," Dale explains, refers to stocks, particularly reduced pastes, that are often full of sodium and other additives. "There are aseptic products that are billed as wholesome, but they are actually made from reduced pastes."
Dale also notes other stocks are frozen and must be reconstituted. "For my palate, there is a difference when you reconstitute with water compared to a product's natural form."
Dale wants to offer quality product made by chefs for chefs. The Fresh Flow valve permits him to do so.
"This is a symbiotic relationship of product and packaging that addresses convenience, safety, shelf stability, cost savings, and product quality," says Dale.
The products will have at least a six-month unopened shelf life at ambient conditions and another 30 days once opened, according to Dale.
"Product that's been opened in my refrigerator for 60 days is still fine," he adds.
Dale was considering permitting users to keep the product at ambient temperature after opening due to the barrier afforded by the Fresh Flow Tap, but decided that widely varying kitchen conditions could affect the product quality. "Kitchen temperatures can go to 100 degrees plus, so we felt it was better for product flavor profile to keep it refrigerated," Dale says.
The contract packaging will be done by Gehl's Guernsey Farms Germantown, WI, using a DuPont Liquid Packaging Systems, Liqui-Box filler modified to fill the high-barrier bags through a separate tap. The barrier bags, made of 48-ga metallized polyester, are supplied by DuPont Liqui-Box with the tap already heat sealed in place.
"Gehl's also feels strongly that the tap is going to revolutionize foodservice products," states Dale.
Box graphics, designed by Aspen Graphics, are color-coded thematically by product: vegetarian, chicken, veal. The products will be priced near $35 (veal), $20 (chicken), or under $20 (vegetable), respectively.
Dale, who has studied architecture, calls the tap an elegant solution. "It's an extraordinary example of form and function," he opines. "It's aesthetic and compact, yet large and solid enough to withstand the rigors of constant use." In tests, the valve has maintained sterility through 750 dispensings.
The Fresh Flow Tap earned packaging technology recognition in 2003 from the Flexible Packaging Association.
See the story that goes with this sidebar: Aseptic and ESL packaging keeps evolving
Companies in this article
Videos from Universal Labeling Systems, Inc.