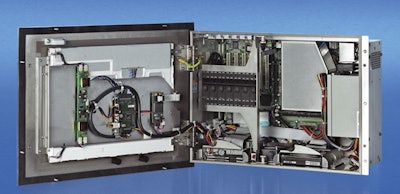 When a major cereal maker looked for a way to reinvent bag-in-box packaging, they turned to the Aagard Group for a servo-centric solution. Aagard responded with a 36-axis side-seam gluer/cartoner/case packer/palletizer that, says Aagard's Brent Smith, occupies about a sixth of the floor space and costs about half of what might have been required for a more traditional solution. Fed by two baggers, the new system cranks out 120 cartons/min.
"Counting the smart-belt infeed, it's five unit operations in one frame," says Smith. "We can ship the complete unit—cartoner, case packer, palletizer—in a sea container that has an 8' x 8' opening. And because it's all on one frame, we can install this system and get it into production in about a tenth of the time it might take with more conventional approaches."
The traditional bag-in-box system opens a knocked-down carton that has a pre-sealed manufacturer's joint, puts the blank in a flighted conveyor, and then pushes a bag of cereal into the carton. But the patent-applied-for Aagard system uses flat carton blanks that have an unsealed manufacturer's joint. Cereal bags are fed into a bucket, the carton is formed around the bucket, and the bucket is then pulled out.
All 36 axes of motion are driven by Bosch Rexroth servo motors and drives. A single Beckhoff PC controls the whole works. The same PC handles logic and motion.
"From the PC we have a PCI card with two fiber optic cables coming out of it," says Smith. "Those two fiber optic cables connect the PC to the motion/machine control world. We run SERCOS I/O as well as SERCOS drives. It makes for a really simple, clean, quick installation.
"Is that Windows-based Pentium PC as robust as a PLC? No, but that's largely because the PLC doesn't have Windows on it. Let's face it, anytime you have an operating system that's Windows-based, people can load programs into it. How could that ever be as stable as that black box of a PLC over there? But the gap in robustness has gotten a lot smaller."
To address any residual concerns this particular customer might have about what might be called the "robustness" issue, Aagard provided, for $3꽤, a backup PC with all the same software pre-loaded. Should it ever be needed, says Smith, it shouldn't take more than 10 minutes to plug it in and resume packing.
"It's four bolts, a few cables, and you're back up and running," he adds.
Companies in this article