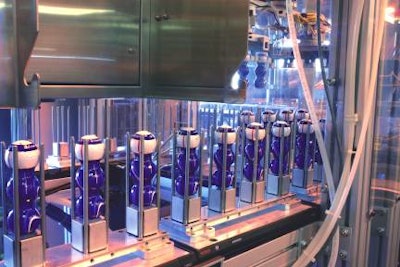 Chicago-based Wilson Sporting Goods is one of the few golf ball manufacturers to package golf balls in three-count shrink sleeves rather than traditional three-count folding cartons. The material costs two to three times less than folding cartons, and inventorying thousands of flat labels on rollstock has inventory advantages compared to stocking paperboard cartons. Besides, Wilson marketers believe that golfers respond to the novel look and feel of the brightly printed film once they open the telescoping paperboard box that serves as secondary packaging.
From 2002 until early 2004, the Humboldt, TN, packaging operation behind Wilson's shrink-sleeved golf balls was largely a manual one. Five operators were required to package four dozen balls/min. But in 2004, an automated system was installed. On this line, 13 dozen balls per minute is the typical rate, and the number of operators has been reduced to four.
Key contributors to the automated solution include Handling Systems, Inc., a distributor of packaging equipment, and Industrial Design and Fabrication, a systems integrator and builder of custom industrial machinery. Handling Systems' DeWayne McKinney suggested that a Bosch Rexroth system of work pallets moving on a closed-loop conveyor could be used to tie together empty sleeve handling, ball insertion into sleeves, heat shrinking of sleeves, and discharge of shrink-sleeved balls. Doug Sellers, then senior manufacturing engineer at the Humboldt plant, liked the idea.
"I knew the Bosch Rexroth line had modular components readily available, which meant we wouldn't have to spend time or capital seeking a completely customized solution," says Sellers, who recently left his position at Wilson. So Sellers, McKinney, and Industrial Design and Fabrication got together and designed an automated system around a Rexroth TSplus conveyor. Forming a rectangular circuit measuring about 12' x 3', the conveyor transports aluminum pallets measuring 160 mm x 400 mm (6.30" x 15.75"). Up to 14 pallets can be moving through the closed-loop system at a time. A Rockwell PLC controls the system and keeps everything synchronized.
Each pallet holds four stations and each station holds one film sleeve. The first stop along the closed-loop conveyor track is an EZ-100 automatic sleeve inserter from Axon. Taking flat, 2-mil, high-impact polyvinyl chloride shrink film from a roll, the machine forms the film into a tube and then cuts individual shrink sleeves in register from the tube, dropping each sleeve into a station on the Bosch pallet.
Golf ball loading
After a retro-reflective beam sensor from Banner checks to make sure that each station has a sleeve properly inserted, the pallet moves forward to a golf ball loading machine custom made by Industrial Design and Fabrication. It stores balls in four long columns. When four sleeves arrive on their aluminum pallet, a sensor detects their arrival and signals a pneumatic release lever in each column to let three balls drop into the waiting sleeves.
A tamp device checks to make sure the proper number of balls is in each sleeve. Then the pallet passes through a two-stage, 48" long Axon heat tunnel that shrinks the film down tight. Exiting the shrink tunnel, the aluminum pallets arrive at the final stop on their rectangular journey: a pick-and-place system that was also supplied by Industrial Design and Fabrication.
"It has two robotic hands," says Sellers. "Each picks four sleeves from a pallet and releases them down a chute that leads to a manual pack-off station." Here, operators manually load either four or five sleeves into a styrene tray that sits in the bottom half of a telescoping paperboard box. Balls, tray, and box bottom run through a Kallfass shrink wrapper, and then the paperboard box top is placed on by hand.
Compact conveyor system
Plant manager Gary Staggs appreciates the Rexroth system's ability to transfer pallets at a right angle. "It's one of the things that makes this conveyor system so unique," he adds. Sellers is equally impressed. "The pallets are nearly sixteen inches long," he points out. "If you had to send them around a turn, the radius of that turn would require a lot of floor space."
Two different Rexroth conveyor models are used in the rectangular circuit. The long sides of the system are 160-mm-wide BS2/K transverse conveyors. Motors are outboard mounted, and they drive pallets with a tooth-belt drive.
On the short sides of the rectangle are EQ2/T tandem-lift conveyors that use a pneumatic lift cylinder to transfer pallets onto or off of the BS2/K conveyors. In addition to transferring pallets between the two long sections, one of the two EQ2/T conveyors also is responsible for positioning the pallet to receive golf balls and the other is responsible for positioning the packaged balls for removal by the end effector of the robotic pick-and-place system.
Sellers and Staggs are not the only engineers who appreciate the modularity of the Rexroth conveyors. Brian Travis at Industrial Design and Fabrication, the lead engineer whose job it was to tie the automated system together, says that the wide range of choices available in the Rexroth portfolio made it easier for him to configure the conveyor system to the needs of the project rather than adapt the system to fit the shortcomings of the conveyor components.
The resulting system, says Sellers, is just what was required. "It runs 24/7 without any glitches," he adds.
Companies in this article