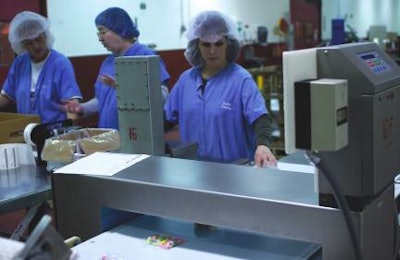 At the Monroe, WI, bakery plant of mail-order catalog house Swiss Colony, metal detectors play a key role in quality control. As Mark Peterson, Swiss Colony's food operations senior manager, puts it, "They're the backbone of our HACCP [Hazard Analysis Critical Control Points] program."
A total of eight metal detectors are deployed at Swiss Colony, four from Loma Systems and four from Cintex; Cintex was purchased in 2004 by Loma Systems' parent company. All eight metal detectors are belted conveyor models. One is installed as a permanent in-line system, while the rest are portable.
"We must be able to quickly react to a very dynamic production schedule," says Peterson. "For that reason, most of our metal detection systems are interchangeable."
They also have to be capable of withstanding thorough washdown. Because Swiss Colony has more than 2ꯠ SKUs in production, the metal detectors come in contact with a broad range of ingredients, from chocolate to mints to peanuts. Should an ingredient migrate inadvertently into a product it doesn't belong in, consumers may be exposed to food they are allergic to. The washdown capabilities built into all eight metal detectors prevent this kind of cross contamination from occurring.
Yet it's important that performance integrity not be jeopardized by the frequent washdown. To validate performance, metal detectors are tested every hour with 3-mm ferrous and non-ferrous strips and a 5-mm stainless steel strip. Additionally, every four hours they are tested with 2-mm ferrous and non-ferrous strips and a 2.5-mm stainless steel strip to ensure the units are properly calibrated.
The metal detectors also have to be flexible enough to accommodate the varying characteristics of a 2ꯠ SKU line.
"The densities of our different product lines can vary greatly. The equipment has to have the flexibility to give us the quick changeover we require and to accommodate detecting through a variety of product densities," Peterson says.
A key feature in the Cintex units is their ability to automatically adjust sensitivity levels in line with production variations and to automatically recalibrate for new products. Each Cintex metal detector is equipped with Autocheck, a system that constantly monitors the performance of every electronic circuit and provides diagnostic information relating to any fault or reduction in sensitivity that may occur.
On the Loma Systems side, the Loma IQ 2 metal detector offers greater reliability with fewer components. The unit incorporates technological software advances that only require one chip to perform functions that formerly required seven. Multiple boards and separate power supply units have been eliminated with the power supply being integrated into one control board.
Such technology, says Peterson, makes an important contribution to operational efficiency at Swiss Colony. But just as important, he points out, is the "outstanding" service he receives from Loma/Cintex.
"It's given us the confidence to place another order with them," he adds.
—Pat Reynolds
Companies in this article