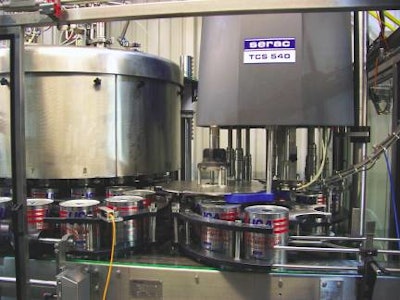 New at ARC-Diversified in the last 18 months are a filling line for edible oil, two mechatronically advanced vertical form/fill/seal machines, and a new bulk sack system for 50-lb multiwall paper sacks.
Located in Cookeville, TN, ARC-Diversified is a wholly-owned subsidiary of the Advocacy and Resource Corp., an agency dedicated to meeting the employment and social service needs of individuals and families in Tennessee's Upper Cumberland region. Some of the firm's manufacturing involves contract packaging for a variety of commercial accounts, though much of what it packs is sold to various feeding programs of the U.S. government, programs implemented in places like Afghanistan, Iraq, and Africa.
About 80% of the people working at the Cookeville plant have some type of physical or mental disability. That doesn't prevent them from supplying what the USDA recently described as "high-quality products in quality packages delivered on a timely basis."
The new line for edible oil is anchored by a Serac 16-head net weigh filler and eight-head capper. The monobloc system goes a long way toward helping ARC-Diversified meet a significant increase in demand for its oil.
"The new filler is dedicated to four-liter, center-fill, steel cans," says production manager Jerry Butler. "For other package formats or sizes that we fill in smaller volumes, we can continue using the fillers we've had here for some time. But the only way to meet demand for the high-volume 4-L cans was by installing this new filler."
Accuracy of the new filler is rated at plus or minus 0.1%. "Accuracy of fill was a big concern as we considered machinery alternatives," he continues. "Speed was important, too, and at 107 cans/min, we're pleased with what we have."
Downstream equipment
Newly installed downstream equipment helps the firm keep up with the new filler, which is fed by a depalletizing system that was moved from another part of the Cookeville plant. Single-file cans are metered into the Serac Model R16E8/1080 rotary filler by a feedscrew/starwheel combination. Another starwheel exchange takes bottles to the eight-station rotary capper, which is fed from an overhead hopper. The plug-style caps are simply pushed into the 35-mm center-fill openings.
Exiting the capper, cans convey past a Videojet ink-jet coder that marks them with contract number and code date. Then a spiral conveyor from Multi-Conveyor elevates the cans from nearly floor level up to the level of the case packer infeed conveyor. The drop packer, which loads six cans per case two cases at a time, was supplied by Hamrick.
"We had an older machine from Hamrick, and we liked it," says Butler. "This new one has a vacuum-assist feature that holds the 12 cans to soften the impact as they're dropped. That helps prevent denting and reduces the risk of any sudden shock or impact causing the cap to come out."
Cases are erected by hand but glued shut with hot melt glue by a Wexxar case closer. Just ahead of the Wexxar unit is an ink-jet coder from Kiwi that puts contract number and date on the side of each case. Immediately downstream from the Wexxar machine, an elevator takes cases up to an overhead level and then to the infeed of a VonGal palletizer.
"We used to palletize by hand," says Butler. "These cases are just too heavy for that."
A Lantech stretch wrapper brings the line to an end. "It keeps up not only with the Serac line but also with the output of an in-line filler that we sometimes use for these 4-L cans during peak production periods," says Butler.
Capabilities like these are what enabled the firm to produce more than 80 million pounds of oil in the 4-L format last year.
Mechatronic magic
In a completely separate room at ARC-Diversified are packaging lines for powdered bakery mixes and instant milks. Some of these are packaged in #10 cans, others on vertical form/fill/seal machines, and still others on a bulk bag system.
All five of the vf/f/s baggers running at ARC-Diversified were supplied by Rovema. The two most recent arrivals, a Model VPK-260 and a VVI-200, represent significant advances in controls technology, or, as it is often called today, mechatronics.
The newly installed VPK-260 features ControlLogix from Rockwell, an integrated controls solution that lets one controller handle both logic and motion. Both VPK-260s installed previously at the plant relied on a more conventional controls architecture in which a PLC handles sequential functions—i.e., logic—and a motion controller handles motion.
"This new controls architecture represents an important advancement in terms of reduced parts and ease of supportability," says Travis Holley of Rovema. "Since there is only one controller for the machine, there is less wiring. All motion and logic functions are handled by the ControlLogix system, so there is no need to wire a communications link between separate motion and logic controllers.
"From a support standpoint a key advantage is that you no longer have one software program for the PLC and another for the motion controller. There's one program. And because it's IEC 61131-3-compliant, no special programming language is required. More people can support such a system."
Complementing the Rockwell controller is a SERCOS fiber-optic bus that carries all digital communications to the five servo drives connected to the five servo motors responsible for the following axes of motion: cross-seal jaws, two film-feed belts, zipper material infeed, and film index for zipper placement on the film.
"The SERCOS bus delivers more than just position data," says Holley. "There's a phenomenal array of drive and motor status information that helps a lot in maintenance and troubleshooting."
Motorized forming set
At a nearby ARC-Diversified facility that's also in Cookeville, another Rovema bagger, the VVI-200, also benefits from Rockwell's ControlLogix integrated logic/motion solution. But while the VPK system is a continuous-motion machine, the VVI-200 is intermittent. Also setting it apart is a patented bag-forming set that is adjustable at the push of a button. So when the production schedule calls for a new bag size, there's no need for mechanical removal of one forming set and installation of another. Instead, the operator goes to the HMI panel and dials in the new bag size. The patented motorized forming set, connected to the ControlLogix controller by an absolute feedback device, moves to whatever position parameters the new bag size requires.
ARC-Diversified is the first Rovema customer to install a VVI-200. "The versatility we gain in this machine is really helpful," says Butler. "We can go from a 40-g bag to a 1-lb bag at the push of a button. It can be done in minutes."
Butler adds that the machine has two motorized forming sets. One is for a range of bags from about 23¼4" to 5" in height; the other is for bags from 51¼2' to 11" in height.
Additional versatility comes from the orientation of the jaw set, which is rotated 90 degrees from the position typically found in most conventional vf/f/s systems. This makes it possible to produce three- or four-side-sealed bags.
Butler is especially pleased that, despite its ability to produce so many different bag sizes and formats, the machine's footprint is still very small. Speeds are good, too, he adds. "It runs at 120 cycles/min."
Companies in this article
Videos from Universal Labeling Systems, Inc.