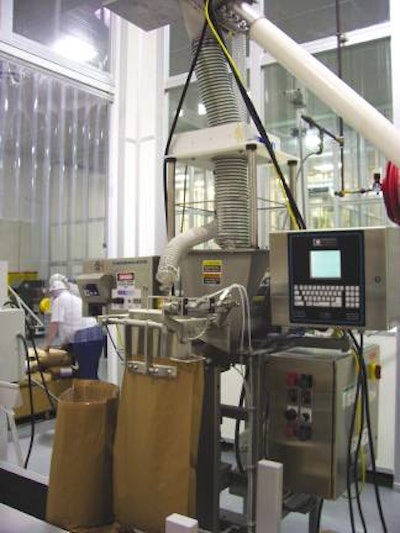 Flexible auger fillers from Flexicon are used on all three vf/f/s baggers at ARC-Diversified to get powdered product from floor-level hoppers up to the overhead auger fillers that feed directly into the baggers.
The newest Flexicon system to be installed feeds a multiwall paper sack filler from Chantland Co..
"We used to use a stand-alone auger filler and we would place the bags on a scale beside it to weigh them," says Butler. "Now we're weighing as we fill. It lets us do about four bags per minute instead of one."
The 50-lb bags produced on the Chantland system run through a Lock metal detector and then through a bag gluing system that was brought in from another part of the plant.
See the story that goes with this sidebar: ARC upgrades in oil and powder
Companies in this article