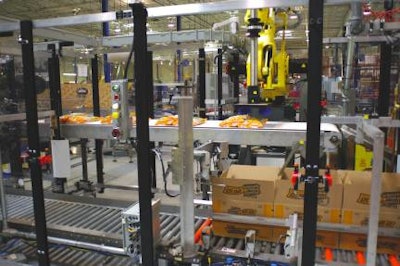 When ready-to eat (RTE) cold cereal producer Malt-O-Meal Inc. was planning its new production and packaging facility in Tremonton, UT, the management knew it wanted to include robotic case-packing operations. The Northfield, MN-based firm understands and values the importance of robotics in delivering packaging efficiencies, and it had already established good working relationships and experience with Fanuc, a major robotics specialist; Rockwell Automation, a leading programmable logic controls expert; and Langen Packaging, a packaging line integrator with expertise in bag packaging and cartoning solutions. So it was a natural decision to turn to these suppliers for assistance in equipping the new plant.
Malt-O-Meal was very familiar with the high-performance benefits of Fanuc robotics, which it uses as the basis for its palletizing operations at the Northfield plant. For the Utah installation, the cereal processor opted for the new Fanuc Model M-420i A, a smaller version in its line of palletizing robots.
According to Keith Setterstrom, packaging project manager for Malt-O-Meal, the new system offers the same top-notch reliability, flexibility, and easy-changeover characteristics as other Fanuc robotics, but Malt-O-Meal prefers the compactness of the M-420i A for application in Tremonton. From the outset, the plan was to install multiple case-packing systems on the plant floor over a period of time, beginning in late 2003. The most recent installations were done in March 2005. The compactness of the M-420i A has facilitated these multiple installations.
From the start of the project, engineers from Langen Packaging were on site to help integrate and custom-fit bagging, cartoning, collating, in-feeding, handling, and case-packing systems and electronic components. Keith Setterstrom notes, "We've had a long-term relationship with Langen–about 20 years. They have a very strong engineering group, are keenly customer-oriented, and provide excellent training programs for equipment operation and maintenance. The systems Langen has provided to us are built to last–which is crucial because we run our packaging lines around the clock, 24/7."
Malt-O-Meal packages its own branded varieties of extruded puffed, flaked, and sheeted RTE cold cereals, as well as private label products, in oriented polypropylene bags or in bag-in-box packages. Package volumes range from 6-oz up to 46-oz, depending on product variety and package type. Each line can run 6 to 8 package sizes and usually can be changed over in less than 15 minutes.
Case-packaging patterns also can be quickly changed over, a capability that Malt-O-Meal requires to ensure optimum production line utilization and up-time. The entire bag packaging operation is controlled through an Allen-Bradley touch-screen panel-view from Rockwell. Each new pack pattern is selected via a recipe screen, which automatically sets most packaging parameters.
Setterstrom points out, "Langen systems integration engineers helped us achieve the flexibility we need to run and direct one or two infeeds at a time to accommodate different bag sizes and pack patterns."
The robotic case-packing system ensures gentle handling of the cereal packages–using suction cups to pick and place the bags into the shipping cases. Depending on product and case-pack pattern, typical casing speeds are approximately 140 bags or bags-in-boxes per minute.
Malt-O-Meal is pleased with its case-packing choices for the new Utah plant, citing good value, reliable performance, sound engineering, and changeover flexibility as the most important attributes addressing the plant's needs.
Companies in this article