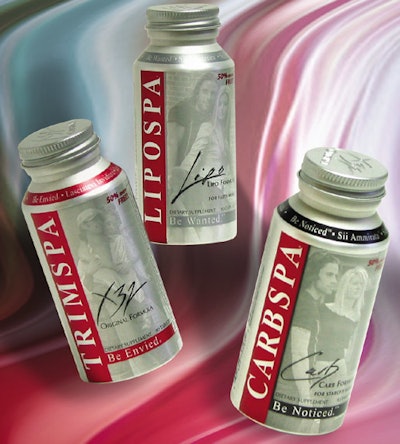 Packagers today are applying brand protection and package security tactics that were just ideas only 12 months earlier. And they are using multiple levels of security to deliver the protection they need.
Package security is getting more complex because counterfeiters themselves are getting more sophisticated. One consultant quipped that 10% of the people at any package security conference are counterfeiters trying to stay abreast of the latest technologies. The answer to smarter counterfeiters, say several experts, is to use multiple tactics at multiple levels.
One core tactic is to make it hard for counterfeiters to duplicate the container. One packaging format that works in this scenario is the shaped can. The latest example of a company using this tactic is TrimSpa Inc., Cedar Knolls, NJ, with a proprietary shaped can (shown left) for its TrimSpa, LipoSpa, and CarbSpa brands of weight loss supplements.
The company is using an aluminum can with a sloped shoulder and a screw-top closure. This proprietary design raises hurdles for anyone trying to copy it. And, according to the company, the shape allows it to pursue legal action against any "knock offs" that get too close to the brand's trade dress.
The first step
"The first step toward security that any packager has to take is to determine exactly what threats are out there," says Mike Kelley, president of Packaging Integrations LLC, a consultancy in Hollis, NH. "The question you have to ask is, 'What kind of security problem do you have?'"
The answer usually focuses on four issues, Kelley continues, "The first is tamper evidence. Number two is theft, and that is where you get into the Sensormatic and Checkpoint tags. Then you have counterfeiting, where you want to assure that the product is authentic. Is it the real deal, or am I being knocked off? And the fourth is diversion—the product is the real deal, but it is not going through the right distribution channels."
When a packager has identified its specific problems, Kelley believes the company needs to decide whether the solution should be overt or covert. Overt strategies—visible indicators—include tactics such as holographic tags on licensed merchandise. The realm of covert methods includes "hidden" printing, taggants, and other technologies.
"The final step in the strategy is: How are you going to police it," Kelley continues. "Is it going to be your own field sales force? Is it going to be an outside agency?"
An example of a multi-level anti-counterfeiting method comes from Paradigm Solutions, LLC, Deerfield Beach, FL. The company is a consultant and supplier of security techniques. Its primary tactic is a type of hidden printing.
The system relies on software to manipulate pre-press files so that hidden words or symbols are embedded in dot patterns on printed packages. They require a special lenticular lens to reveal them.
Refined use of lenticular lenses
The most familiar uses of lenticular lenses are for promotional or display packaging where they create 3D images or motion when the lens is moved. The effects result from both special printing and the lens. Paradigm Solutions refines that technology so that when the printing is viewed through a proprietary lenticular lens, hidden symbols appear. Without the lens, package graphics appear normal.
One plus for the system is cost—prepress work and printing are done exactly as they are done for a conventional package. Added costs are in manipulating pre-press files and the Paradigm Solutions' licensing fee. The lenticular lenses used to verify the packaging are relatively inexpensive compared to other verification techniques.
"We look at employing this approach on multiple packaging components," explains Alan Tonks, president of Paradigm Solutions. "We can print it in regular inks on a primary package, and then we can print in a UV or fluorescent ink. If a counterfeiter is sophisticated enough to use a 'black light' to inspect the package, he would see the UV ink one way, but with the lenticular lens—which he doesn't have—the image looks different."
The concept of hidden printing could be applied to the shippers holding primary packages where sealing tape might carry hidden messages. It could go onto security seals for either primary packages or cartons.
Attention to detail
Anti-counterfeiting tactics rely on close attention to detail.
One example involves taggants in inks and the idea of applying those inks on package code dates. Taggants are substances that are unique and deliberately added to the package. DNA-based taggants are one example. If they are detected in an ink, they verify that the package came from the original manufacturer.
The details lie in assuring that the right ink is on the right package. Details also lie in assuring a chain of custody from the ink supplier to the point where the code is put on a package. If custody cannot be controlled, then a counterfeiter could get the ink as it passes through the distribution chain.
The concept of using coding ink with taggants will be a reality. Already, the thermal ink-jet hardware to accomplish that is being installed on one blister packaging machine destined for a pharmaceutical manufacturer, giving the machine's user the capability of using security inks in code dates.
Inks would go into HP 42-mL thermal ink-jet cartridges. They might include UV or infrared pigments. With the proper lighting directed onto a package with the code date on it, the inks would verify a package's "pedigree." Forensic taggants such as DNA or biological materials in the inks provide further evidence that the package came from the original manufacturer.
Packagers need to closely manage the process. First, they have to monitor production operations to assure the right ink goes on the right package. A common scenario for drug products is that they may be packaged by a contract packager who runs product from company A one day and from company B the next. The need is to assure that the right ink cartridge is used on the right package.
One technique, according to Mike Shaw of Nutec Systems, Inc., Lawrenceville, NJ, is to use ink cartridges with radio frequency identification (RFID) tags on them. "By embedding an RFID tag into the ink cartridge, you can establish a chain of custody along its path, and you can verify that the right cartridge is in the coder at the right time," Shaw says. His company is a provider of digital thermal ink-jet solutions with HP technology.
Each RFID tag has a unique electronic serial number. With that ID, a counterfeiter could not switch a cartridge holding ordinary ink for a cartridge holding security ink because the ID would "flag" the bogus cartridge.
In addition, the unique ID also functions on the packaging line. There, a reader and the printer software detect the cartridge number and match it with the run setup record to assure the right cartridge is being used. If a line operator leaves the cartridge from a previous run in the printer, the controller reads the ID and alerts the operator that the wrong cartridge is in place.
The concept of putting the ink with taggant on the code date follows a strategy outlined by several security consultants. They suggest adding security features as close to the end of the packager's operation as possible. In doing that, a packager has greater control over security features and eliminates the possibility that a feature is compromised at a converter's facility.
Another emerging security tactic is infrared (IR) ink. It adds a level of sophistication beyond UV inks and requires more sophisticated reading equipment. And, it can be "buried" in packaging components rather than just surface printed on components such as case-sealing tapes. IR creates a heat signature and it can be read through packaging materials such as paper and label films.
RFID and drugs
A looming security initiative for U.S. pharmaceutical packagers is the goal of the Food and Drug Administration (FDA) to use RFID as a track-and-trace mechanism. FDA's target date to have tags on drug packages is 2007, and progress by the drug industry indicates that target is realistic.
Projects underway include Pfizer's effort to put RFID tags on 30- and 100-count bottles of Viagra. The company also expects to put tags on shippers for the product, and its target is to do both by the end of this year.
Pfizer started in late 2004, saying "Viagra is one of the most recognizable and counterfeited medicines in the United States." The company's plan to add RFID tags to bottles is part of a multi-layer strategy. Pfizer will add color-shifting inks to package graphics, and it is implementing bar coding and other tools to make it more difficult for counterfeiters to duplicate packages.
Pfizer spokesperson Bryant Haskins says, "We are on track to put RFID tags on Viagra by the end of the year. We are still working on the infrastructure, so we have not put any tags on bottles yet. And we have not been able to do any testing in distribution channels because we haven't had tagged bottles."
Pfizer looks at two levels of tagging. On bottles themselves, Pfizer plans to use high-frequency (13.56 MHz) tags. On shippers, Pfizer expects to use UHF chips at 915 MHz.
According to Pfizer, that scenario appeals to major players in the distribution chain. First, it appeals to retail pharmacies who would read bottles at relatively short ranges. Second, it addresses needs of wholesalers who need to read cases at longer ranges.
Purdue Pharma, Stamford, CT, is another company committed to RFID. Since the end of 2004, it's been tagging 100-tablet bottles of prescription pain reliever OxyContin. Purdue's strategy also calls for tags on bottles of Palladone, another Class II narcotic. Purdue's actions let it meet Wal-Mart's strategy for tagging on Class II drugs. It enabled the company to participate in a pilot program run by the H.D. Smith Wholesale Drug Co.; the Springfield, IL, pharmaceutical distributor initiated its pilot program in mid-2004.
OxyContin, according to Purdue, does not have a big problem with counterfeiting, but it is the target of pharmacy thefts. The Purdue program also put hand-held RFID scanners in the hands of law enforcement groups to help solve theft cases by helping to track bottles.
The status of Pfizer and Perdue Pharma indicate just where the pharmaceutical industry is today—ramping up for an RFID tracking system. Drug companies are in the early stages of putting RFID tags on packages, and their partners—retail pharmacies and wholesale distributors—are in a similar mode.
"There is a lot of planning going on right now at the retail pharmacy level. There are going to be pilots in the next six months," says Liz Churchill of Symbol Technologies Inc., Holtsville, NY. The company supplies readers and RFID chips and increased its role in the RFID arena last year when it acquired Matrics Inc.
Churchill says the tagging has moved to the point where packagers are putting tags on packages on their packaging lines. "Label converters are putting tags on the back of labels so packagers can put them on with their regular labeling equipment." Converters are also attacking the issue of read rates on tags and some are offering guarantees of 100% good tags.
Packagers are moving along the "learning curve" and starting to read tags on individual bottles at line speeds of 120 bottles/min. Churchill believes packagers are doing that successfully. The keys to doing that include using the right readers to interrogate tags. Churchill says units from Northern Apex, Ft. Wayne, IN., and Franwell, Plant City, FL, are in pharmaceutical plants, distribution centers and retail pharmacies.
One pilot underway involves H.D. Smith, which has extended its test program to include one retail pharmacy equipped with scanners. The test program, centered on a Springfield, IL, distribution center, involves putting on RFID tags by hand. According to industry sources, this test is "working quite well. They are getting very good reads with UHF tags."
Another tagging program is the Wal-Mart initiative to put RFID tags on cases of Class II pharmaceuticals. Several sources say UHF tags are being put on cases by drug companies and shipped to Wal-Mart. However, "there are indications that Wal-Mart's timetable has relaxed," says one observer.
An issue yet to be resolved is the frequency used for RFID tags. Right now, EPC Global, the organization leading the way toward industry-driven standards for RFID systems, is developing requirements.
"A standard frequency has not been picked," says Churchill, who is on the EPG Global committee assessing frequency. "People are looking at ultra-high, high-, and low-frequency chips. Each has plusses and minuses."
Bill Arnold of Omron Electronics, Schaumburg, IL, concurs that a standard has yet to be established. "The high-frequency being investigated is 13.56 MHz, and the UHF is in the 902 to 928 MHz range," Arnold says. "In the drug world, once you get things certified it gets really difficult to change. But nothing is close to being certified right now." Omron is a supplier of both tags and readers.
While implementation projects focus on the nitty-gritty details of getting RFID to work as a security method, consultants caution packagers not to lose track of the overall objectives.
"Have an end in mind," offers Jamie Hintlain, a partner at Accenture. The consulting firm headed a consortium that evaluated RFID potential in what is called the "Jump Start" program. It assessed the distribution-chain RFID program for drugs.
"Packagers need to have a core operating scenario," he explains. "What are their objectives? It should be to have a safe, secure and efficient distribution system. Another point is to have a collaborative approach in developing the model; don't be the only one in the supply chain. Finally, start in a small manageable way. Develop the learnings. Then, scale up."
The consensus of the managers interviewed by Packaging World is that there are ample technical answers for anti-counterfeiting and packaging security. The biggest challenge may be picking the right ones for a company and then managing them for best outcome.
Companies in this article