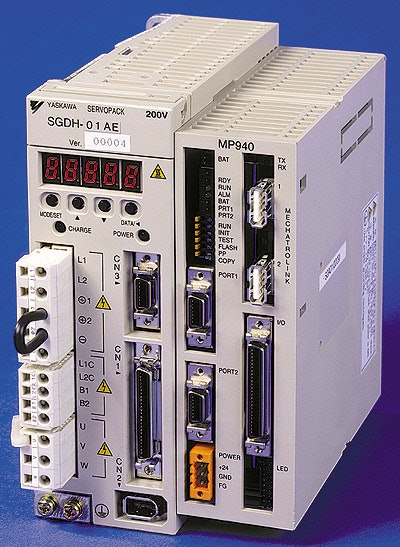 When packaging machinery OEM Kliklok-Woodman modernized its Compak II vertical bag maker with servo-driven as opposed to mechanically linked film advance, it selected an "off-the-shelf" controls package from Yaskawa.
"In the past we would have relied on a proprietary controls platform developed here in house," explains Kliklok-Woodman vice president Ross Long. "But we've come to realize that we can get better motion control and higher machine reliability with the new-generation controls package from Yaskawa." The servo-based Compak II became available in 2005.
The most space-efficient and economical in K-W's range of bag makers, the Compak II has a top speed of 80 bags/min. Only one axis of motion is servo-driven: the film-draw carriage that reciprocates up and down to pull film through the machine. Closing and opening of the sealing jaw is pneumatically actuated.
The Yaskawa package consists of an MP-940 machine controller and a Sigma 2 servo motor plus servo drive. Two cables run from the drive to the motor: one for encoder feedback and one for power. The MP-940 governs both logic and motion.
"By making this a servo-driven axis of motion, we no longer need to make a mechanical adjustment to change to a new bag length setting," says Long. "We do it at the touch-screen of the HMI panel."
Long also points out that because servo control yields tighter tolerances, the downward stroke of the film-advance mechanism can be "profiled" at a slower speed than the return upward stroke. This produces less stress on the material, improves sealing dwell time, and produces a better overall package, says Long.
The move to a Yaskawa controls package on the Compak II follows a similar move by K-W on two other vertical baggers it manufactures. By standardizing on the same family of controllers and servos for all three baggers, K-W gains the advantages inherent in continuity of controls technology across a range of machines, including simplified programming. And because it's an off-the-shelf automation solution rather than a proprietary one, spare parts and product support are easily accessed by K-W customers around the world, says Long. "Any Yaskawa distributor has whatever controls components our customers need," he adds.
Companies in this article