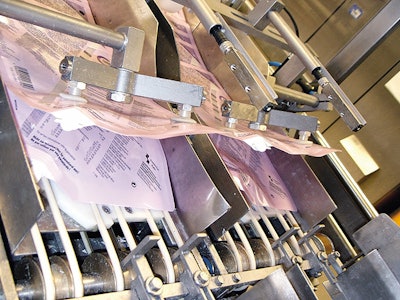 Pouch material is PET/SiOX/polypropylene, which gives the product a one-year shelf life. That's more than enough since the pouches are distributed only through the professional health care chain, not through retailers.
Filling starts with a rotary pouch filler that sits in an overpressured clean room. Premade spouted pouches are hand-loaded onto twin infeed conveyors that bring the pouches forward in a shingled format. Vacuum grippers pick pouches and advance them to a point where mechanized grippers can grab them.
These grippers take the pouches through seven stations arranged around the periphery of the rotary machine: mechanical open, air blast to further open, fill, fill, fill, ultrasonic seal, heat seal. The heat sealing done at the end is simply to eliminate the small crevice that is formed above the ultrasonic seal, a crevice that could collect dust were it not eliminated. Pouches move past an Imaje ink-jet coder that imprints the shelf life and lot code on each pouch. The ink is black when applied but turns blue after the pouches have been retorted. It's one of several measures used to make sure there's never confusion about whether a pouch has or has not been retorted.
Pouches drop from the pouch filler onto a discharge conveyor equipped with an Optima checkweigher. The pouches then exit the overpressured filling room by way of an incline conveyor that leads to a sophisticated and highly automated retort room.
In the first operation, pouches are automatically layered on plastic reusable trays. These trays are then stacked eleven-high for transport along a rail system to whichever of five retort vessels is available. After approximately an hour in the retort vessel, the stacks of trays exit along the same rail system and move to a station that removes pouches one layer at a time by vacuum pickup cups and places them on a flat belt conveyor. This feeds a right-angle takeway conveyor that brings pouches in a single file out of the retort room and into case packing and palletizing.
See the story that goes with this sidebar: Servos and robotics solve pouch-packing challenge
Companies in this article