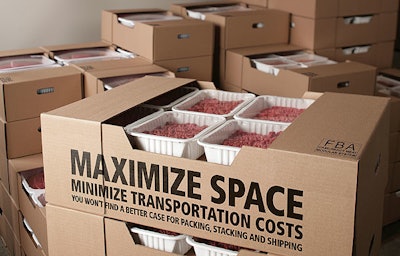 In-store butchers who cut and wrap cuts of fresh meat in the back room are still common enough in America's supermarkets. But more and more grocers are turning to case-ready meat that is processed and packaged at a central facility and delivered to the store ready to be put directly into the meat case. A teenage stockboy can take unit packs from a master shipper and put them on display without ever requiring a butcher, who not only is expensive but also increasingly hard to find today.
"Think of the amount of space that's needed for preparation, especially if you have a meat-cutting operation within the body of the store," says Mike Hranicka, vice president of sales at Pactiv, producer of specialty packaging products. "You're going to have a lot of area that's going to have to hold inventory, equipment for cutting meat, tons of costs. When you go case-ready, all that area can now be retrofitted and used for merchandising space."
As is so often the case lately with advancements in distribution technology, much of the case-ready meat market is being driven by Wal-Mart, which sells only case-ready meat in its more than 1귔 Supercenters and 67 neighborhood markets across the country. The company estimates that it handles about 16 percent of all groceries sold in the U.S.
"Case-ready offers a variety of customer benefits, including leak-proof packaging and enhanced quality control, because the product leaves a federally inspected plant in a sealed package that isn't opened until the customer takes the product home," explains Karen Burk, a Wal-Mart spokesperson. "It also offers an improved ability to keep meat products consistently in-stock for our customers."
Centralizing the labor costs of preparing meat is a significant cost savings across the board. But it also offers advantages from a safety standpoint because the centralized plant has to have USDA inspection and must establish reliable processes and controls to provide the safest product possible.
"Compare that to 100 supermarkets where the backrooms and meat rooms are producing products under widely different circumstances," says Frank Basil, North American sales manager at Exact Equipment, maker of automatic stretch-wrapping machines. "Probably one of the biggest things that will drive case-ready is the idea that the supermarkets would love to be able to transfer the liability from their own markets and backrooms to the big distributors of the world."
Case-ready is attractive to meat marketers because it presents a branding opportunity, and they'd like to brand everything they can. But it's important that this branding issue be negotiated carefully with the supermarket chain, because they're pretty fond of seeing packs with their own store label.
"The retailers really are different," says Chris Hodges, vice president of fresh pork at Farmland Foods, based in Kansas City. "They have lots of different strategies and approaches to the marketplace. Our approach has always been to customize and tailor programs to their requirements."
The oxygen issue
The problem with meat is that from the moment the animal is butchered it begins to decay. But while some decay is beneficial—research shows that beef cuts reach ideal maturation after 21 days, for example—both the safety and aesthetic issues pose a challenge to the meat supply chain.
The main culprit is oxygen, the element that makes red meat "bloom" with the red color that consumers are accustomed to seeing. Oxygen is also a cause of bacteria growth, which affects color, taste, and shelf life. Temperature and packaging can also impact the rate of bacteria growth, but essentially if the meat can be kept from oxygen it can stay fresher longer.
Those who package case-ready meat can cope with the oxygen issue in several ways. The modified-atmosphere approach is probably most familiar to American consumers. Typically, MAP involves the use of a conventional non-barrier tray and lidding for each unit pack. The packs are placed in a master bag made of gas-barrier materials, and this bag is evacuated and back-flushed with carbon dioxide and nitrogen before being sealed shut. Carbon dioxide is typically used for its ability to retard bacteria growth; nitrogen, an inert gas, is often added as a filler.
As long as the master pack is unopened and refrigeration is maintained, shelf life is in the range of 30 days. In the store, meat department personnel open the six- or eight- or ten-count master packs as needed and put the unit packs on display. Once removed from the back-flushed barrier bag, the packs behave like fresh meat prepared in the back room and must be sold in a matter of days.
But this method has its own challenges. For instance, it relies on store personnel to open the master bag at the right time. Additionally, it's difficult to remove all the oxygen from the package.
To address this problem, packagers use oxygen "scavengers" or "sorbents" that essentially suck all the oxygen out of a sealed package. These packets can drop the oxygen level down to 100 parts per million within a few hours, and to virtually zero in a day. The faster the oxygen can be removed, the better for the meat—but larger scavengers are of course more expensive.
In the U.S., oxygen scavengers are most often hidden from consumers, either in the master pack in the back room, or on the underside of the branding label in the form of a self-adhesive pack. In parts of Asia, however, customers actually look for the sorbent inside the package, and won't buy the meat if the sachet is not readily visible.
The high-oxygen approach
While minimizing oxygen is the key for some meat marketers, others use a high-oxygen atmosphere in the packaging. The idea is to overload the meat with oxygen so it can't oxidize, at least not right away. The meat is red—and salable—throughout the distribution cycle; but once oxidation begins, usually after 10-15 days, it happens quickly.
The high-oxygen method has been used for the past decade in Europe, especially with poultry and ground meats, but it's getting more attention in the U.S. lately.
High-oxygen meat often finds its way into a deep plastic tray rather than a foam tray, with a sealed lid of a barrier film rather than an overwrap. High-oxygen trays like this are popular in Europe, and have become Wal-Mart's package of choice for its customers.
"With barrier film there are certain restrictions, because the meat can't touch the film, otherwise it will discolor," says Exact Equipment's Basil. "The tray also has to be deep enough so it doesn't touch the film, with headroom of several inches between the product and the lid. You gain extended shelf life, but the problem is that the package looks quite different from what consumers are used to seeing."
Another difference in appearance is the absence of the familiar foam tray. "Most barrier trays are a polypropylene sheet laminated to a barrier film, which gets thermoformed and has another film over that," explains Jeff Wooster, value chain manager at Dow Chemical. "The barrier is important, as is sealability and toughness, so it takes the right combination."
But new technologies are addressing these issues. Dow, for example, is developing its popular Saran film, which is polyvinylidene chloride, for industrial applications.
Packagers can also achieve a low-oxygen atmosphere through vacuum packaging. Vacuum-packed beef products, without the benefit of oxygen, appear in their "true" color, which is purple. Vacuum packaging has many advantages, like eliminating freezer burn and allowing a shelf-life three to five times longer than conventional packaging methods.
Vacuum packaging, as with other low-oxygen processes, allows the meat to be stored and shipped to the grocer in "master packs" full of case-ready trays—when the master vacuum pack is opened, the oxygen in the air permeates the tray wrapping and the beef blooms back to a red color. This gives up to 30 days from processing to expiration, depending on how long the meat is kept away from oxygen.
"It's driven by the retailer and what they believe their customer wants," says Farmland's Hodges. "The big driver is shelf life, of course. That's driven by retail and the consumer. They want to have shelf life left when they take it home."
The future of case-ready
While case-ready technology marches on, it can't march fast enough for producers like Farmland Foods.
"The case-ready talk has been around a long time, and it's had its stops and starts," Hodges says. "The industry was on 'stop' for while, but now they're talking more and more about case-ready. The percentage selling case-ready pork is probably going to go up dramatically."
"What we hear is, 'Hey, can you come up with a MAP package without so much head space?' or 'What else can I do with gasas?'" says Ryan. "Those are the types of things we're trying to figure out."
"There are lots of new gas mixtures coming down the road that will give us more shelf life to work with," adds Hodges. "There are different trays in terms of strength and longevity. There are some new things that we're testing and interested in."
Brian Pelletier is a freelance writer whose appearance in Packaging World begins with this issue.
Companies in this article