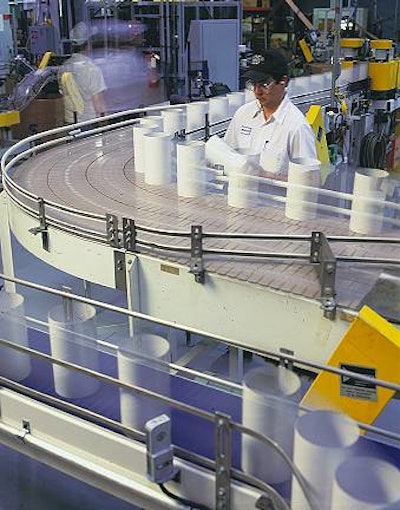 Total packaging solutions strategy is a term that best describes Sonoco's effort to operate ahead of the curve in packaging supply chain management, which goes beyond contract packaging. Sonoco's blueprint for success recognizes that:
• Many consumer goods companies are marketing organizations, and packaging lies outside of their expertise.
• The emphasis on retail packaging is growing as retailers
demand different packaging configurations in the battle to
gain shelf distinction.
• Timeliness has surged in importance as shorter runs of promotional packaging have gained prominence for retailers seeking to build incremental sales.
The competencies necessary in addressing these challenges include the ability to manage large, fluctuating workforces that do the manual packaging often required in meeting retailer demands. Another requirement is an intimate understanding of the packaging preferences that drive high-volume retailers.
These capabilities may be foreign to most consumer goods manufacturers, but they aptly describe Sonoco's packaging services. Sonoco operates at the leading edge as a package supplier in that it offers contract fulfillment as a value-added service. Sonoco gains economies of scale by leveraging its packaging expertise in rigid paper, rigid plastics, flexible packaging, and easy-open closures. At the same time, Sonoco enhances its value offering by sharing its understanding of the packaging preferences of high-volume retailers and execuiting the logistics needed to fill retailers' product orders fast.
The approach with Gillette
How does Sonoco's range of services play out with a customer? Here's one example. Sonoco executes the planning, storage, and procurement of all packaging components, from primary packages to point-of purchase displays, for Gillette razors and blades. Under a traditional supply chain model, Gillette would build a product production schedule to put millions of completed razor packages in storage until the time they are needed.
With a total packaging solutions approach, Sonoco manages Gillette's entire supply chain. Gillette ships razors in bulk to Sonoco, which then puts the razors into the right mix of packaging, in just the right number of packaging units, that a retailer may require on very short notice.
Many of these razor packages find their way into Wal-Mart. As an approved vendor of point-of-purchase displays to Wal-Mart, Sonoco understands the retailer's footprint requirements for primary packages, pallet display specifications, and promotional packaging preferences. By tying production runs more toward demand rather than forecasting, Sonoco has helped the Gillette Company reduce its inventory storage period by six weeks.
Sonoco refers to this key customer benefit as "payback," and it is driving the growth of the company's packaging services business. Contract packaging forms the backbone of the company's packaging services platform, a $400 million piece of the total $3.2 billion pie at Sonoco.
Charles Sullivan, senior vice president, global consumer products, believes the division can double its business by 2007.
Reduce the 'pit stops'
But with this opportunity also come challenges. Proliferating numbers of SKUs are shortening packaging production runs to minutes rather than days and threatening speed to market. Sullivan notes that Sonoco faces the same critical challenge that grips the entire contract packaging industry—find better ways to sequence production line changeovers and maximize efficiency.
Jeffrey Schuetz, staff vice president, consumer packaging global technology, describes Sonoco's approach to short-run packaging production as a "NASCAR pit mentality." Sullivan adds that "instead of pitting every lap, we need to figure out how to pit every 100 laps."
Sonoco's total solutions approach helps consumer product companies in two distinct ways. Its Package Development Center (PDC) in Hartsville, SC, designs, creates, fills, and tests packaging while its Sonoco CorrFlex operations, based in Winston-Salem, NC, create promotional packaging and related displays.
Package Development Center
The 72ꯠ-sq-ft PDC targets major consumer goods companies that spend $20 million to $25 million for the range of Sonoco's packaging services. The PDC also services small customers who piggyback off major consumer goods companies and use Sonoco's existing equipment and tooling.
The PDC demonstrates the range of value-added services that a packaging materials supplier can offer. More than just a manufacturing center, the PDC's five components are:
Design concept area. Collaboration on package development begins here, where package mockups use materials samples from Sonoco with a manufacturer's brand graphics applied. The finished "product" is suitable for customers' internal presentations and consumer opinion panels.
Three-dimensional CAD drawings are created and downloaded to a stereo lithography machine to make functional replicas of a package without the customer having to spend the time and expense for tooling. The package is created at its actual size and volume, and digitally printed.
Sample lab. Packagers often want a small quantity of sample packages for presentations or consumer testing. Packages created here bear the actual material and features that will be used.
This step saves time and money before a product manufacturer commits to tooling and commercial production.
Pilot plants. Manufacturers may need to test a small quantity of packages before committing to full-scale production. Pilot plants near the PDC can produce limited packaging runs for consumer testing or regional product launches.
Sonoco has made major investments in new equipment, and much of it has been spent in its pilot plants. The plants operate composite-can lines, a blow-molding machine, a barrier sheet extruder, and a thermoformer.
Testing and performance labs. Sonoco sees the expanse of its testing services as a value-added advantage in the consumer-packaging arena. It tests materials, components, and entire packages using standardized tests approved by ISTA, TAPPI, and its own internal tests.
"We can simulate how a package will hold up under certain conditions such as temperature, altitude, and stackability on a pallet. If it doesn't hold up, we find the weak spot," Schuetz says.
Food-fill facility. This department fills and seals small volumes of rigid paper and plastic packages for packagers to use in performance or consumer testing. The focus is on "dry flowables" such as powders, pellets, and chunks.
Sonoco CorrFlex operations
While the Package Development Center designs, creates, and tests the right package for the customer's product, Sonoco's CorrFlex group manages manufacturers' complex promotional programs.
The purchase of CorrFlex Graphics, one of the nation's largest point-of-purchase display manufacturers, provided Sonoco entry into the promotional packaging market. But two correlating core competencies are making promotional packaging a significant growth area in package outsourcing for the company:
1. Reducing "touches" and obsolescence in the value chain, which gets product to retailers faster.
2. Sonoco CorrFlex's close working relationship with Wal-Mart, the retailer that is driving many of the current practices in in-store promotional programs.
The Sonoco CorrFlex facility in Erlanger, KY, is a good place to study Sonoco's promotional packaging approach in action. It is one of Sonoco CorrFlex's 12 U.S. facilities.
The Erlanger facility designs, manufactures, assembles, packs, and distributes temporary, semi-permanent, and permanent point-of-purchase displays. The plant produces specialty packs and on-packs, and does "repossession"—taking product out of one package and putting it into another—shrink-wrapping, and kitting. The target customer has revenues of $3 million to $5 million and needs anywhere from limited production assistance to full turnkey service.
Kevin Hyland, vice president and general manager of Erlanger operations, describes the facility's role as "making the display ready to sell." But the plant is hardly a typical manufacturing facility. In fact, manufacturing operations take up just one-third of the 320ꯠ sq ft of floor space. Fulfillment operations occupy another 80ꯠ sq ft. Within the fulfillment area, finished promotional packaging and displays take up a mere 8ꯠ sq ft of space—just 20% of the space they formerly required.
Hyland says that's possible because average inventory levels at the Erlanger plant are running at $2 million, about 40% of previous levels, at the same time that sales have increased 15%.
How can this happen? In large part, it comes through a practice known as "postponement." The Erlanger facility operates under a "pull" philosophy that works backward from shipping. Manufacturers deliver just enough product to fulfill a retailer's order for promotional packaging, and only when it's needed.
That scheduling philosophy reduces the need for warehousing unused inventory; storage capacity has been reduced to 48 hours of product inventory.
Payback on two levels
"Less touches equals less cost," Hyland says. "The consumer manufacturer mentality of 'just in time' was really 'just in case.' We've changed that thinking."
"What we find is that our customers have a disconnect between their production group and our planning center," Hyland adds. "When we're ready to fill displays, the packager is not always ready to give us the product to fill them."
Hyland says the payback for this approach works on two different levels. For Sonoco, there is no need to move product multiple times around the facility, reducing both labor costs and warehousing costs.
The manufacturer gets payback through faster speed to market and less chance for obsolete packaging, which can result when a retailer's request for a new package configuration or change in sales copy renders unsold existing packages unsalable. This approach reduced one Sonoco customer's obsolete-packaging costs by more than $1.7 million in one year, Hyland recalls.
One way Sonoco CorrFlex gains the insights that bring about payback is through its close working relationship with Wal-Mart. Sonoco CorrFlex sends its package design, marketing, and logistics management teams to Bentonville, AR, to discuss Wal-Mart's packaging specifications, upcoming changes in the retailer's requirements for end-aisle displays and kiosks, and even its requirement for packaging configurations for truckloads.
This firsthand knowledge of Wal-Mart's requirements
enables Sonoco CorrFlex to host in-house training classes for its major customers such as Procter & Gamble. The classes run the gamut from complete four-day supply chain training to a one-day supply chain management class to a half-day terminology-training seminar. [CP]
See sidebar to this article: Harnessing the power of postponement
The author, Jim George, is the Editor-in-Chief of Contract Packaging magazine.
Companies in this article
Videos from All Packaging Machinery Corp.
Videos from Universal Labeling Systems, Inc.