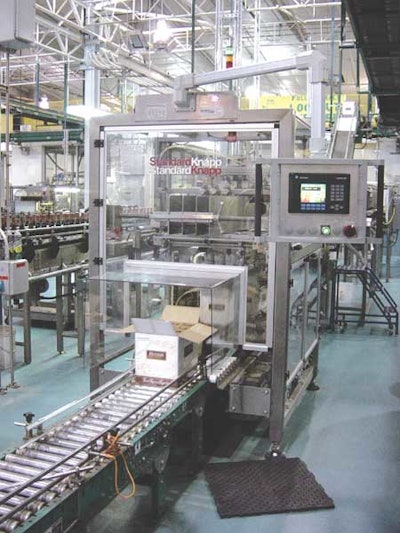 Like many visitors to Pack Expo International 2002, John Beal and Bill Edgar left the show at Chicago's McCormick Place having found packaging equipment they needed in their plants. The equipment selected by both is distinguished by its use of servo motor technology.
Beal is project manager at Heinz U.S. Consumer Products, a division of H.J. Heinz Co. At the last edition of Pack Expo International, put on by the Packaging Machinery Manufacturers Institute, Beal found a flow wrapping system from Doboy that resulted in a 50% increase in packaging capacity for Heinz's frozen pizzas and pocket sandwiches made in the firm's Pocatello, ID, plant.
The firm's existing flow wrapping system did not have sufficient capacity to support increasing consumer demand. By incorporating a new, servo-driven flow wrapper, Heinz can now efficiently meet rising output requirements while reducing downtime.
"We were looking to supplement our current equipment with newer, automated technology," says Beal. "The addition of servo control enhances every aspect of the overwrapping function, from efficiency to user friendliness."
Designed as a high-speed, heavy-duty rotary-head flow wrapper for bakery and confectionery applications, the Doboy 611 incorporates not only servo control but also programmable setups. Both features facilitate quick and easy product changeovers for a range of sizes.
Among the things Beal likes about the servo-driven Doboy machine is that mechanical parts are kept to a minimum.
"There is a direct relationship between the number of mechanical parts and resulting downtime," says Beal "The benefit of a servo drive has led to a significant decrease in downtime for the overwrapping stage of the packaging process." The reduction in downtime, adds Beal, has contributed to a 50% increase in overall packaging capacity at the Pocatello plant.
Beal has attended every Pack Expo show in the past decade. Seeing equipment in action is important, he says, as well as speaking with technical specialists on a one-on-one basis.
"The sheer size of the show allows me to easily see what's new and exciting," says Beal. "It's definitely the source for new and innovative technology in my industry."
The search for a case packer
Servo drive technology on display at Pack Expo International 2002 also beckoned to packaging analyst Bill Edgar of Fetzer Vineyards, Hopland, CA. His visit to that show, made with manager of project engineering Brad Campbell, led subsequently to the installation of a 939 Servo Case Packer from Standard-Knapp.
Prior to making the purchase, Fetzer had to manually pack bottles in both six-and 12-count formats. Automating the task was a tall order because the reverse taper wine bottles are narrow at the base and wide at the top, which makes them especially unstable during handling. But the new case packer was up to the challenge, saving time and labor costs. Capable of speeds to 170 bottles/min, the 939 Servo Case Packer (photo left) has increased productivity by 40% and line speed by 30% at Fetzer.
"The case packer has increased operational speeds and safety, and it's also extremely user friendly," says Edgar. "The dual-language capability allows us to easily switch from English to Spanish, accommodating a multicultural work environment at the plant."
The Model 939 case packer also incorporates Standard-Knapp's Soft Catch feature. Rather than simply dropping bottles into a waiting case, Soft Catch creates a situation whereby the case moves in the same downward axis as the bottles. The result is a much softer landing than if the case were stationary. The use of servo motor technology plays a key role in making this feature as effective as it is.
Edgar and his colleagues will return to Pack Expo International this November 7 to 11 to investigate additional purchases, as well as explore advances in packaging materials. Topping this year's shopping list are robotic depalletizers and stretch wrapping equipment.
"Pack Expo International is a great way to spread the word about environmental consciousness," concludes Edgar.
Companies in this article