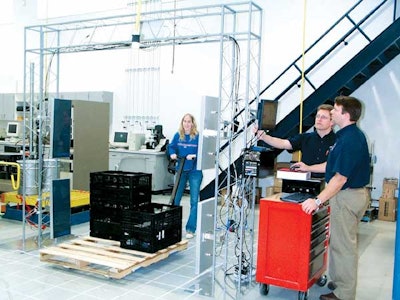 One of the most interesting of UF's ongoing packaging research projects is an industrial radio-frequency portal in the packaging lab, deployed by UF's Packaging Science program and newly created Research Center for Food Distribution and Retailing (RCFDR). It was engineered and installed through the donations of RFID systems integrator Franwell and the Sensormatic Division of Tyco Fire and Safety.
The initial RFID system comprises four independent readers from Matrics, software, and hardware (standard PC computer and monitor). It represents a $100ꯠ system, according to assistant professor Bruce Welt, Ph.D. The system's software, popularly known as "middleware," is GlobeRanger's iMotionTM technology. In the two months since Packaging World's spring visit, UF has added four more portals.
In one set of tests, RFID tags are placed in various positions inside plastic crates that are palletized and transported through the portal. It was interesting that the system was sensitive enough to read tags a number of feet before they entered the portal, with distances noted via a grid marked out on the floor. In other tests, students have used a marked pole to record the system's sensitivity and accuracy in testing tags placed at various heights.
When the pallet of crates is pushed near or through the portal, the various RFID tags appear on the monitor when detected by a reader. "The angle of the antennas makes a difference," observes Welt.
"Franwell has designed a solution, on GlobeRanger's platform, that gives us a structured way to easily test many different types of hardware for tracking food products," says Jeffrey Brecht, director of the center.
Jean-Pierre Emond, Ph.D., the center's co-director, adds, "This solution enables us to maintain testing consistency between many different reader and antenna configurations. We're learning something every day."
The primary focus of the RFID lab is to develop best practices in using RFID technology for tracking food products, Emond says. For example, the center will test a variety of RFID readers and antennas for tracking a specific food product such as strawberries. After testing, the center will publish guidelines for the use of RFID technologies related to individual food products.
For further information about RFID or the RCFDR, contact Jean-Pierre Emond, at 352/392-1864 x229 or via e-mail jpemond@agen.ufl.edu.
See the story that goes with this sidebar: UF juiced for R&D
Companies in this article