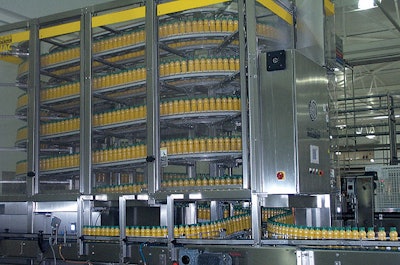 From the aseptic filling line, capped bottles are conveyed on their bases. Just outside of the aseptic zone, a Domino ink-jet coder prints the date of manufacture near the base of each bottle. Bottles continue through a wall to a separate, larger room. A Heuft inspection station uses two cameras to check for proper cap placement and fill levels.
Next, bottles proceed through a Hartness Dynac 400 spiral accumulator (photo A) that holds 3½ minutes worth of either-sized bottle.
From the accumulator, bottles are conveyed through an air knife system that blows air onto bottles to eliminate any residual moisture. That allows better label adhesion as bottles index through a Contiroll rotary labeler (B) from Krones. Another Domino coder then applies a date code on the bottle cap. Afterwards, another Heuft unit inspects for label placement.
Bottles are conveyed downstream to one of two Krones machines (C). First is a TFS45 (tray-film-shrink) unit. This machine unitizes different combinations of bottles and then applies film around the bottles before heat-shrinking the unit into a multipack for distribution to retailers. The machine can also erect a paperboard blank around the multipack before sending it to downstream palletization. The TFS45 can also send film-wrapped packs to the second Krones machine, a T30 paperboard tray erector and packer.
"Being able to shrink-wrap different pack sizes opened up some marketing opportunities for us to also sell product to small corner shops who were interested in buying eight-packs of bottles," says Steve Andrews, Tropicana Europe's European packaging manager. "That was fine, but we couldn't produce those packs at the speeds that we'd specified for the downstream palletizers, so we had to add a second tray machine. The two machines give us a lot of versatility, and we use both in some instances."
The heavy reliance on Krones equipment throughout the packaging operation at the Zeebrugge, Belgium plant is intentional. "Krones was always my favorite," says Andrews. "I've had a longstanding relationship with them. They make multiple types of machines we need, and we were able to arrange package deals. But they have people that can resolve any problems we might have with our packaging process. Beyond their service, they also listen to input we give them, and they generally act upon those ideas."
From the Krones equipment, tray-packed or shrink-wrapped bundles are conveyed to another room for palletizing and stretchwrapping. Stretch-wrapped pallet loads are then stored in a refrigerated warehouse before being transported by refrigerated trucks to retail distribution centers.
See the story that goes with this sidebar: Tropicana's juiced about aseptic bottle filling line
Companies in this article