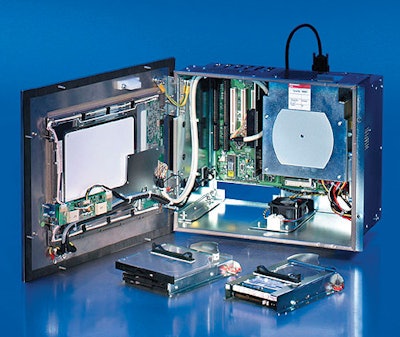 If builders of packaging equipment could eliminate two complex components from their controls architecture—along with the software, training, and logistical support those components require—what kind of packaging equipment might they build? In the case of Delta Systems, the answer is packaging equipment that costs less and has greater flexibility.
The two controls components eliminated in Delta's case are programmable logic controllers, traditionally used to govern a machine's operating logic, and motion controllers, the devices that actuate and govern motion. In flow wrappers built by Delta, both of these are replaced by a single integrated controller, the Model C3620 from Beckhoff Automation. It runs Delta Systems' own SoftFlow™ controls software to govern not only logic and motion but HMI, as well.
"We've been using Beckhoff controllers for nearly four years," says Ed Krug of Delta Systems. "Before that, we built our own industrial PC because no one at the time was providing an integrated controller capable of doing motion, logic, and HMI."
Hard numbers are always a bit elusive when calculating cost savings gained by advances in controls integration. But Krug figures that if a standard PLC with an I/O rack costs from $5ꯠ to $6ꯠ and a typical motion controller is roughly $9ꯠ, the savings gained by eliminating both is "substantial."
"It's not just because the components themselves are out of the picture," says Krug. "We no longer have to order those components, stock them, buy their associated software, or keep people trained in the ways of using them."
Krug also credits Beckhoff for keeping open architecture in mind. The Beckhoff integrated controllers have the built-in capability to connect to any one of 13 different kinds of networks, simplifying integration in a customer's plant.
"If we install a machine with SoftFlow running on it, but the customer's network has some other SCADA system in place for data collection and reporting, it's not a problem. You write a driver to communicate with those other applications. Simply put, we feed our information to them."
Krug acknowledges that other makers of industrial PCs make components comparable to the Beckhoff controllers now in use at Delta. But pricing, quality, and service support have made Beckhoff the supplier of choice.
"They also keep current from a new technology standpoint," says Krug. "And it's a rugged unit, too. With our equipment, that's crucial, because our machines might go to a spotless pharmaceutical plant one time and to a chicken plant the next, where it's cold and there's water splashed around all the time. Beckhoff has shown its industrial PCs will flourish in either environment." —PR
Companies in this article