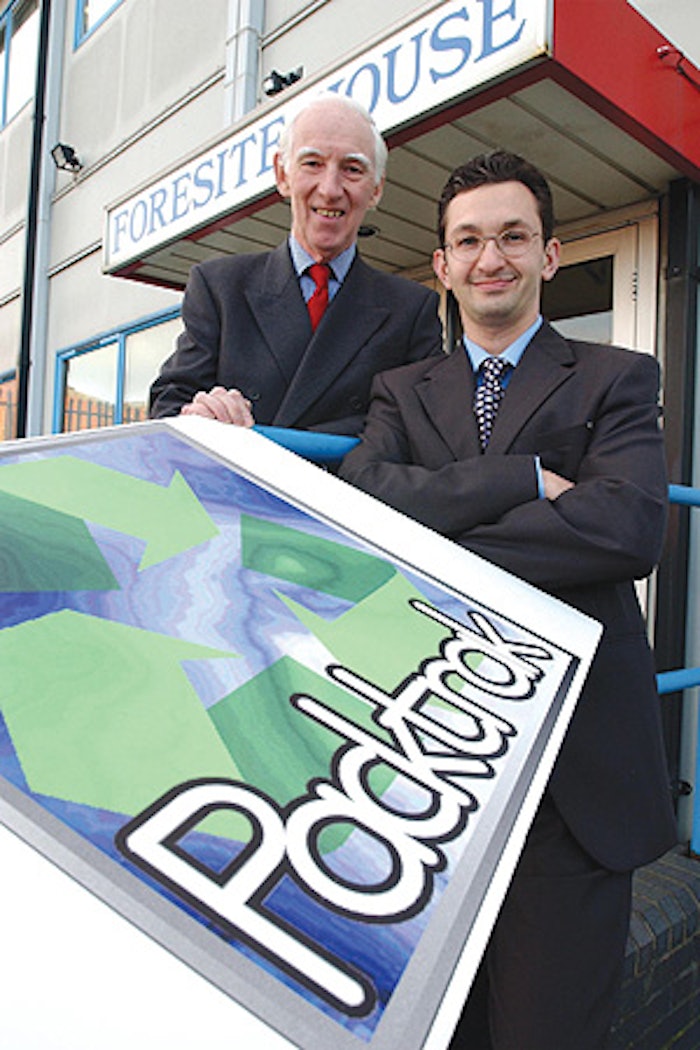 Today, 28 countries have "producer responsibility" laws that require manufacturers and importers to pay fees to collection organizations for each package sold. In Western Europe, each country has implemented regulations to comply with the 1994 Directive on Packaging and Packaging Waste, and Eastern Europe is closing fast on developing regulations and taxes.
As early as this fall, companies will have to weigh their sales packaging (the packaging that reaches the consumer) going into the Canadian provinces of Ontario and soon Quebec to comply with new "take-back" laws. This will be the first time this kind of package data will have to be gathered in the North American market. (For more on Canada's initiative, see p. 113.)
To comply with this crossword puzzle of mandates, manufacturers have spent billions of dollars on fees and on complex calculations, as the systems vary from country to country. The process of collecting the information on packaging has been a real trial because most manufacturers have no central repository of data on packaging weights. So, for many companies, the process of determining the fees is passed down to distributors or to overseas subsidiaries, especially if the final packaging is completed in that country. However, when it comes time to make package design improvements, designers must look at each package discretely.
Software can help
Although it may seem easier to outsource the calculations to other companies or subsidiaries in the overseas countries where the fees are collected, it's not always the most efficient. "Each country requires different forms in different languages, submitted at differing intervals," says Graham Margetson, director of Foresite Systems Ltd., the designer of Pack.NET (called Packtrak elsewhere in the world) software for packaging-fee calculations.
The calculations become increasingly complex when a company has 10ꯠ different packages being sold in 20 different countries. Imagine the prospect of gathering data on every single SKU package and each component, weighing each, and determining how many units are sold in each country. Further, two countries also require source-reduction reports. And manufacturers are required to comply with the European Union's "Essential Requirements" paperwork on each unit, at point of design.
Today, many Fortune 500 companies have discovered that centralizing their packaging data and automating the packaging fee reports permits the companies to take better control of their costs. Some are actually saving money, not just on packaging fees, but also in reduced material costs as well.
Centralizing data
More than 200 mostly European companies use Pack.NET software from Foresite. The list includes well-known giants such as Microsoft, Eastman Kodak, H.J. Heinz, Mattel and Pharmacia, as well as Levi Strauss, Coca-Cola Europe, Compaq in Scotland, GE Lighting Europe, and PPG Industries.
Originally, Foresite began by designing software for British retailers that have had an extra burden under that nation's 1997 packaging waste law. England is the only country that places a financial "take-back" responsibility on the entire packaging chain, from raw material producers to retailers. In its process, Foresite gathered data on packaging materials and weight from suppliers to help retailers calculate their fees (see sidebar, p. 126).
As a result, the company developed a database of packaging for about 1.5 million products from thousands of suppliers. So to comply, British retailers only needed to supply sales data and their own in-store service packaging data to calculate fees. About five years ago, the company added modules that enabled suppliers to calculate fees in other European countries.
Today, the software includes package-fee calculations and reports for 22 countries of Europe and Asia. The new Web-based system allows for package design pictures for specification systems, and a "What-If" scenario module to help a company determine when a packaging change will save money.
Heinz saves
"We spent nearly a year just in collating data," says Dave Thomas, planning manager at condiment giant H.J. Heinz' Kitts Green facility in England. Heinz sells some 5꺜 different products on six continents. Thomas implemented the Pack.NET software to handle the fee calculations on 1귔 different products sold into the U.K. market.
"We needed to ensure that our MRPS system accurately reflected all the materials we used and that the weights were accurate to three decimal places," Thomas reports. Each Heinz unit tends to make its own rigid packaging, so other European plants are currently hand-calculating fees, he acknowledges. Thomas says the goal is to implement the software system in all markets where take-back fees are in place.
Once the data is in the software, packagers find many more uses for it, says Lance Allison, Foresite president and chief software designer. The primary benefit is labor. For example, Heinz saved about $150ꯠ in labor alone over two years, Thomas estimates. "It also saves us the hassle of worrying about paperwork and the whole question of audits," he adds. In the U.K., manufacturers have been subject to government audits to ensure they are complying with the packaging law. However, adds Margetson, "our customers are audit-proof" because the software company dispatches staff to customers when audited.
Improved accuracy
The centralized database function can also improve fee accuracy. One U.S. company that implemented Pack.NET discovered that it was overpaying fees. Before establishing the database, the company had not been identifying recycled content rigorously, so some packaging components were being incorrectly categorized.
"We were paying a fee for shipping cases in France because we had not categorized them as transport packaging," explained a packaging manager who didn't want to be identified. There are no manufacturer fees on transport packaging in France. So the company estimates it saved $50ꯠ on fees when the system was activated, which just about paid for the software. Then, by making some minor material changes, the company saved another $45ꯠ in fees, the manager reports.
Plus the "What-If" calculations have great potential for savings because they can calculate how fees could be reduced if a packaging change is made. Heinz and other companies are working on various projects using the software to help them source-reduce packaging even further.
"A number of our budgets are Europe-wide, and this software will help us to see costs across Europe, rather than in just one area," reports Heinz' Thomas.
Management commitment
There's little question that it's vital to get top management to understand the importance of centralizing the data. Nigel Powell, a compliance manager with Pharmacia in Milton Keynes, England, says persuading top management was one of the biggest challenges. It took 12 months to get approvals for the local license, he reports. Plus it took another 18 months to gather all the data from four locations on 800 pharmaceutical, veterinary, and over-the-counter (OTC) product SKUs. This included getting downloads from plant databases and spreadsheets.
"This really needs to be driven by a headquarters office," Powell advises. "Otherwise your distributors are using spreadsheets," which is very time-consuming.
Another problem that Powell encountered was collecting data on products imported from other plants around the world. In some cases, the data wasn't available, so he had to weigh packages in England. For example, some of the U.S. packaging was as much as 50% larger than when the same packaging was sourced in the U.K.
Allison adds that U.S.-based companies will soon have to weigh their packaging if they plan to sell in Ontario and Quebec. Both provinces will soon implement weight-based fees on sales packaging.
Michele Raymond is a publisher and also an organizer of the annual Take it Back! conferences. She can be reached at michele@raymond.com. Foresite Systems was a cosponsor of the conference earlier this year.
Companies in this article