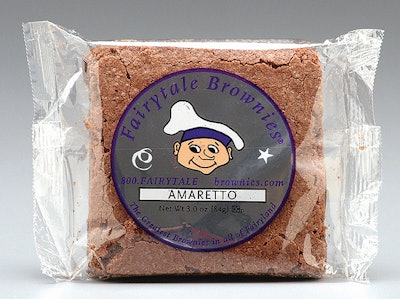 Four food packages were winners in the Technical Innovation category of the Flexible Packaging Assn.'s 2003 Flexible Packaging Achievement Awards. (For additional coverage of the awards, see pages 71 and 76.) Two of these packages, covered already in past issues of Packaging World, were co-winners of FPA's Highest Achievement Award (see sidebar below). The other two food pack winners are every bit as intriguing from a technical innovation standpoint.
Take, for example, the flow-wrap film for Fairytale Brownies (1), a firm based in Chandler, AZ. Combining high barrier properties in a clear film that's decorated with a brand new ink system, it won Technical Innovation silver for Alcan Packaging (www.alcanpackaging.com).
The barrier component in the structure is a 48-ga polyester with a silicon oxide coating called Ceramis®. The uncoated side of this substrate is reverse-printed on a flexo press in six colors, and then a 75-ga oriented polypropylene is added by way of an adhesive lamination. The resulting structure is SiOX/polyester/ink/adhesive/PP.
According to Alcan, this package represents the first commercial application of a new metal ink system called Ultrastar®. Developed in Germany by Eckart, represented in the U.S. by Eckart America (www.eckartamerica.com), the ink is derived from aluminum that has been removed from a metallized film and then incorporated into an ink formula.
The ink offers the look of a metallized label or a demetallized film without the limitations of either. Compared to a metallized label, it's one less component to contend with, and the reverse printing prevents scuffing. Compared to demetallization, it requires fewer manufacturing steps and fewer chemicals while costing about one-third less, says Alcan.
At Fairytale Brownies, the new wrapping material replaces clear polypropylene plus a metallized paper label. According to David Kravetz of Fairytale Brownies, the new material costs only a little more than the packaging it replaced, and eliminating the label has reduced labor costs formerly incurred when labels had to be applied. He also says the improved barrier provided by the Ceramis coating means the firm can begin marketing its brownies through select retail outlets such as gourmet groceries and specialty stores. Previously, Web and mail-order business was about all the firm could manage.
Kravetz adds that with the new film came a new flow wrapper from PFM (www.pfmusa.com). Mounted on the machine is a Model 9840 ink-jet coder from Markem (www.markem.com). Gas flushing is available on the PFM, and the firm is currently exploring its potential. But so far no firm information on anticipated shelf life at ambient temperatures is available. Fairytale's 3- to 3.4-oz brownies sell for about $2.20 each.
Two-compartment trays
Gerber Products Co. of Freemont, MI, believes two compartments are better than one. FPA judges agreed, awarding Technical Innovation gold to Gerber's Lil' Entrees 4-oz shelf-stable package (2). It's available in six varieties. In each case one food item is packed in one compartment and a second food item in the other. The tray is then lidded and retorted. The unique configuration allows consumers to purchase, transport, and prepare one container per meal rather than two separate containers of food. The trays are sold in paperboard cartons. Introduced nationally in August 2002, the entrees retail for $1.99 each, says Gerber packaging engineer Chad Beachum.
Users puncture the lidding over the two compartments and then heat the food in a microwave oven for 30 seconds before removing the lidding and serving. The high-barrier, nonfoil, peelable, retortable lidstock is from Pechiney (www.pechiney plasticpackaging.com). The multilayer material is an adhesive lamination of unspecified materials that is just under 5 mils thick; the opaque white outer layer is reverse-printed gravure in one color. Supplied in rolls, the lidstock provides oxygen barrier pre-and post-retort.
The white 6"x4½"x1" round-edged trays are thermoformed by Rexam Thin Wall Plastic Containers-America (www.rexam.com).
Unique valve
International Dispensing Corp. (www.idcdispensing.com) won Technical Innovation gold for what it calls the Aseptic Gravity Flow Valve™ (3). The valve is the kind used for bulk bags that often hold anywhere from 1 to 5 gal and are commonly found in refrigerated dispensing units in foodservice settings.
Two things in particular make this valve stand out. First, its push-button dispensing action is less messy than other valves used today. Its GFV Tight Seal™ design also inhibits the ingress of either oxygen or bacteria once dispensing ceases, so beverages stay fresher longer, says IDC.
The second unique characteristic of the valve comes into play when the bulk bag is filled aseptically so that it can be stored and distributed without the added cost of refrigeration. IDC claims that until its valve was developed, this kind of bulk bag, if filled aseptically, had to have two valve fitments: one for filling and one for dispensing. Why two valves? Because the dispensing valves commonly used aren't robust enough to withstand the aseptic filling process (sterilization temperatures of 266°F and a wash of 30% hydrogen peroxide solution). Rather than develop a dispensing valve that is robust enough to double as a filling and dispensing valve, says IDC, suppliers have simply used two valves when making bulk bags for aseptic filling: a durable one for filling and a second for dispensing. IDC's chief operating officer Ed Tharp claims a single-fitment bag should cost about half of what a two-fitment bag costs.
Tharp also points out that the five-piece valve's development and commercialization represents an investment of $6 million and 18 months of effort. IDC has already been issued a utility patent and expects a design patent to be issued shortly.
First to use the award-winning valve is Goodwest Industries of Parkersford, PA, a distributor of Parmalat-brand aseptically filled dairy products. In its Logan, UT, plant it uses an Astepo aseptic filler, available from VR Food Equipment Sales (www.vrfoodequipment.com), specially modified to accept the patented IDC valve.
"Goodwest has been begging the industry for this type of dispensing system for the past eight years, but until now, no company was willing to invest the time or money into the research and development efforts," says Goodwest president Jim West.
Kool-Aid Jammers
Winning silver in the Technical Innovation category, the converters of the Kool-Aid Jammers stand-up pouch (4) took on some challenges along the way. Information from Kool-Aid marketer Kraft Foods was unavailable, but this much is known about the pouch's makeup.
It's said to be made by Kraft from two separate rolls of material, one for the front and one for the back. The back is a clear polyester laminated to a five-layer coextrusion that includes EVOH as a barrier. Pliant (www.pliantcorp.com) makes both laminates and sends them to Alcan (www.alcan.com) to be laminated. Pliant also sends a roll of sealant material to Alcan for the lamination that is used for the front of the pouch. The complete structure for the front is believed to be a reverse-printed polyester/metallized polyester/sealant layer. Printing is done by Alcan on a gravure press in eight colors.
FPA judges admired the pouch for its ability to withstand the high filling temperatures that the product requires.
Melting the competition
The bag for Sun Shine Ice Melting Compound (5) won a silver award in the Technical Innovation category. The product is marketed by Riverdale, IL-based Frank Miller and Sons.
Introduced as a replacement for a paperboard container with film liner, the 5-mil blown linear low-density polyethylene blend is converted by Plassein Intl. (www.plassein.com). In partnership with MDH Packaging (859/746-0993), Plassein created a bag equipped with a zipper reclosure. It turned out to be somewhat of a challenge to create a zipper/header that would provide enough strength to support the weight of the 50-lb product. The bag also has a handle. Proprietary technology is responsible for creating and attaching the PE header/zipper reclosure to the bag.
The tubular shape of the bag allows for side-panel printing. Graphics are flexo-printed in three colors. The new package is said to represent a 33% savings in material costs versus the corrugated container with film liner. It also allows more units per pallet, which maximizes distribution efficiency.
An unpackage?
Though not exactly a package, a chemical-resistant tape (6) from Kappler of Guntersville, AL, won Technical Innovation silver from the FPA. The tape is used by wearers of protective clothing in potentially hazardous conditions by covering areas where articles of clothing meet, such as between a sleeve and glove. The 11-layer structure includes two barrier films from Cadillac Products Packaging Co. (www.cadprod.com). According to Cadillac, the two films are laminated together with polyethylene. Cadillac prints a repeating Kappler logo in black on the outer film layer. The high-performance barrier lamination provides chemical-resistance said to be superior to common gray HVAC duct tape that was typically used in the past.
Todd Carroll, Kappler's senior engineer, R&D, says another firm applies adhesive and cloth material to the structure provided by Cadillac. The Cadillac materials allow adhesion of the materials supplied by the other firm, yet do not stick to the other side of the lamination when the finished film is wound into a roll. Carroll preferred not to divulge any specifications of the tape, which Kappler sells in case quantities to industrial distributors. He estimates that an individual 2" W x 60-yard roll sells for about $15, noting that sales of the product have been brisk.
Packaging of the future
Finally, winning Technical Innovation silver was PBM Plastics (www.pbmplastics.com) and its Melt-Phase Technology® (7). Described as a combination of blow molding and thermoforming, it's a stress-free way of making deep-draw containers or liners. Because it's stress-free, rigid containers made this way can withstand retorting. Developments are underway for both heat-sealable packages and packages that can have a metal end double-seamed in place. PBM Plastics positions such transparent packs, which are not yet in commercial use, as alternatives to metal cans.
Flexible liners made via melt phase forming could find a home in, for example, the automotive aftermarket for lubes and solvents that are dispensed from a pump-style container. At this point, however, the only commercial application of liners made via PBM Plastics' technology is in the consumer products area: baby bottle liners.
To understand the properties that melt-phase forming imparts, it's best to understand how it differs from conventional thermoforming. It starts with sheet fed from rollstock. PE, PP, PP/EVOH/PP, PU, Nylon 6, and Nylon 12 have all been used. But rather than pulling the sheet through a conventional thermoforming system, where the material is heated until it's soft enough to be formed while still in a solid phase, a very different approach is used.
First, the sheet is cut into round disks of material called "billets." These are fed into a machine and heated until they leave the solid phase behind and reach the melt phase. Only then are they formed into containers. Because forming is done at the melt phase, even a deep draw produces a finished part that's stress-free.
PBM Plastics also claims that its melt-phase forming technology produces about 70% less web scrap because forming cavities don't have to be lined up in straight rows as they do in conventional thermoforming. The result is more cavities per square foot of forming material. Consequently, web scrap is reduced.
Companies in this article