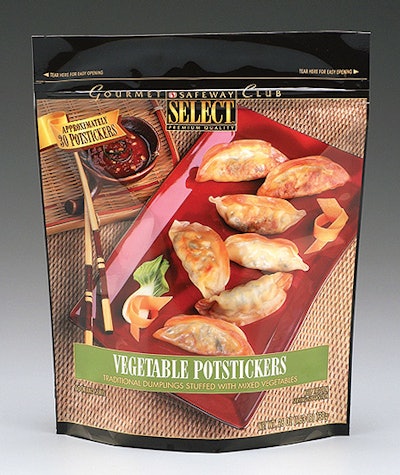 The Flexible Packaging Assn.'s annual Flexible Packaging Achievement Awards competition never fails to include a few winners whose graphics are simply eye-popping. This year was no different. (For additional FPA awards coverage, see pages 64 and 71.)
A good example is the stand-up pouch for Safeway's frozen Gourmet Select Vegetable Potstickers (1), which won Printing Achievement gold from FPA. Previously, the same package won awards from the Packaging & Labeling Gravure Assn. and more recently the top Gold Ink award in flexible packaging from the Rochester Institute of Technology and two print magazines.
With graphics designed by Watt Intl. (www.wattinternational.com), the pouch is converted by Nordenia USA (www.nordeniausa.com). Nordenia reverse-prints the exterior ply, a 48-ga polyester, in four-color process, plus two specialty colors, according to Dan Kinsey, graphics coordinator at Nordenia. Originally, the graphics were developed for flexography and would have required eight colors, Kinsey says.
"With gravure, you can do many different tones of a color with the same engraved cylinder, and you don't have to worry about the strength of your ink because the color relates to the depth of the engraving," Kinsey states. "With flexography, color tones are difficult because the application roller is uniform all the way across. Gravure can give you far more nuanced color tones than are possible with flexo." Nordenia uses transparent, fade-resistant inks from Siegwerk Farbenfabrik (www.siegwerk.de).
Along with the printing, Nordenia coextrudes a 4-mil white sealant to which the polyester is laminated using 100% solids adhesive from Rohm & Haas (www.rohmhaas.com). This allows Nordenia to produce a completely solventless lamination, says Nordenia's Eric Halter. The sealant film is blown on an extruder from Windmoeller & Hoelscher (www.whcorp.com), the same company that supplies the laminating equipment and the Heliostar gravure press that Nordenia operates at 150 m/min, according to Halter.
Nordenia also fabricates the material into pouches and applies the zipper, before the pouches are shipped to DPI Foods (www.dpifoods.com), the contract packager for the product. "We're an integrated plant. We do everything from color separation, making the cylinders, printing, laminating, bag fabricating, and extruding the sealant layer," says Nordenia's Kinsey.
Sarah Jowett of DPI says that her company coordinates the retail packaging with Watt and Safeway and then fills and seals the premade bags. Introduced in 2001, the frozen food item is marketed throughout Safeway, Von's, Genuardi's, Randall's, and Dominick's stores, according to David Kessler, director of package development for Safeway's corporate brands. He adds that the product sells well year-round.
Pouch for baby food
Another stand-up pouch capturing Printing Achievement gold was Rice Cereal for Babies on the Go (2) by Beechnut Nutrition Corp., Canajoharie, NY. It also won a silver award for Packaging Excellence and a gold award for Environmental Achievement.
The multilayer pouch from Amgraph Packaging, Inc. (www.amgraph.com) holds 3.7 oz of Beechnut's rice cereal. With its size and a zipper reclosure, the pouch is designed to appeal to moms and dads looking for convenience and portability. Amgraph supplies the two-ply film in roll stock to Beechnut's contract packager, Robert's Packaging (www.robertspackaging.com).
"We worked on developing this package for a couple of years," says Kristin Ebert, product manager at Beechnut. "We were looking for a polyester material that would produce the kinds of graphics we wanted, and a structure that would offer a 12- to 18-month shelf life, plus run well on the stand-up pouch equipment. We probably went through 15 to 20 different materials before we found this one."
Although Amgraph declined to reveal the rest of the film structure, the lamination's polyester is surface-printed offset by Amgraph in six colors, plus an ultra-gloss lacquer. Graphics, similar to those on Beechnut cartons but adding bears on the move, were executed by Ivarson Brand Vision (www.ivar son.com). By printing after laminating, the converter is better able to maintain a consistent print repeat for better performance on the f/f/s machinery at Robert's that fills and seals the pouch and applies the reseal zipper.
"Because our process uses inks and lacquers that are scuff-resistant, we were able to prelaminate the structure so we have it on hand for quick response to the customer," says Mike Drab of Amgraph. However, it was Amgraph's ink technology that was responsible for the environmental award. Amgraph used electron-beam-cured, water-based inks and lacquer, instead of solvent-based inks. Thus the release odors, the release of volatile organic compounds, and the special handling for solvents are all avoided.
"When we were first looking to do a pouch, there weren't a lot of suppliers that could provide what we wanted," says Dan Moynihan, purchasing manager for packaging materials at Beechnut. "But we knew Amgraph had a lot of experience in these pouches."
The new pouch is not a replacement for Beechnut's baby cereals in folding cartons. "The box with the pour spout works fine in the home, but it's not designed for traveling," Ebert says. "We wanted something that would be easy for moms on the go to just put into a diaper bag without concern for spilling or being damaged if a bottle spills in the bag."
Ebert adds that in focus groups, mothers told the company they'd buy the pouch, provided the cost premium wasn't excessive. "So we took it to market at the attractive price point of 99¢. In some markets where we're able to get the shelf presence at that price, we often get three facings and can't keep it on the shelf," Ebert enthuses. "Moms tell us that after safety and freshness, convenience is the number one thing they look for."
Disguised bottle
SleeveCo (www.sleeveco.com) won Printing Achievement gold in this year's competition with a shrink label gravure-printed in seven colors for Pennzoil-Quaker State's car-shaped bottle for motor oil (3). The Houston-based firm launched the unique new bottle in November as a special promotional item. It's now available in retail outlets nationwide.
Distortion of graphics and typeface had to be taken into account in designing and printing the label. Graphics on the 2-mil polyvinyl chloride full-body shrink sleeves had to be redesigned several times to accommodate distortion in the tire and car-top portion of the label.
Easy Contract Label-ing (www.easycontractla beling.com), a contract labeler owned by SleeveCo, took on the challenge of applying the labels. The bottle must first go through a steam tunnel lying on the car's roof, then through a heat tunnel, and then through infrared lights. The infrared lights are specifically designed for this project and are made to penetrate only the PVC and not the bottle.
Computer-to-plate winners
Winning Printing Achievement silver for Progressive Packaging (www.progressivepack.com) was a gorgeous bag for Rice Chips (4) marketed by Lundberg Family Farms of Richvale, CA. Sold nationwide since last fall, but only through natural or specialty foods outlets, the 6-oz bag sells for about $2.10.
"We wanted great photography to show off the product," says Lundberg's Tim O'Donnell.
Progressive Packaging delivered just that by reverse printing a 48-ga polyester in 10 colors on a central-impression flexo press made by Fischer
& Krecke (www.fischer krecke.de). The printed polyester is adhesive laminated to a 48-ga metallized polyester that adds the required barrier properties. In a subsequent pass, a heat-seal coating is applied. Lundberg relies on a contract packager to package its chips on a vertical form/fill/seal system.
Computer-to-plate prepress technology, says Progressive Packaging, allows fast set-up when Lundberg orders new film.
Another winner of Printing Achievement gold that was also admired for its use of computer-to-plate printing technology was the Ore-Ida Roasted Reds Garlic & Rosemary package (5) converted by Pliant Corp. (www.pliantcorp.com). This 4-lb bag of frozen spuds for club stores was sold for about $5.99 as a seasonal special during the recent Thanksgiving-to-Christmas holiday season.
"The graphics certainly helped differentiate it from a bag of traditional french fries," says Bob Ziehl, general manager-frozen potatoes at Ore-Ida.
The two-layer adhesive lamination consists of 2.5-mil white opaque low-density polyethylene/48-ga clear polyester. The LDPE is surface-printed on a flexo press in eight colors. The clear polyester protects the ink. Following the printing and laminating processes, an Inno-Lok® zipper reclosure feature is added by Pliant on equipment supplied by The Hudson-Sharp Machine Co. (www.hudsonsharp.com).
Welch's fruitful multipacks
A repackaging of 24-count multipacks by Welch's (6) shows that snazzy packaging is as important on pallets at club stores as it is on shelves at supermarkets.The multipack won Printing Achievement silver in the FPA competition.
Concord, MA-based Welch's transformed a utilitarian multipack of cans into an equally functional, yet far more colorful display. The variety pack contains eight 11.5-oz cans of three varieties including grape, fruit punch, and orange-pineapple juice. Before, cans were packed in a half-height mottled white corrugated tray printed in three colors topped by an SBS placard printed with product and nutrition information; the tray was wrapped in an unprinted "cloudy" shrink film, says Welch's graphics manager Mary Hiltz.
The new printed-film pack eliminates the placard, substitutes a cheaper, plain kraft corrugated tray, and encloses the package in a shrink film from Bemis Polyethylene Packaging Div. (www.bemis .com). Bemis reverse-flexo prints in eight colors. It was the first time Welch's had worked with Bemis, Hiltz reports.
The multipacks are sold palletized at club stores such as Sam's, Costco, and BJ's. "Seeing a pallet full of neat, green packaging with fruit printed down the sides makes a nice display and attracts consumers, which is the whole point," Hiltz says. "The high-end graphics have a lot of impact—the realistic-looking fruit looks like you can pluck it off the packaging and eat it." Wright Design (978/635-9997) handled the graphics.
The new packs were flowing into club stores by June '02, Hiltz says. By late summer, Welch's shifted from outsourcing the shrink packaging to bringing it in-house. The packs are now trayed and shrink wrapped at two Welch's plants, with a third in the Northwest forthcoming.
Although overall packaging costs remain "relatively the same," Hiltz says the revamped packaging has resulted in a "a very nice increase in sales." Welch's is expanding the use of the colorful shrink wrap to other 24-count multipacks of cans as well as bottled products. Welch's has since added a second film vendor. "It has been a neat idea and is doing well," says Hiltz.
Companies in this article