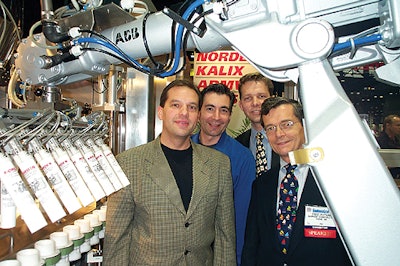 Announced at Pack Expo, Pharmacia Corp., Peapack, NJ, is the first end user to purchase a Plug-and-Pack™ packaging machine. Plug-and-Pack refers to a set of standardization guidelines from the Open Modular Architecture Controls (OMAC) Packaging Workgroup designed to reduce engineering time required to build, install and maintain packaging equipment.
The third-generation tube filling machine, from Norden Pac (Branchburg, NJ), incorporates OMAC's PackML (Packaging Machine Language) on the company's EasyWare machine control via Elau's (Chicago, IL) PacDrive™ integrated motion/logic controller.
"I'm thrilled to be the first customer to receive a packaging machine with PackML inside," said Pharmacia automation engineer Robert Martell at the show. "For my business, this is a great step toward reducing the cost of integrating and validating my pharmaceutical packaging systems for FDA compliance."
Martell added that specifying PackML neither increased cost nor delayed the machine's delivery date, which is expected to be sometime this spring. (A full interview with Martell will be published in March.)
At the OMAC meeting, engineers from Hershey Foods and Procter & Gamble unveiled the results of PackML tests they conducted in their factories. On the show floor, Campbell Wrapper (De Pere, WI) and Food Machinery Sales (Bogart, GA) demonstrated flow wrappers incorporating PackML via controls from Baldor (Fort Smith, AR), Bosch Rexroth (Hoffman Estates, IL), Rockwell Automation (Milwaukee, WI) and Siemens (Alpharetta, GA). Also at the show were Markem's (Keene, NH) SmartDate® 3 Plus thermal-transfer coder and SmartLase™ 1 Plus laser coder, the first commercial packaging products to incorporate PackML.
"The prospect for wide industry adoption of PackML has never been better," said Markem's Fred Putnam, who chairs OMAC's PackML team. —DN
Companies in this article