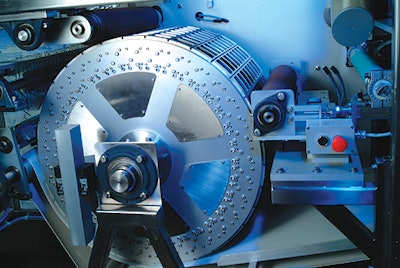 In desiging its third-generation servo-driven Soluble Pouch Packaging System (SPPS) Cloud (Des Plaines IL) became the first U.S. company to use Siemens Energy & Automation's (Alpharetta GA) Simotion technology. Simotion combines motion control logic and other technological functions in a single integrated system.
"We needed a multi-axis controller that could do coordinated motion human-machine interface and temperature control" says Cloud Electrical Engineer Todd Hartman. "Typically with other technologies this would be done with separate controllers. Simotion allowed us to do all of this in the PLC with one software package."
According to Hartman the company specified Simotion to accommodate an expanding export market.
"We engineered this machine for global acceptance and to tighten up the accuracy of the process" Hartman said noting Siemens' global presence. "In addition by using Simotion I didn't have to write a logic control program then write a motion program in a separate device and try to communicate between the two. Everything is built into a single platform. That works very well for us."
1 pouches/min
Hartman says the SPPS machine forms fills and seals water-soluble film pouches in excess of 1 pouches/min. Designed to dissolve in water the packets are widely used with detergent fertilizer industrial chemicals and other products.
The process begins when a preheated sheet of polyvinyl alcohol (PVA) is applied to a vacuum-forming drum. The PVA sheet is formed into eight pockets across that are filled by a feed conveyor or a liquid metering pump. Another PVA sheet is placed on top of the pockets and sealed. A heat knife separates the columns and a stationary knife separates the rows. The packets are then boxed and distributed.
The Simotion C230-2 system on the SPPS machine operates on a standard controller platform. Three servo axes for infeed drum and knife functions are controlled by Siemens Simodrive 611U drives. Two other variable-frequency drives are used for applying moisture for lidding and scrap reclamation; these are controlled with Siemens Micromaster M420 drives. All components communicate via Profibus. A single Simatic TP270 10.4" color touchscreen allows the operator to access machine options and perform diagnostics.
"Siemens demonstrated how Simotion could provide for all of our machine logic and motion control in one unit while controlling three temperature control loops" Hartman said. "This totally integrated automation concept convinced us Simotion was the way to go." —DN
Companies in this article