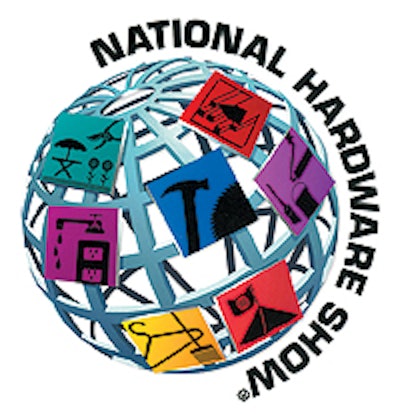 Cleaning out a garage is a breeze when compared with the formidable task of making packaging cut through on-shelf clutter. A visit to the National Hardware Show in August uncovered notable packages that were a cut above the norm, as the following selections demonstrate.
Jugs ergo-redesigned for a warm reception
Custom-shaped jugs for Vaporizer ice melt from Benick Brands USA, LLC, Glastonbury, CT, offer an ergonomic redesign. Slimmer and less squatty than before, the new jugs are molded with ice-crystal facets and a relocated handle that distributes the product weight better to ease pouring. That's according to Chris Pianta, vice president for marketing and product development. For retailers, the new jugs offer more visual impact and are more space efficient than their predecessors, Pianta notes.
The custom, high-density polyethylene jugs are provided by Richards Packaging (www.richards packaging.com) in two colors, white or blue. The $5.99 10-lb white jug for consumers contains a premium calcium chloride blend; the $8.99 8-lb blue jug is intended for professional use.
Both jugs are labeled front-and-back with a blue-outlined front label for the consumer product and a red outlined label for professionals. The varnished paper labels are die cut to conform to the jug's complex front and back surfaces that include jagged edges molded along the perimeter. Although the new jug permits a larger label area than before, the label's jagged die-cut edges encroached on the usable graphics space, Pianta points out. It compelled Benick to reduce the graphic elements to the essentials, he adds, which helped to clean up what had been a crowded design. A large, 4½''-dia hinged closure from Weatherchem (www.weatherchem. com), the same as for the previous jug, has a flip-top section that opens for dispensing the product.
"We wanted the packaging to accomplish two things," explains Pianta. "We wanted a molded container with a unique identity, and for the package to be ergonomically easier to use.
"The handle is relocated closer to the product area. This distributes the weight load more vertically, so it requires less effort to turn it over and dispense the product. It almost turns itself."
The contract-packaged jugs appeared in selected locations in 2001, but are in full rollout this season including Home Depot in the Northeast and North Central United States, as well as in Lowe's stores. Benick also introduced a holographic bag.
Packs reflect premium imagery
Pacer Technology, Rancho Cucamonga, CA, will launch globally next month a six-item line of Anchor-Tite premium epoxy adhesive products in blister packs that are reflective of the $6.99 price.
"We wanted to dress up the products and give them a richer look, such as black and foil colors, to help warrant the higher pricing," explains Greg Lindsay, Pacer's director of marketing. "We didn't want to use a plain old 'vanilla' card; this is the first time we've used reflective card stock. The eye-catching packaging has a standout shelf presence."
Providing the attraction is a 21-pt coated SBS insert card made reflective with a "Rainbow" look through Unifoil's (www.unifoil.com) Unilustre™ metallizing transfer process. The reflective cardstock is printed and converted by CardPak (www.cardpak.com); the polyvinyl chloride blisters are from Alloyd (www.alloyd.com).
Each of the six items offers a different color scheme that indicates the final cured color of the adhesive and corresponds to a different category, such as aqua for marine applications.
"It enables a different way to market the products, all distinguished easily by color coding," says Lindsay. "This expands the product from the glue section at stores into other sections like plumbing or automotive."
The premium details carry through to the blister-packed syringe applicator. Although the double-barrel applicator is common for the company, the fact that Pacer has dressed it up with a clear 2-mil polypropylene label is not. It's hot-stamped in two colors, gold and red, by Pacer's regular supplier, One Stop Label (909/981-6333). "That's typically been a white label stock or we screen-print the barrels in one color, so this is unique for us," says Lindsay. "The label's clarity also lets the epoxy color show through."
The flashy cardstock has compelled production to "crank up the heat and increase the dwell time a bit," says Lindsay. On its six-station Alloyd blister-sealing machinery, the packs are sealed at 36 packs/min, Lindsay reports.
The packaging has helped Anchor-Tite to grab sales attention from the likes of Wal-Mart and Home Depot, whose reactions have been "very positive," Lindsay says. "Everybody loves the very attractive packaging."
Modern old fashioned
Magic American Corp. follows up last year's Goo Gone reformulation in a silver PVC bottle with a relaunch of its Whitman's cleaners into stainless-steel bottles. It's a brand dating back to 1934 that the Cleveland, OH-based company had acquired and reintroduced in Fall 2002 in two varieties. The cleaners are now contract-packaged in 16-oz bottles printed in four colors and topped with Mixer brand sprayers from Saint-Gobain Calmar (www.calmar.com).
The products sell for $7.99 at Linens and Things and other high-end retailers, where response has been "incredibly enthusiastic," says vice president of marketing Jimmy Zeilinger.
Zeilinger describes the can as "gorgeous, with artwork that has a 1930s feel. Whitman's was a niche brand known for supplying very high-quality products. We wanted to do it justice with a look that hearkens back to the feel of old-fashioned, 1930s quality while combining it with a beautiful package that's more modern looking."
He says that they chose stainless over aluminum for the simple reason that it's better looking. The previous packaging was what Zeilinger calls "older-looking plastic bottles."
At press time, the company was finalizing a bottle supplier, but Zeilinger says that the look of the packaging will remain the same even if the vendor doesn't.
Colorfully successful
A simple change can sometimes make a big difference on-shelf. In spring 2002, Keeper Corp., North Windham, CT, introduced color-coded packaging for a line of five trailer hitch balls packaged in clamshells.
Since then, says Paul Delaney, marketing director, "our trailer ball business is up tremendously, with a 25% increase in sales at Home Depot. I attribute that primarily to the packaging. Our positioning is much stronger and more appealing in stores." The packs retail for $7 to $12.
Keeper's trailer balls had been packaged in triangular-shaped polyvinyl chloride clamshells along with an insert card printed only in yellow, black, and white for all products. The new, arched clamshells include a die-cut hole for peg display and an opening for those who want to touch the chrome ball.
The 10-pt SBS card is offset-printed including a dominating background color of silver, black, red, blue, or green. The background colors differentiate the ball's weight capacity, from 2ꯠ to 6ꯠ lb, the latter a new product with the repackaging. Keeper handled the redesign internally, but sources the packaging and products offshore.
"Before, the products could be distinguished only by reading the copy," explains Delaney. "The packaging confused store personnel and consumers—different stock-keeping units were often displayed on the same peg or slot. It would appear that three different items were all out of stock when in fact they were stacked one behind the other."
Delaney calls the improvement "straightforward. We were already using similar packaging, so it didn't increase our packaging costs. The stores are all highly receptive to what had been a sore point in our merchandising program. This differentiates us from the competition, too."
The National Hardware Show is sponsored and conducted by the American Hardware Manufacturers Association, Schaumburg, IL. The next NHS is set for August 10-12, 2003 in Chicago.
For previous articles about packaging from the 2002 NHS, see: packworld.com/go/w058
Companies in this article