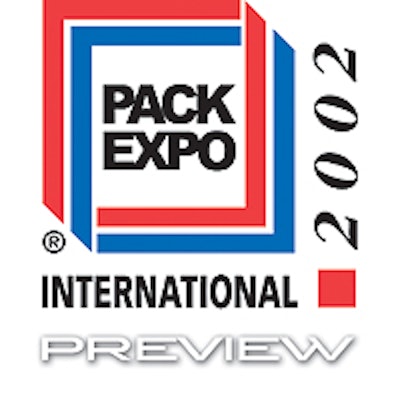 Monday, November 4th
concurrent sessions
SESSION A
9:00 - 9:45 a.m.
1.) Material and Machinery Advances:
Driving Forces Behind Consumer Goods Packaging Innovations
Speakers: Keith Barnes, Director, Packform Ltd., and Lynn Dornblaser, Editorial Director, Global New Products Database, Mintel International Group
2.) Beyond the Brown Box: Understanding and Satisfying the Very Different Corrugated Case Demands of Club Stores/Mass Merchandisers and Drink Pouch Packagers
Speaker: Billy Goodman, President,
Goodman Packaging
3.) What's New in Child-Resistant,
Adult-Friendly Closures
Speaker: Mark Fricke, VP, Product Development and Research, Kerr Group, Inc., and an end user
co-presenter T.B.A.
4.) Distribution Center Packaging in a
Global Environment
Speaker: William Armstrong, Technical Development Manager, Sealed Air Corp.
concurrent sessions
SESSION B
9:45 - 10:30 a.m.
5.) Brace Yourself for More Packaging Industry Consolidation
Speakers: Darrel M. Butler and Robert D. Billow, Managing Directors and Principals, Billow Butler and Company, L.L.C.
6.) Speeding to Market with 3-D CAD
Package Design
Speakers: Brian Dahl, Machine Designer, Haumiller Engineering Company, and Jeff Osman, Regional Technical Manager, SolidWorks Corporation
7.) Tooling for Plastic Closures:
Injection vs. Compression
Speaker: Andy Edlund, VP, Sales & Marketing, Marland Mold, Inc.
Monday, November 4th cont'd
8.) Wireless Control of Packaging Operations
Speaker: Keith Kersten, Product Marketing Specialist, Rockwell Automation
15-Minute Break
10:30 - 10:45 a.m.
concurrent sessions
SESSION C
10:45 - 11:30 a.m.
9.) Barrier Needs: At the Core of an Innovative Package Development Process
Speaker: Michelle Stevens, Applications Specialist, MOCON
10.) Gantry Robotics: From Stodgy to Speedy... How the Black Sheep of the Robotics Industry is Changing the Palletizing and Order Fulfillment Paradigm
Speaker: Bill Torrens, Director, Sales & Marketing, RMT Engineering
11.) Dispensing Closures: More Choices and Better Functionality
Speakers: Raj Krishna, VP, Technical Director
& Business Unit Manager of Advanced Technology Systems, Owens-Illinois, Inc., and an end user
co-presenter T.B.A.
12.) Eliminating Production Bottlenecks and Improving Efficiency with Root Cause Video Recording
Speakers: Kari Hilden, President, Papertech Inc., and Darren Lanthier, Sales Manager, Papertech Inc.
concurrent sessions
SESSION D
11:30 a.m. - 12:15 p.m.
13.) Rigid Packaging Technology Advances that Differentiate Products, Grow Brand Sales
Speaker: Daniel A. Abramowicz, Ph.D., Executive VP Corporate Technologies & Regulatory Affairs, Crown Cork & Seal Co., Inc.
14.) New Automatic Guided Vehicle Systems (AGVS) Technologies and How They Benefit Packaging Operations
Speakers: Brian Keiger, Manager of Systems Business, Transbotics Corporation, and Ken Gantt, Senior Engineer, Universal Manufacturing and Logistics
15.) Choosing the Right Liners and Sealing Systems for Plastic, Metal and Composite Closures
Speakers: Bob Radek, National Accounts manager, Selig Sealing Products, Inc., and an end user co-
presenter to be announced
16.) Networking Machine Vision to Improve Packaging Process Controls
Speaker: Mark Helman, Industry Marketing Manager, Cognex Corporation
concurrent sessions
SESSION E
12:15 - 1:00 p.m.
17.) Design and Its Impact on PET Beverage and Food Container Performance
Speaker: Russ Hubbard, Director of Business Development, Schmalbach-Lubeca Plastic Containers USA
18.) Leveraging Design/Build for Faster, Better, Cheaper Packaging/Processing Lines
Speakers: Mark Shambaugh, CEO, Shambaugh
& Son, Inc.; Rick Calamari, Process Engineer, Frito Lay, Inc. and Craig Kreikemeier, former President, Sverdrup Industries
19.)Tamper Evidence and Total Product Integrity in a Changing Global Marketplace
Speakers: Jack Watts, Chairman of the Board & Chief Executive Officer, Portola Packaging, Inc., and an end user co-presenter T.B.A.
20.) Advance X-Ray Inspection: Making Routine Work Out of Formerly Impossible Weighing and Counting Tasks
Speakers: Ken Bloomfield, Tellico Harbor Consulting, and Wayne Knigge, General Mills/ retired
Tuesday, November 5th
concurrent sessions
SESSION A
9:00 - 9:45 a.m.
1.) Mechatronic Packaging Equipment, the PLCopen and the Rationale for a Motion Control Library
Speaker: Eelco van der Wal, Managing Director, PLCopen
2.) The Retortable Paperboard Carton Gets Ready to Enter the U.S. Market
Speaker: Andrew Dun, VP, New Business Development, Tetra Pak, Inc.
3.) Debunking the Packaging Line Efficiency Myth
Speaker: Mark Garvey, President, Garvey Corp.
4.) QCP: Faster, More Accurate Changeovers
Speaker: Paul Zepf, P. Eng., Zarpac, Inc.
concurrent sessions
SESSION B
9:45 - 10:30 a.m.
5.) The Pros and Cons of Implementing the Standard
Speaker: Henry Claussnitzer, Director of Marketing, Parker Hannifan, EMD HAUSER
6.) Packaging Machinery Empowerment in the Global Marketplace
Speakers: Christian Korte, Executive VP, Optima Filling and Packaging Machines, and Ronald Klieverik, GmbH, Dipl. Ing. (FH) Elektrotechnik, Sales Manager, Optima USA
7.) Packaging Challenges of the Single Parcel Environment
Speaker: Chad Thompson, Package Engineering Manager, United Postal Service
8.) Strategies for Automating and Integrating Manufacturing and Packaging Lines
Speakers: Jeff Aspinall, Automation Manager,
Multivac Inc.; Collin McIvor, Sr., Manufacturing Engineer, Medtronic MiniMed; and Ralph Vatterott, VP of Sales, Rapid Development Services
9.) Shrink Wrapping as a Cost Saving Strategy
Speakers: Emmanuel Cerf, VP, Sales & Marketing, Polypack, Inc., and Ron Aylor, Sales & Marketing Director, Polypack, Inc.
15-Minute Break
10:30 - 10:45 a.m.
concurrent sessions
SESSION C
10:45 - 11:30 a.m.
10.) Discovering the Benefits of Open Modular Architecture Controls
Speaker: Rick Lidington, Executive VP of Operations,
R.A. Jones
11.) Hardening the Packaging Supply Chain Against Attack
Speakers: Ralph L. Dillon, Director of Quality Engineering, Pharmacia Corp.; and Joseph F. Noferi, Director, QA Compliance/Validation, Pharmacia Corp.
12.) New Developments in Aseptic Bottling of Fruit Juices, Isotonics and Dairy-Based Drinks
Speakers: Luigi Baiocchi, Export Sales Director, Procomac; David Blair, Sr. Project Engineer, Tropicana Products, Inc.
13.) Advances in Laser Package Marking and Scoring
Speaker: Gary W. Smith, Sales Director, Linx Xymark
concurrent sessions
SESSION D
11:30 a.m. - 12:15 p.m.
14.) 'Plug and Pack' Packaging Machinery:
a Progress Report
Speaker: Fred Putnam, Consultant, Markem Corp.
15.) How P&G Plans to Profit from the OMAC Guidelines for Packaging Machinery
Speaker: Rob Aleksa, Corporate Engineering, Machine Control Section Manager, Procter & Gamble
16.) Are Your Packages Adequately Tamper Evident?
Speakers: Ed Arling, Senior Dir. of Biopharma QA, Pharmacia Corp.; and Ralph L. Dillon, Director of Quality Engineering, Pharmacia Corp.
17.) Pasteurizable PET Bottles: The Newest Beverage Packaging Option
Speaker: Douglas K. Robinson, VP, Marketing, Constar, Inc., and a beverage bottler T.B.A.
18.) Laser Processing of Flexible Packaging for Improved Quality and Customer Convenience
Speaker: Dr. Christopher Chow, VP, Converting Market for Laser Machining, Inc.
19.) Direct Laser Coding Technology: Packaging Professionals' Choice for the Present and the Future
Speaker: Shlomo Assa, President of Laserink Corporation, a Markem Company
Wednesday, November 6th
concurrent sessions
SESSION A
9:00 - 9:45 a.m.
1.) A Post 9/11 Analysis of Packaging's Role in Product Safety and Liability
Speaker: Eric F. Greenberg, Attorney at Law, Ungaretti & Harris
2.) Bio-Based Materials: A Reality in the Packaging Industry
Speaker: Nicole Whiteman, Applications Development Leader, Cargill Dow
3.) Applying the Lean and Agile Manufacturing Process Simulation Model to Packaging Operations
Speaker: Pat Helm, Senior Consultant for Consumer Products, Lockwood Greene Engineering
4.) Nondestructive Inspection of Heat-Sealed Retort Pouches by Airborne Ultrasound
Speaker: Tony Stauffer, President, PTI-Packaging Technologies & Inspection LLC
concurrent sessions
SESSION B
9:45 - 10:30 a.m.
5.) Upgrading Your Food and Beverage Packaging Operations with the Application of Clean Room Technology
Speaker: Peter Consitt, President, Operational Innovations Inc.
6.) Evaluating Metal Can and Glass Container Alternatives for Food
Speaker: Tom Osip, Packaging Development, ConAgra Foods, Grocery Products Co.
7.) Automating Packaging Machinery with the Use of Servo Technology
Speaker: Dan Throne, Business Manager, Food & Packaging Industry, North America, Bosch Rexroth Corp.
8.) Integrating Pouch Technology into a High- Speed Efficient Filling and Packaging System
Speaker: Bill Emden, VP, Strategic Accounts, Sidel Packaging Systems
15-Minute Break
10:30 - 10:45 a.m.
concurrent sessions
SESSION C
10:45 - 11:30 a.m.
9.) "Producer Pays" and Other Global Environment Mandates
Speaker: Victor Bell, CPP, President, Environmental Packaging International
10.) Concave End Pressurized Thin Wall Steel Cans: Grace Under Pressure with 40% Less Steel
Speaker: Maggie Springer, Marketing Strategist, Ingenium Packaging
11.) Improving Packaging Operations Performance Through Safety Management
Speaker: Michael H. Crickenberger, VP, DuPont Safety Resource
12.) Making the Reclosable, Spouted Pouch a Beverage Market Reality
Speaker: Bill Hare, Director of Marketing, Curwood, Inc.
concurrent sessions
SESSION D
11:30 a.m. - 12:15 p.m.
13.) Packaging Security and the Role of Induction Sealing in a Safety-Conscious Society
Speakers: Bill Zito, VP, Cap Sealing Sales for Enercon Industries; Jim Pitassi, Packaging Engineer, GlaxoSmithKline; and Mickey Miramonti, Technical Services Coordinator, GlaxoSmithKline
14.) Steel Shipping Platforms: How Harley Takes Its "Hogs" to Market While Reducing Costs and Environmental Impact
Speakers: Barbara Ledbury, Packaging Engineer, Harley-Davidson Motor Company, and Larry Nielson, Project Manager, Worthington Steelpac Systems
15.) Leveraging Integrated Motion Control for Throughput, Speed and Flexibility
Speakers: Doug Burns, Packaging Market Director, Rockwell Automation, and Bob Hirschinger, Product Marketing Manager, Rockwell Automation
16.) Enhanced Productivity Solutions with Continuous-Motion Stand-Up Pouch Machinery
Speakers: Dennis F. Calamusa, President,
ALLIEDFLEX Technologies, Inc., and a snack foods manufacturer T.B.A.
concurrent sessions
SESSION E
12:15 - 1:00 p.m.
17.) Choosing the Right Anti-Counterfeiting Technology for Your Packaging Format
Speaker: Gadi Hoenig, General Manager, Tadbik Advanced Technologies
18.) Assessing the Latest Advances in Shrink Sleeve Label Films
Speaker: Scott Van Winter, Director Specialty Films, Ivex Packaging Corp.
19.) Leveraging Coding Technology to Cut Costs While Boosting Efficiency and Improving Supply Chain Management
Speakers: Scott D. Liniger, Strategic Marketing Manager, Videojet Technologies, Inc., and Bruno Pierannunzio, PPG
20.) Innovations in Retort Pouches
Speakers: Dr. Rani Stern, Chief Technical Officer, CLP Industries Ltd.; David Polvino, VP, Stock America; and Gary Caligiuri, President, Sunny Dell Foods
Companies in this article