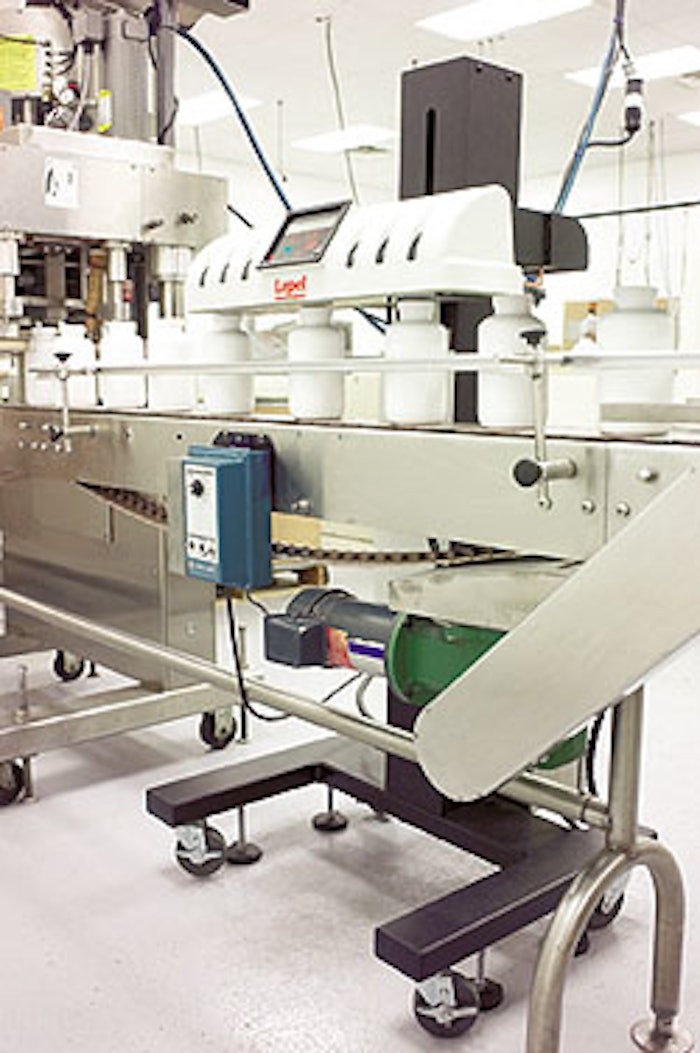 A switch last December from pressure-sensitive foam liners to induction-sealed foil liners on two packaging lines has brought a marked improvement at Interpharm, a pharmaceutical manufacturer in Hauppauge, NY.
The two lines are both used to fill HDPE bottles with tablets or capsules. One line is for bottles smaller than 250 cc, the other for larger bottles up to 950 cc. Closure sizes include 33, 38, and 53 mm. Both child-resistant and standard threaded caps are used.
Bottles are either injection-molded or extrusion blow-molded by Setco (Anaheim, CA). Polypropy-lene closures are injection-molded by Mold-Rite Plastics (Plattsburgh, NY). Interpharm buys bottles and caps through Package All Corp. (Bayport, NY).
The induction sealer added to both lines was a CS Plus+ induction cap sealer from Lepel (Waukesha, WI).
"We switched to induction sealing for two reasons," says Raj Sutaria, vice president and chief operating officer. "First, to be proactive, to head off potential problems. Second, to help position us for growth."
Sutaria's reference to "potential problems" has partly to do with temperatures. He says that field and lab testing showed that the p-s liners formerly used could become less secure at temperatures over 86°F. "Our products are distributed nationwide, usually by truck," says Sutaria. "We've done testing to make sure our products remain stable, but we need to be sure the package seal remains secure as well." The proactive thing to do was to switch to induction-sealed liners, says Sutaria.
As for future growth, the new equipment helps simply because it lets Interpharm run its lines at higher speeds. Lepel claims its CS Plus+ unit is capable of 350 bottles/min, but Sutaria declines to quantify what Interpharm's speeds are.
Plug and play
Before the units were shipped, setups for each of the bottle/cap combinations were established by Lepel. Each setup included an energy setting, a coupling distance (the gap between the cap and the sealing head), and line speed. With these setups established, installation was a "plug-and-play" experience, says Sutaria. The equipment remains easy to operate, he adds.
"There's no start-up or warm-up time," Sutaria says. "We first turn it on and program the energy setting, and it's ready to run."
The ease of operation is partly a function of the CS Plus+ machine's waterless design. Historically, most induction-sealing equipment has included water lines that serve to cool the sealing head. While reliable, the downside to these machines is that they do require a certain amount of piping. Also, wherever such piping is involved, there's a chance for a spill, and cleaning is required frequently.
The Lepel induction sealer relies on "heat-sink" technology for cooling rather than on water. Lepel is somewhat guarded about the patented technology, but essentially it's a matter of guiding heat away from the sealing head and toward cast-aluminum heat-sink "fins" that conduct heat even further away from the sealing area. Fakhrul Rochee, packaging supervisor at Interpharm, appreciates this self-cooling feature and the absence of moving parts in the Lepel system.
"We don't worry about the cooling system breaking down or water spilling," she says. "The machine requires no maintenance." —PR
Companies in this article