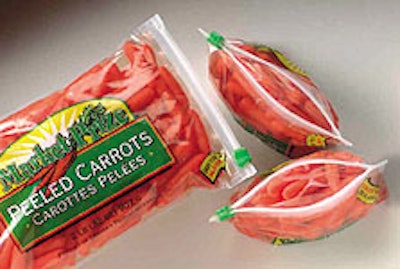 The results are in from the Flexible Packaging Assn.'s 2001 Packaging Achievement Awards competition. Of the seven winners in the Packaging Excellence category, no less than four have zipper reclosure features. Two are applied in-line by form/fill/seal systems, and two come to their users on premade pouches. (For additional coverage of the FPA awards, see pages 69 and 75.)
The Market Prize Peeled Carrots Bag (1) is one of the premade pouches. A Gold Award winner in the Packaging Excellence category, the bag is made by Pliant (Schaumburg, IL) for Eldorado Farms of Redcliff, Alberta, Canada. It replaces a pillow-shaped bag that had no reclosure feature.
"Our old package was boring and outdated," says Jim Dalzell of Eldorado Farms. He figured a bag with a slider zipper would better enable the company to compete with larger growers in California. To complete the update, Eldorado redesigned the graphics to enhance product presentation.
Also, in a small gusset below the slider zipper, the film is perforated. Consumers wishing to open the package must break through this perforation, and if the perforation isn't intact, consumers have clear evidence of tampering.
The zipper on the Eldorado Farms pouch is Pliant's Relliant Series 200 slider zipper, applied to the 2-mil low-density polyethylene bag material at Pliant during bag making. The bag material also has macro air-vent holes to allow gas exchange to occur at a predetermined rate. This ensures a three- to four-week refrigerated shelf life. Graphics are flexo-printed in six colors.
The new bag represents a significant increase in packaging costs for the small vegetable grower. But Dalzell is confident that his investment is well worth it.
"Customers have reacted very positively," he says. "They think it's a wonderful design." Furthermore, Dalzell feels his firm is now better positioned to compete against the other guys.
"Worst case scenario is that my competition is going to have to make a similar change as well," he says. "I like to stay ahead of the trends and make people catch up to us, instead of the other way around."
Powerful promo
The other premade zippered bag to win in the Packaging Excellence category is a 13" x 20" "billboard" pouch (2) used by New York-based Redken as a container for a set of posters promoting the firm's Color Fusion brand of color crème products. From Specialty Films & Associates (Hebron, KY), the pouch has the impact of a wild new "do." It also had an impact on FPA judges, who gave it a Silver Award.
The pouch is made of 48-ga metallized polyester that's adhesive-laminated to 4-mil LDPE. It's gravure-printed in seven colors plus varnish. The full-coverage graphics help foster maximum brand awareness. SF&A applies the zipper reclosure feature, which is from Minigrip/Zip-Pak (Manteno, IL). Redken fills and seals the pouches by hand.
Buddy Schnapp, Redken senior director for purchasing and marketing services, says the pouch "has a surrealistic look that presents an interesting and unique delivery vehicle." He feels it contrasts nicely with the flesh-toned models seen on the four posters inside. He adds that the pouch was effective, too. "I'd consider doing this type of program again in the future."
The power of cheese
Both of the zippered-pouch winners whose reclosure features are applied in-line during packaging are cheese packages, one from Sargento (see packworld.com/go/c005) and the other from Kraft. Both won a Silver Award in the Packaging Excellence category.
Each pack provides easy opening and easy reclosability without sacrificing hermetic seal for the modified-atmosphere-packed product. In each case, there are two areas of technical achievement: the ability of the converter to produce the right film that is easy to open without compromising seal integrity, and the ability to apply the slider feature onto the package while on a f/f/s machine.
At Pack Expo 2000, Sargento Cheese, Plymouth, WI, introduced its Chef Style shredded mozzarella cheese in the first cheese pack (3) to use the Hefty Slide Rite™ slider reclosing feature developed by Pactiv (Lake Forest, IL). While that was the focus of the introduction at the show, Sargento's pack also features a new removable hood to enclose the slider. The hood permits Sargento to create hermetic seals on the packaging machine, while also offering an easy-open feature, created by converter Curwood's IntegraScore®.
The third contributor to this package's commercial viability is Klöckner Bartelt (Sarasota, FL), maker of the machine that Sargento uses to apply the slider and create the pack, then fill, gas flush, and seal it. Key to the project is an in-line assembly that attaches the slider device in registration with the rollstock film.
The process includes PC controls running servo motors. Machine-vision inspection and self-tuning steps also help maximize machine performance to levels of output comparable to "press-to-close" zipper packaging. Specific package materials were not identified, though a shelf life of six months was claimed.
Curwood (Oshkosh, WI) should receive the lion's share of the credit, says Judy Fischer, Sargento packaging engineer, "because we worked with them for a couple of years to come up with the right film structures and the right combinations of sealants and outer layers to achieve the durability the package needed." As a person who is responsible for ensuring seal integrity, Fischer says it's tough to create a package that also displays a propensity to tear.
"We think we're way ahead of our competitors because of some patents we have pending on the package and on the process," Fischer says. "And the consumers absolutely love this package."
Glenview, IL-based Kraft gives consumers a pouch (4) made by Pechiney Plastic Packaging (Lake Forest, IL) and a slider feature that comes from Minigrip/Zip-Pack (Manteno, IL). A f/f/s machine from Pacmac (Fayetteville, AR) applies the slider to the pouch during pouch-making.
Pechiney uses laser scoring to provide the easy-tear opening feature. Once the header has been removed, the slider clip can be opened to reveal a peelable seal that's incorporated into the flange of the slider. As with Sargento's pouch, the slider profile is applied to the web on the Pacmac f/f/s machine, although Pechiney's entry form says the slider will also be used with other machines. No further details were available.
Bye-bye ice
What if a grower shipping fresh broccoli crowns to retailers and foodservice operators around the world figured out a way to eliminate the use of waxed cartons and ice?
Well, if the grower is Apio, Inc., it wins two Silver Awards in the FPA competition. Apio's Intellipac Case Liner (5) won a Silver Award in both the Packaging Excellence and Environmental Achievement categories.
The Intellipac Case Liner is yet another extension of the "ice-eliminating" Intellipac technology first unveiled by Apio in 1995 (see packworld. com/go/004). Originally it was 3-lb hand-packed portions of broccoli and cauliflower in preformed bags, then it was 12-oz packs produced on a vertical form/fill/seal machine, and most recently it was 3 lb of veggies in a thermoformed Intellipac tray. Now comes the Intellipac Case Liner, a flexible bag into which broccoli crowns are packed. The bag is heat-sealed closed and the case folded shut.
The key to this packaging technology is Apio's patented Intellipac breathable membrane affixed over a hole in the flexible bag. This is what allows the broccoli to be shipped without ice. The controlled permeability of the membrane regulates the ratio of oxygen and carbon dioxide inside the bag to specifically match the requirements of the broccoli. The membrane is applied to the film like a pressure-sensitive label during bag-making.
Most intriguing is that the case liner compensates for temperature abuse should it occur during refrigerated distribution. That's because the technology is based on an unusual "side chain crystallizable" polymer having an internal "temperature switch." At elevated temperatures, when respiring produce needs more oxygen, the polymer becomes more permeable, allowing the necessary oxygen in. But at lower temperatures, when less oxygen is needed, permeability automatically decreases.
Unlike semipermeable films for respiring produce, which typically allow CO2 out and O2 in at a 1:1 ratio, the Intellipac technology is said to maintain CO2/O2 ratios of anywhere from 18:1 to 1.5:1, depending on what the specific product requires. Whatever atmosphere the produce requires is the atmosphere it gets.
The benefits of eliminating ice include these:
• Freight expense is reduced; according to Apio, iceless broccoli can be shipped in smaller boxes, permitting up to 50% more cases per pallet compared to broccoli shipped in ice.
• Waxless cases can be used; these are more easily recycled and are less expensive than nonrecyclable waxed cases.
• Owning and operating ice-making machinery is unnecessary.
• Safety is enhanced, as melted ice presents a safety hazard in retail and foodservice settings.
• Product quality is improved, as ice can act as a carrier of microorganisms.
According to Apio's Jennifer Browder, produce boxes shipped in this award-winning format can weigh from 12 to 22 lb. She also says that though broccoli crowns lead the way, the firm has since used the Intellipac Case Liner for broccoli florets and for green onions, as well. Cauliflower and other veggies are being explored.
Apio has no plans to offer the Intellipac technology to other growers, says Browder. "It's a way for us to differentiate ourselves in the marketplace" she adds.
Reusable carafe
FPA honored International Dispensing Corp. (Millersville, MD) with a Silver Award in Packaging Excellence for a "disposable beverage carafe" (6) that is at once unusual and practical. IDC is described by its president and chief executive officer, Gary Allanson, as both a packaging R&D company and a manufacturer.
The 13" high x 10" wide carafe is made of three key package components: an inner flexible pouch that holds the beverage; two corrugated side panels; and a rigid plastic frame with a flat bottom, carry handle, and pour spout.
The primary pack is an inner pouch supplied by Kapak (Minneapolis, MN). According to IDC, the structure is an adhesive lamination consisting of two layers of biaxially oriented nylon and a sealant layer of ultra linear-low-density polyethylene. The pouch holds up to 96 oz of hot or cold beverages and provides strong puncture- and tear-resistance.
Welded to a top corner of the pouch is a 37-mm spout that slides and locks into a 4½"-long spout on the rigid plastic frame. The spout on the frame includes a twist-off cap and tear-away band that provides tamper evidence.
The pouch is manually fitted into the black injection-molded polypropylene frame that allows the user to easily hold and pour from the carafe. The frame also provides a flat, rigid bottom for the container. Two e-flute corrugated side panels are manually positioned around the pouch. They lock into the rigid frame to provide safety and support when the carafe is transported. The panels also provide some insulation and can be direct-printed in color as requested by the customer.
"We designed this so that it could withstand an eight-foot drop test when fully loaded," says Allanson, who says tests were conducted by an outside laboratory. "It handles temperatures up to 220 degrees Fahrenheit and can keep a product at temperatures of 160 to 190 degrees for up to three hours."
IDC sells the unassembled carafe components in 24- or 48-count cases to convenience stores, gas stations, coffee houses, and grocery stores. "They would be used under an industrial-sized coffee maker," says Allanson. "We also have a display case that contains 12 fully-assembled carafes."
The patent-pending carafe was introduced less than a year ago. One of its first users is Annapolis, MD-based City Dock Coffee, a full-service bakery and caterer that uses the carafes at its six Maryland outlets to sell coffee, tea, and other hot beverages.
"It's dynamite for us," raves City Dock president Stephen Duffy. "We sell probably three times as many of the units now as we did before in a different container. I attribute that to the marketability of the unit." Duffy adds that the container is easy for employees at the stores to set up by following simple directions. "The first time you set one up, you pay attention, but after that it's a no brainer."
Duffy says that customers pay an initial price up front for the entire container, but if they bring it back, City Dock Coffee will replace the inner pouch and corrugated side panels as necessary. Consumers then receive a discount for bringing back the components. They also can wash out the inner bag and re-use it. "The beauty of it is that we can re-use the bags," he notes. "We call them our version of a keg, and they've proven to be a great supplement to our catering business."
IDC's Allanson is in the process of marketing the carafes to other high-profit areas such as fountain drinks at foodservice outlets and for soup and chili sold as home-meal replacement foods at grocery store delis.
Got ESL milk?
Winning a Gold Award in the Packaging Excellence category was the shrink-sleeve label for PET bottles of Nestle's NesQuik (7). Contract packaged by four "superdairies"—one each in the Northeast, Midwest, Northwest, and West—on extended-shelf-life equipment, the milks have a refrigerated shelf life of 90 days (see packworld.com/go/c008). The consumer-preferred PET bottles are replacements for gabletop cartons used in the past, though such cartons remain in use for multiserve packages of NesQuik.
Alcoa Flexible Packaging (Richmond, VA) makes the labels for both the 16- and 32-oz bottles. Alcoa specifies PETG made from Embrace™ copolyester from Eastman Chemical (Kingsport, TN). According to Alcoa's Terry Copenhaver, this material shrinks nicely around the bottle, and it's best "from a recycling standpoint."
Reverse-printing in seven colors on a gravure press gives the labels plenty of shelf impact. Alcoa also predistorts the printed image so that when the label is shrunk onto its curvy bottle shape, the graphics look sharp.
To contact any supplier mentioned in this story, see: packworld.com/go/w005
Click here to see article: Printing that's best in class
Companies in this article