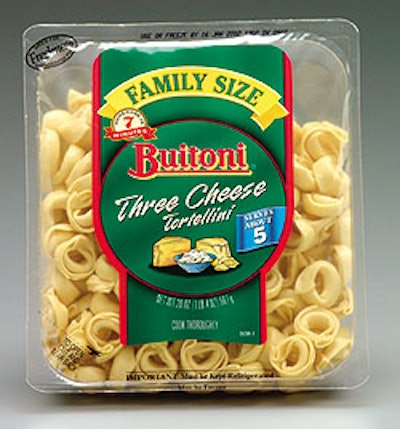 The Flexible Packaging Assn.'s 2001 Packaging Achievement Awards included four categories this year: Technical Innovation, Packaging Excellence, Environmental Achievement, and Printing Achievement. But only two award winners earned the Highest Achievement Award, and both were Gold Award winners from the Technical Innovation category. (For additional coverage of the FPA awards, see pages 61 and 75.)
One of these was Nestlé Buitoni-brand fresh pasta (1), marketed by Nestlé USA of Glendale, CA. Covered by Packaging World in a previous issue (see packworld.com/go/c007), this package's lidding material represents the first-known commercial use of the OS1000 polymer-based oxygen-scavenging system from Sealed Air Corp.'s Cryovac Div. (Duncan, SC). Activated by ultraviolet lights near the form/fill/
seal system on which the pasta is packed, the Cryovac technology extends the refrigerated pasta's shelf life by 50%, says Nestlé.
The other Highest Achievement winner is Cargo Tech's (San Diego, CA) AirLiner®, an inflatable insulating liner (2) that converts a corrugated shipper into a cooler. It also won a Gold Award in FPA's Environmental Achievement category.
AirLiner technology derived from government-sponsored research to improve insulation for refrigerators. Cargo Tech founder Tom Malone saw its potential for perishable shipping and worked with David McKinney to develop it into a multiple-patented alternative to foam coolers. Last year, Save On Seafood, St. Petersburg, FL, used more than 50ꯠ of these bags to protect the seafood it ships to restaurants and supermarkets.
Although its makers are somewhat guarded about AirLiner's composition, McKinney did say the outer ply is a coextruded film with a core of nylon. The inside film is a "pure polyolefin that's been metallized." McKinney joined Cargo Tech from ITW Holographic and Specialty Films, a company formerly known as Scharr Industries, a pioneer in metallizing packaging materials.
Many of Cargo Tech's patents pertain to the way the materials are fabricated into an inflatable bag with a one-way valve inflation nozzle. The bags are shipped flat so the receiving and storage space savings vs fabricated foam coolers is considerable, easily the biggest benefit to Save On Seafood, according to owner Gib Migliano. When the company began to use the AirLiner bag, he says, nearly 4ꯠ sq' of crucial dockside space became available.
While the space savings was vital to Save On, other benefits were equally appealing. The company did a side-by-side test of AirLiner vs the expanded polystyrene foam cooler it previously used, both with 2-lb gel packs and dry ice pellets for refrigerant. Not only did the inflated package's contents begin cooler (37°F vs 41°F), the package outperformed the cooler in shipments to most destinations. Even more important, Migliano says, customers perceived the fish fillets sent with AirLiner to be colder than those packed with the EPS cooler.
Although Cargo Tech is offered in 12 stock sizes, Save On converted all its customers to a single pack size, 24"x15"x10¾", compared to three former sizes with foam. That added to the space savings on both corrugated boxes as well as the bags. This box can hold from 20 to 40 lb of fish, and it has a light wax treatment on its inside surface. In the plant, compressed air is used to inflate the bags, requiring only about 10 sec/bag.
"Plus, using AirLiner, the package's gross weight is significantly reduced. Since these bags are virtually weightless, it saved us a bunch of money," says Migliano. To further save on weight, Migliano says his plant now primarily uses dry ice as the refrigerant in place of the heavier gel packs.
In the past, Save On had experienced some breakage problems with foam that led to having to ship replacement orders. Because a container from Save On might hold $300 worth of salmon, tuna, or swordfish fillets, the replacement cost and the loss of good will was considerable. "Our customers have told us: 'If you're shipping overnight with AirLiner, your instances of damaged, spoiled goods will be minor,'" says Migliano. In fact, he tells PW that he hasn't had one damage claim with the production AirLiner bag.
The AirLiner system is a bit more costly to buy, 5% to 10%, McKinney says. But this cost premium is more than offset by the reduction in damage costs. After a production debugging period, Cargo Tech began shipping AirLiner bags last June.
Finally, the AirLiner bag deflates into flat film for disposal. The seafood company owner says his customers have told him about "dramatic" declines in their trash. "There's no crushing messy, used foam boxes, and then trying to figure a way to dispose of them," Migliano says. "Any step we can take to reduce our impact on the landfills is a bonus.
"Look, the chefs I sell to are very conscious of the environment. So minimizing trash or having a recyclable bag has been very attractive to them."
One more gold
The third Gold Award winner in FPA's Technical Innovation category was a promotional pouch (3) of Tabasco Brand Green Pepper Sauce from Avery Island, LA-based McIlhenny's. The 11/8" x 2½" pouch is inserted inside folding cartons containing 2-oz retail bottles of McIlhenny's Tabasco Brand red pepper sauce.
The pouch material is supplied in rolls by Rollprint (Addison, IL). The flavorful but aggressive sauce proved challenging from a pouch structure standpoint. Total thickness of the multilayer structure is 2.6 mils. A foil layer provides barrier and a proprietary polyester-based, chemical-resistant sealant layer is coextrusion-coated to the food-contact side of the foil. On the other side of the foil is white opaque PP, which provides an opaque background for the reverse-printed polyester laminated on top of the PP. The three-color printing on the polyester is done flexographically.
The structure is said to provide an 18-mo shelf life, more than double that of other materials that were tested. Rollprint claims the pouch represents one of the first commercial applications of a polyester-based coextrusion coating.
Anti-slip properties
Winning Silver in the Technical Innovation category was Primary Packaging (Bolivar, OH) for its Grit Slip Sheet (4). This high-friction, anti-slip sheet was first used by Timmer Farms of Imlay City, MI, to prevent its 50-lb bags of carrots from sliding around once they were stacked on pallets.
"Every time we'd move a pallet, the bags of carrots would fall off," says Timmer Farms president Les Timmer. The problem was solved once the firm started putting 40" x 48" Grit Slip Sheets from Primary Packaging between layers of bags. Each 2-mil sheet is a three-layer coextrusion, and each layer is a PE/LLDPE blend. The surface layer also includes ultra-high molecular-weight PE, a portion of which remains unmelted to provide a "sandpaper" effect that prevents the bagged carrots from sliding.
Primary Packaging has since gone a step further in its anti-slip campaign. The anti-slip material is incorporated into the carrot bags themselves, which are available in 25- and 50-lb sizes. These bags are made of a 3.25-mil three-layer coextrusion similar to the slip sheet film. Once again, the outer layer includes the addition of UHMWPE for anti-slip properties. The thicker structure also bolsters the bag's strength.
Compared to the previous bags, says Timmer, "This brings only a nominal cost increase. But what a difference. The bags stay right where you stack them."
Timmer admits there's a slight downside in that the two-color, flexo-printed graphics aren't as sharp due to the gritty surface of the anti-slip bags. But that's a trade-off he says he can live with.
Another Silver Award winner for Technical Innovation was the flexible film used to package a frozen string cheese/pizza sauce concoction known as Sorrento Stuffsters (5). They're marketed by Sorrento Lactalis of Arpin, WI. New England Extrusion (Turner Falls, MA) extrudes the 3-mil Inflex MO466 PE film and Cello-Pack (Cheektowaga, NY) flexo-prints it in seven colors plus varnish. The material replaces a 3-mil cast PP that showed a tendency to fracture when subjected to the freeze/thaw cycles experienced by the product.
The Inflex material incorporates a new PE additive film technology that is said to achieve improved stiffness and feel, lower haze, higher gloss, wider heat-seal window, and improved seal strength. Sorrento declines to quantify the cost of the MO466 compared to the film it replaced but indicates that the new material helps in reducing the overall cost of the package.
And finally...
Last but not least among the Silver Award winners in the Technical Innovation category were two films from Pechiney Plastic Packaging (Chicago, IL).
Used primarily for cheese packaging, Pechiney's Generation Flex (6) is a tandem extrusion lamination of three discrete film substrates. The first is a proprietary coextrusion that includes ethylene vinyl alcohol. Added from the next unwind stand is oriented polypropylene followed by an ethylene vinyl acetate sealant layer.
Generation Flex is a replacement for a tandem extrusion lamination of polyester/polyvinylidene chloride-coated OPP/EVA sealant layer. Since its first commercial application about a year ago, it has become popular with Pechiney's processed cheese customers, including Land O' Lakes of Arden Hills, MN.
The new film structure is considered "greener," says Pechiney's Jan Boyd, because it removes PVDC from the equation, and processing PVDC involves unwanted emissions that are not part of the picture with EVOH. Also, says Boyd, EVOH is typically viewed as easier to recycle than PVDC.
Other advantages, says Boyd, include better barrier and less flex cracking.
Also winning Silver for Pechiney is a frozen-pizza lidding material (7) that combines patented nylon coextrusion technology with peelable sealant technology to improve overall package integrity at a significant cost savings. The coextruded material is fed to the horizontal form/fill/seal machines used for modified-atmosphere packaging of Freschetta-brand frozen pizza. The well-known brand is marketed by Bloomington, MN-based Schwan's Consumer Brands North America.
At Schwan's plant in Florence, KY, a hf/f/s machine forms a bottom web that holds the pizza on a corrugated disk. Next is evacuation of ambient air and heat sealing of the Generation Flex lidding material. According to Schwan's corporate buyer Mike Winkelman, the new material took the place of a laminated structure and represents a "significant," though unquantified, cost savings.
"The coextruded material costs less because it involves one less converting process than a lamination," says Winkelman. "There's also a gain in machineability because the material is less rigid than the laminated structure it replaced. The reduced rigidity also means the lidding material forms around the pizza more readily, which yields a tighter vacuum package."
Equally appealing, says Winkelman, is that the new material required no change in hf/f/s machines used to package the pizza.
Winkelman chooses not to identify the precise film thickness or the specific layers included in the structure. He says the material has been in use since last July.
To contact a supplier mentioned in this story, see: packworld.com/go/w005
Click here to see article: Printing that's best in class
Companies in this article