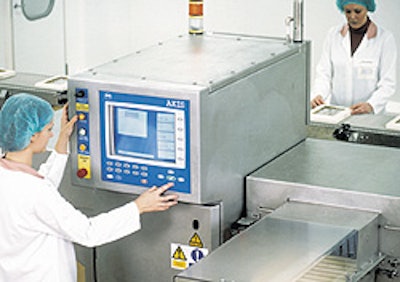 Once possessed only by comic book superheroes, X-ray vision is now used on-line to help ensure the quality of packaged goods. At Thorntons, a manufacturer of premium confections in the United Kingdom, an X-ray inspection system from Loma Intl. (Carol Stream, IL) has been in operation since 1999 at the company's headquarters facility in Somercoates, England. It checks for contaminants in foil-wrapped and unwrapped chocolates.
A subsequent software upgrade from Loma made the system even more "super" by allowing it to detect missing chocolates—even foil-wrapped ones—inside the boxes (see July '01, p. 2). This helps eliminate concerns over missing chocolates in the boxes.
Thorntons formerly used a metal detector to inspect the chocolates for contaminants. The inspection took place before the chocolates were wrapped. Inspecting after wrapping was out of the question because the wrap used on many of the chocolates is foil, which renders a metal detection system useless.
However, Thorntons wanted to push automated X-ray inspection as far downstream on the packaging line as possible so that the inspection isn't done too soon, before some of the manufacturing steps. That way, the inspection system could serve as a final on-line Quality Assurance (QA) inspection to also ensure that contaminants introduced during the manufacturing process would be detected.
The Loma AXIS X-ray machine was installed in September '99. The X-rays are generated from an above-conveyor source and are detected by a row of 0.88 sq mm diodes below the conveyor. Chocolates conveyed through the machine travel between the X-rays above and the diode array below. Each boxed piece is analyzed up to 800 times/sec as it moves through the machine. This process yields a grayscale X-ray image that's analyzed by the AXIS software, which compares the X-ray image with preset standards to determine if the package is okay or not. Contaminants show up as darker areas. Unlike metal detection systems, X-ray systems can detect the presence of pieces of glass, rubber, product clumps, and certain plastics, including polyvinyl chloride.
Several months after the startup, Thorntons received the expected software upgrade that enables the Loma system to check not only for contaminants, but also for missing chocolates. Like the software that came with the original installation, the software upgrade analyzes an X-ray image and compares it to a preset standard. But rather than looking solely for dark spots to identify the presence of a contaminant, this time the software also looks for an area that's lighter than it should be compared to a preset standard. If such an area is detected, it means a piece of chocolate is missing.
This feature negates the need for a checkweigher. In some ways the current inspection system is even better than a checkweigher because box net weights may vary because of individual product variations. However, the X-ray system isn't looking at weights, it's looking at actual box counts, which provides greater accuracy.
The X-ray inspection system operates at a speed of 56 boxes/min. It is located outside a "high risk area," the U.S. equivalent of a clean room that's isolated from the rest of the plant. It's where the chocolates are manufactured and then placed into the boxes by pick-and-place machinery. Boxes are then lidded with a paperboard boxtop. The boxes are conveyed from the clean room through a hole in the wall to the X-ray system. After X-ray inspection, the boxes are automatically overwrapped in film.
Packaging World is told that the pick-and-place systems can occasionally miss a chocolate, caused mainly by variations in the individual chocolates. Thorntons doesn't want consumers, who pay $4 to $12 U.S. per box, to be disappointed by a missing chocolate.
Big and small aspects
Another advantage of the AXIS system is the ability to detect very small contaminants.
"While a metal detector can probably [inspect] down to quite a small size, this is only possible with a small aperture, yet we need a large aperture to accommodate the chocolates box," says Thorntons engineering manager Neil Hardy. "Now, with X-ray, we can inspect the chocolates a second time, before they come off the production line."
That was one of the reasons Thorntons chose to buy an X-ray machine from Loma. "They were the only company willing to build a machine wide enough for our needs," says Hardy. "All the others were simply too narrow to get our chocolate boxes through."
The boxed chocolates vary by size and shape. Boxes can be square or rectangular, and they may contain two layers of chocolates. The software is programmed with data for each product, which requires the operator to simply key in the product identification. A changeover takes less than a half minute, PW is told.
Although some production lines at Thorntons operate 24 hours a day, six days a week (one day is set aside for cleaning), the Loma AXIS line—Line One—operates 16 hours a day, five days a week. Hardy reports that the machine's performance has proved reliable.
"Since the AXIS system was installed, we haven't actually found any major instances of contamination, which from my point of view is a good thing as it gives me faith in our production processes," he states.
Companies in this article