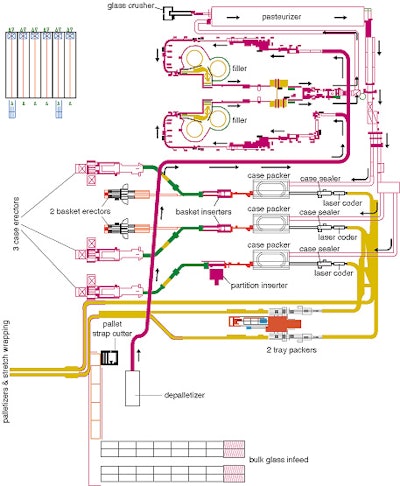 Supervisory control and data acquisition (SCADA) is alive and well at Latrobe Brewing Co. of Latrobe, PA. The brewer's recently installed 12-oz glass bottling line (see Packaging World, Oct. '01, pp. 38 and 44 or packworld.com/go/latrobe) deploys approximately 40 pieces of packaging equipment to crank out 1길 bottles/min. All 40 machines are networked in a way that delivers two key benefits: maximum automation through machine-to-machine communication and real-time data acquisition and analysis. The sophisticated network was designed and implemented by line integrator Sig-Simonazzi (Plano, TX).
Like many packaging machines built today, each major machine on the line has its own programmable logic controller (PLC) that "listens" to sensors and "talks to" actuators to accomplish its assigned tasks. In machines where the number of inputs and outputs is modest, point-to-point wiring is used, which means each sensor and each actuator is wired separately to the PLC. But more complex machines such as the filler have so many I/O points that point-to-point wiring would be expensive and cumbersome. So each of these machines has its own I/O bus (sometimes referred to as a fieldbus or device-level network) to carry inputs and outputs to and from its PLC along a single wire. Latrobe uses DeviceNet or AS-I wherever an I/O bus is needed on a machine.
All 40 or so PLCs on the line are networked along an Allen-Bradley Data Highway Plus® communications network from Rockwell Automation (Milwaukee, WI). Actually, it's four separate Data Highway Plus networks due to the sheer number of PLCs involved and the speed with which some signals must travel. Approximately 10 PLCs are assigned to each Data Highway Plus network. To integrate the four networks, Latrobe relies on the network capabilities of Allen-Bradley's recently developed ControlLogix platform. Through the ControlLogix Gateway, it's possible to route communications from any one of the four Data Highway Plus networks to any one of the other three. Through the Gateway, the four networks become one.
Packaging manager Bill Allison is pleased with the results.
Good communications
"The level of communication among PLCs along the network is what makes this line so different for us," says Allison. "It's no longer a matter of each machine simply handing off the containers to the next machine. Now, with all the PLCs on the Data Highway, the case packer, for example, knows what's happening at the case erector upstream. This adds greatly to conveyor control. We can modulate conveyor speeds between machines more effectively because the machines share among each other important information about their status."
Also part of the package are two human-machine interface (HMI) panels, each one an Allen-Bradley Panel View. One is at the filler and the other near case packing. Running in these stations is HMI software that allows operators and mechanics to check on the status of any machine on the line.
How about the data acquisition part of SCADA? That part is also impressive, largely owing to Sig-Simonazzi software called S.LI.M., which runs under the Wonderware (Irvine, CA) programming environment.
"It allows us to track specific machine efficiencies as well as overall line efficiencies," says Allison. "We can log everything that's happening on the line."
The connection to the S.LI.M. PC is made through an Ethernet card installed on the ControlLogix Gateway. A cable from the Ethernet card leads to the PC on which the S.LI.M. software is installed. In this way, communication flows from the packaging line to the PC.
Shows the cause, too
The S.LI.M. program provides more than just a constant and real-time record of how many times a certain machine stops in a shift. It shows the cause, too. This ability to not only amass data (tray packer down) but also to attribute cause (tray packer down because it's starved of bottles) makes the software a valuable management tool.
Data, of course, are only fully useful when properly analyzed. S.LI.M. is designed to take care of analysis, too.
"We can customize reports based on the specific data that's of interest," says Allison. " It's all menu-driven. You just select the machine whose performance you want to check on and ask for a report."
Among the charts generated by the software are Pareto charts, which are a statistical method of analyzing the entire line and tracking downtime based on frequency, severity, and duration. These charts help Allison and colleagues pinpoint precisely where loss of efficiency occurs.
"It makes it so much easier to take corrective action," says Allison. "And because the information is saved on our network server, it's accessible at the desktop of whoever might need it. It's all about getting better information, which helps us make better decisions about managing the line."
Also helpful is the overhead electronic message board that floats above the line. Suspended from the ceiling in a central location so that all eight operators can view it, this display represents a quantum leap in the fine art of troubleshooting. It's linked to the S.LI.M. PC via the RS-232 serial communications protocol. Basically it's a neon extension of the PC, spelling out in one of three colors the current condition of key pieces of equipment. Allison explains.
"Green is for normal operation, orange is for a machine stop not due to a mechanical fault, and red is for a fault condition. So suppose there's a jam at a case packer. Upstream equipment like the case erector and the machine that stuffs six-pack basket carriers into the cases will stop. But their stoppage is not due to a fault. So their status is displayed on the board in orange, while the case packer is in red. It means the operator knows exactly where to go to fix the problem. And with the line designed to run with just eight operators, they can't afford to waste time trying to determine where a fault is."
Excited as he is about the potential such networking technologies present, Allison has a word of advice for any who plan to go down similar paths: Eliminate plug-and-play expectations.
"It's a lot of new technology all at one time, which brings with it a huge cultural shift," Allison says. "Realistic expectations are critical, and you must allow time for debugging at the outset. You also have to be willing to keep considerable resources available to your suppliers as startup and implementation are under way."
Cautionary comments notwithstanding, he believes the technology is well worth pursuing.
"We'll get there," he says. "This was a good decision for us."
Companies in this article