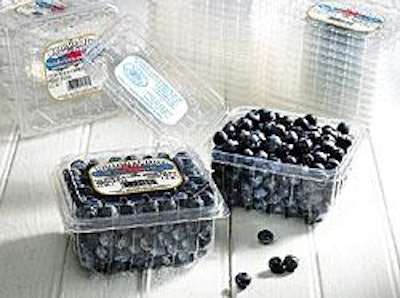 Kalamazoo, MI-based thermoformer Fabri-Kal Corp. doubled its speed, reduced its labor costs by one-third, and limited downtime since it employed a new clamshell labeling system in August.
The automatic system, which replaced older label applicating equipment, denests clamshells, applies a pressure-sensitive label to the top of each clamshell, then nests and counts the labeled containers. After secondary packaging, the trays are shipped to produce growers, or their packers, typically for filling with products like berries, cherry tomatoes, and grapes.
Supplied by Minnesota Automation (Crosby, MN), the system is equipped with two label applicators from Label-Aire (Fullerton, CA) that are designed to apply pressure-sensitive labels to clamshell tops and bottoms. At this time, Fabri-Kal is only applying one label, to the top of each clamshell, though it can apply a second label to the bottom, should a customer request it.
P-s paper labels are supplied by East West Label (Conshohocken, PA). The 60# semi-gloss paper labels are printed flexographically, usually in five colors. The labelers were acquired by Minnesota Automation through distributor Tapemark (West St. Paul, MN).
The equipment operates at Fabri-Kal's Greenville, SC, plant, where 14 thermoforming machines are used to make both custom and stock packaging for foodservice and retail customers, including hinged clamshells. Fabri-Kal manufactures hinged clamshells from clear styrene-butadiene copolymers for their toughness and clarity properties.
"The one Minnesota Automation machine replaced two antiquated berry tray labelers that were labor-intensive," explains Greenville plant manager David Taylor. "The old machines were slow and terribly inefficient."
Specific benefits
Taylor credits Fabri-Kal project manager Brad Osterbuhr with overseeing the system's installation, as well as its ongoing operation. "The older machines did not provide automatic feeding and discharging, or counting functions," Osterbuhr says. "And we needed six people to run them [three for each machine], whereas we need only two now."
Previously, one worker pulled trays from a case and loaded them onto the machine. Another worker visually inspected clamshells and stacked them. A third person counted the clamshells in the stack, placed them in a case, sealed the case, and positioned it on a pallet. Now one person opens cases and places clamshells into a magazine on the Minnesota Automation machine, while a second person visually checks for accurate label placement and then places machine-counted stacks into a case, seals the case, and positions it onto a pallet.
Besides labor savings, the clamshell labeler is considerably speedier than its predecessors. "We do about 180 pieces a minute on the machine, versus 70 a minute before on each of the two machines," Osterbuhr estimates.
Another benefit: The new equipment runs more often. "In the past," Osterbuhr recalls, "we had consistency problems with our old labelers. They were a maintenance nightmare."
A major part of the problem was with an ejector unit that took one clamshell from an antiquated magazine and positioned it at the labeling head. The unit often jammed, which meant that either the clamshell wouldn't be dropped into place or more than one clamshell was dropped. And if the magazine was accidentally bumped, it had to be realigned. Osterbuhr estimates that both of the old machines were down a total of six to eight hours a week. That limited output and increased costs.
Efficient process
The new machine has eliminated those difficulties. The process begins when a Fabri-Kal employee takes nested clamshells out of a case and places them into a magazine at the beginning of an 8' infeed conveyor. The conveyor advances clamshells to the center of the machine where Minnesota Automation's patented secondary-motion rotary system denests them.
A vacuum head assembly uses vacuum cups to pick up the open clamshell, from both its top and bottom halves. The cups acquire the clamshell by its interior. The machine rotates the tray up to the labeling station where the label is applied to the clamshell's exterior. The Label-Aire 2111CD applicator unit blows on the label that's been peeled from rollstock.
Labeled clamshells are rotated to the machine's discharge, with the vacuum cups depositing the clamshells in a stack on an 8' outfeed conveyor for case packing.
Unlike Fabri-Kal's previous system where an operator had to count clamshells before placing them in a case, the new system counts clamshells automatically, making the process less prone to human error that could result in product giveaway.
Counting is done as a sensor positioned at the labeling station detects each clamshell and relays that information to a programmable logic controller that is preset to count up to a certain number of clamshells. In Fabri-Kal's case, when 75 are reached, the machine shuts off for six cycles before proceeding. When the machine stops, the operator knows 75 clamshells are in that stack, making it easy to track how many clamshells are put into the case. Fabri-Kal typically places 600 nested, labeled clamshells into a shipping case.
Cases are transported by a shuttle truck to the thermoformer's distribution center, located about one-half mile from the Greenville plant. The DC then ships to customer locations.
"We're very satisfied with the new system," Osterbuhr says. "Before we purchased it, we did some research and found that Minnesota Automation was the company that made the best equipment [for our job]." Through labor savings, reduced downtime, faster speeds, and increased value to its customers, Fabri-Kal's investment is paying dividends. Osterbuhr reports, "We'd buy another one of these."
Companies in this article
Videos from Graphic Packaging Intl.