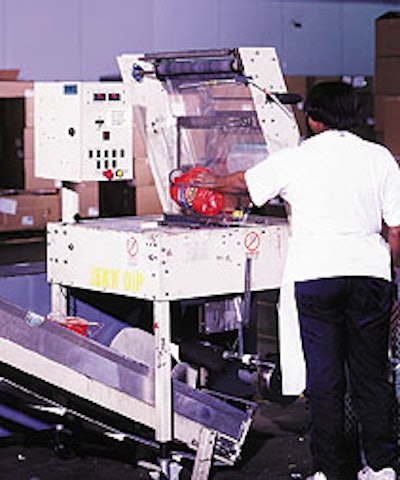 Insulated beverage containers made by Aladdin Industries, Inc. are always wrapped in protective shrink film prior to shipment. A conventional L-bar sealer was adequate for the task until five years ago when the firm increased its variety of container sizes to include anything from 12-oz to 52-oz mugs. That is when management decided it was time to find shrink-wrapping machines with maximum versatility and quicker changeover.
Over the past five years, Nashville-based Aladdin has revamped its production facility with seven hand-loaded semi-automatic 101S packagers from Rennco (Homer, MI). The latest installations were in November '00 and in June '01. A total of almost $170ꯠ has been invested at this time.
Aladdin works with distributor Xpedx (Nashville, TN), which recommended the Rennco machines because they could keep up with Aladdin's increasingly varied mug sizes. According to Randy Johnson, Aladdin's senior manufacturing engineer, the previous L-bar shrink wrappers fell short when it came to changeover. To change from one size to another would take approximately one hour. On the Rennco systems, it's 10 to 15 min. Also, the new machines are vertical, which gives them a much smaller footprint and allows them to use less film to wrap the mugs.
"As volumes have continued to grow," says Johnson, "we've continued to add Rennco machines because they're so easy to adjust." That ease of changeover results in minimal downtime.
Another feature desired by Aladdin was portability. "The machines are on rollers, which means you can basically unplug them and move them to another line if needed," Johnson says. "The 101S packagers are just so versatile."
Mug shot
Aladdin manufactures 300ꯠ to 400ꯠ mugs a week for petromarts, convenience stores, mass marketers, and ad specialty companies. The machines run around the clock five or six days a week. As fast as a machine operator can drop mugs into the shrink wrappers, that's how fast the machines run. According to Johnson, 30 mugs/min is the fastest rate.
To begin production, an operator manually drops a mug between the two sides of a center-folded film. The film is supplied by Cryovac (Duncan, SC), but Johnson chooses not to identify the resin or thickness. The machine has photo-eyes that sense the mug and cause coated seal bars to open to allow the mug to drop into the center-folded film.
The seal bars then close to cut and hot-melt seal the film on top and on the side. In each cycle, three sides are cut and sealed at the same time. As the top trailing edge of one bag is being cut and sealed, the leading edge of the next bag is being cut and sealed.
The bagged mug falls onto a conveyor that sends it through a heat tunnel, where the clear film gets shrunk around the mug. The shrink-wrapped mugs are then manually labeled and packed for shipping.
The Rennco machines use constantly heated, coated seal blades for ease of maintenance and smokeless, odorless sealing. "It is simple, reliable equipment," says Johnson. "Xpedx has been helpful as well, coming out the few times we have had problems and also coming to do some preventive maintenance."
In addition to the 101S models that have been installed, Aladdin put in an automatic 101DJ, also from Rennco, that has two belt infeed conveyors. This machine has two sealing assemblies in one packaging frame, which gives it a smaller footprint than two separate packagers. It receives products directly from a cup-printing machine. Aladdin uses the machine to run a higher volume of a specific mug size, and it is sometimes needed to run around the clock.
Companies in this article