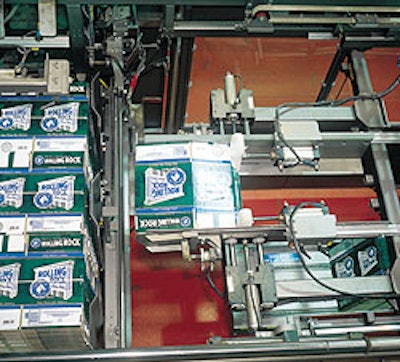 When it comes to feeding incoming packaging materials, few bottling lines require as little human intervention as the new 12-oz glass line for Rolling Rock beer at Latrobe Brewing Co. of Latrobe, PA. Unloading pallet loads of bottles, removing pallet bands, delivering pallets of paperboard basket carriers and corrugated blanks to erecting machines, feeding bundles of corrugated blanks to case erector magazines, feeding crowns to the crowner—in every case, operators typically take a hands-off approach and let a sophisticated combination of conveyors, laser-guided vehicles, and robotic loading devices perform most of these tasks.
The $14.5 million line was sold and installed by The Beverage Div. of Italy's Sasib S.p.A as a turnkey project, including engineering and project management. The SIG Group of Switzerland recently acquired Sasib's Beverage Div., which now has the name of SIG-Simonazzi (Plano, TX).
At Latrobe Brewing, it all begins where pallets of Rolling Rock's famously decorated bottles arrive in a 2x11 pattern on trucks that roll up to the brewery's unloading dock. Unlike most such plants, forklifts are completely out of the picture. Instead, pallets are pulled automatically out of the trailer on a system engineered primarily by SIG-Simonazzi (see video).
"We use trailers specially equipped with roller beds and chain conveyors," says packaging manager Bill Allison. "We back the trailer up to the dock, push a button, and unload the entire trailer in about five minutes with no operator handling at all."
This bulk glass delivery system is so reliable, there's no empty glass inventory to speak of. It's this kind of J-I-T philosophy that permeates the entire facility.
"The only glass we keep on hand are two trailer loads out in the lot to hedge a bit in case of traffic delays or something," Allison says. Snow-melting gear embedded in the pavement also helps ensure smooth winter deliveries without any need to plow or shovel snow.
Automatic band cutter
Freed from their trailers, pallets are conveyed to an automated overhead depalletizer from SIG. Just before reaching the hoist section of the depalletizing system, each pallet pauses briefly in a band cutter station supplied by Pearson Packaging Systems (Spokane, WA). Rolling Rock is only the second plant to use this new Pearson equipment (see video).
"It's equipped with servo motors that let its band-cutting head cover multiple axes," says Allison. "Its sensors enable it to find all eight bands, cut each one, and bring each band to a chopper for recycling. The system also clamps down on the top frame to keep everything steady while cutting is underway."
Once bands are removed, the pallet is conveyed to the hoist section of the SIG depalletizer. Top frames on each pallet and slip sheets that separate each layer of bottles are removed by a vacuum pickup system and stacked. Later, these are returned to the Anchor Glass Container (Tampa, FL) glass plant 40 miles away in Connellsville, PA, where the bottles are made and decorated with applied ceramic labeling.
Exiting the depalletizer, bottles are conveyed in mass toward one of the two 108-valve rinser/filler blocks that fill a combined 1길 bottles/min (see p. 38 for an account of filling and secondary packaging).
Bulk glass is not the only packaging material that's fed automatically into the front end of this sophisticated packaging line. Also handled automatically are pallet loads of the following: six-pack basket carriers fed to two machines, 12- and 24-count corrugated shippers to three machines, paperboard trays to two machines, and crowns to the crowner.
All of these arrive in trailers and, once shrink wrap has been removed, are fed by forklift to what Allison calls a "dynamic warehouse." Consisting of 21 bays seven across and three high, this rack system allows full pallets to roll down to the opposite side, where they are picked as needed by laser-guided vehicles (LGVs) from SIG's Elettric 80 Div (see video). These vehicles are a recently developed alternative to the Automated Guided Vehicles (AGVs) that have been found in manufacturing settings for years. The difference is that an LGV does not need to mechanically or electronically follow a track in the floor. Instead, it uses laser technology to identify locations and guide itself around the plant.
Each LGV is equipped with a low-power, infrared rotating laser on a mast. Invisible to the naked eye, the laser rotates 360° six times/sec to find reflectors strategically located on pillars and walls around the plant. Onboard the LGV is a proprietary computerized guidance system that includes a computerized drawing of the area where the LGV needs to operate.
"As long as the LGV can identify any two reflectors," says Allison, "it's able to use a process of triangulation to identify exactly where it is and where it needs to go next. It's also equipped with safety sensors that make it stop if it approaches a human or some other object in its path.
"This is our first experience with these vehicles," says Allison. "They bring more flexibility than systems that aren't based on laser technology. With those other systems, at the very least you need to rip out and relay a wire in the floor when you want to change a vehicle's mission. With these, we don't even have to move the reflectors. We just reprogram the vehicles."
Although two of the battery-powered LGVs would technically be sufficient to handle the load on the Rolling Rock line, three have been installed. "That way, we always have a fully charged backup ready," says Allison.
Cullet handling, too
In addition to feeding packaging materials into the front end machines on the line, the LGVs carry crushed cullet from the glass crusher to a forklift pickup point. Each vehicle can do any of the tasks that are assigned to the LGVs. For example, if a corrugated case erector needs a fresh pallet of bundled case blanks, it communicates that requirement along a data highway to the PC that controls the LGV system. The PC then uses radio-frequency signals to tell an LGV which bay in the dynamic warehouse it should pick from and which corrugated case erector it should go to. When it reaches that case erector, the LGV not only delivers its load, it also picks up the empty pallet and carries it to a staging area for subsequent removal by a conventional fork truck. When not on a mission, the vehicles cleverly retreat to their battery-charging station and quietly plug themselves in.
While paperboard trays and basket carriers delivered by the LGVs are manually depalletized and hand-loaded into the magazines of tray packers and basket erectors, something entirely different happens with corrugated cases. Three newly developed Model 2060 Pearson machines automatically feed bundles of these corrugated materials into the three case erectors that stand at the head of the line's three packaging legs. Here's how each 2060 works.
A servo-driven robotic positioner picks a bundle from a pallet load of bundles. After properly orienting its bundle, it cuts the strap holding the bundle together and feeds the strap to a grinder for recycling. Then the bundle is handed off to a device that swings down and gently delivers the bundle to the magazine infeed of a Pearson Model R208 case erector.
Allison says all three of the automatic magazine loaders are welcome additions. "We saw a prototype of this equipment at a Labatt plant in Canada and, based on what we saw there, we felt good about proceeding with them here. Ordinarily, you'd have operators cutting the bundles open and loading the case erectors' magazines."
Like the LGVs, the robotic magazine loaders have required operators to think differently about how a packaging line is fed. But progress, says Allison, has been steady, and the payoff is in sight.
"These systems are the wave of the future," Allison points out. "If we didn't take the leap now, we'd only be left behind."
Companies in this article