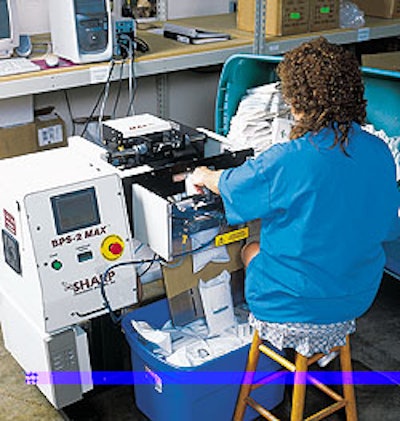 When a company moves from manual to semi-automatic packaging, there's usually a nice payoff. If the company is Statcorp—and you add in automatic printing—the savings just keep coming. "Stat," by the way, is hospital-speak for an emergency.
It didn't happen quickly or without research. Statcorp tested competing equipment before it selected the BPS-2 Max bagging machine equipped with a thermal-transfer bag imprinter. The system is from Sharp Packaging (Sussex, WI), and Statcorp, based in Jacksonville, FL, was one of the first companies to use it.
Statcorp makes and packages both blood-pressure cuffs and infusion cuffs (for pressurized infusion of blood or other fluid into a patient) for hospitals, clinics, and doctors' offices. Although that sounds rather simple, company president Jim Shepherd says his company's plant is not a true production facility, but more of a custom packaging operation. That's because of the number of individual products it makes and ships, and how small the individual production lots are.
"We package 20 different products each day, sometimes more," he says. "We have to package, bar-code, and lot number each of these products carefully. All of our products are sold to the acute-care part of the healthcare business, so both the bar code and lot number are critical on each unit we ship."
As Shepherd explains, his company's product lines vary by the types of fabric used and the types of adapters supplied. The product variety is almost endless, and that's just for the blood pressure cuffs.
Totally manual before
Until this spring, Statcorp had three people involved in packaging. For several years, Statcorp purchased clear bags on rolls from Sharp, with perforations to separate each bag. Two roller dispensers were affixed to a packaging table so that one worker could tear off a bag, apply a preprinted label, and insert the product into it. The bag was given to another worker operating an impulse sealing machine to seal the bag. Finally, a third worker loaded the package into secondary packaging and prepared to ship the order.
"The result," says Shepherd, "is that it took three people two hours to bag, seal, and label 1ꯠ units. Now, using the new machine, one person can package 1ꯠ units in just one hour." So, Shepherd says, it's amazing how much this saves the company. And that doesn't even include the savings from all the labels Statcorp used to buy.
For the last few years, Statcorp has been trying to standardize on the number of bag sizes it buys. The company now uses only three or four bag sizes with clear fronts and white opaque back panels designed for the imprint. The bags are made from 1.5-mil coextruded film that combines both low- and high-density polyethylenes, along with other polyolefins, according to Rick Howe, Sharp's account manager for Statcorp.
Shepherd says the white/clear bags carry only a minor upcharge from the totally clear bags that Statcorp used with the labels.
Saves more than labels
As Jim Shepherd well knows, Sharp isn't the only manufacturer that makes a bagger/sealer machine with an integral imprinter. He's tried others. What the BPS-2 Max does that others can't is print the first bag out.
"Virtually all the equipment makers have tried to sell us their machines," Shepherd said, "and we've trialed some of them. The big feature of this machine is that it's the only one on the market that literally prints the bag that you're loading. Every other bagger equipped with a printer has a delay. So when you change a roll of bags, you'll lose four or five bags that emerge unprinted before the first printed bag comes through."
He admitted that this waste isn't likely to be a major factor for companies that enjoy long, dedicated production runs. "But when you change bags and sizes as often as we do, it really adds up," Shepherd said. "When you've got multiple lot numbers to contend with like we do, you can accumulate a huge amount of waste." Plus, he adds, these waste cycles take up valuable packaging time, too.
In line with this savings in scrap, Statcorp's packaging workers find this system to be especially easy for mounting the roll and threading the bags into the machine. They've told Shepherd that it's far simpler and quicker than on other machines.
Other features
Statcorp supplied the PC that's used to control the bagger and printer. The operator need only know the product number and the number of bags needed. The software provided by Sharp, which Howe calls generic, takes the appropriate information from a Statcorp database to provide the correct bar code and product information. The operator also keys in the lot number.
"The beauty of this system is that all the operator does is type the product code into the computer, along with the lot number and the number of bags required. It takes just a couple of seconds," said Shepherd. "We really like the counting feature. Before, we had to do it manually."
Similarly, Statcorp reports that changing the thermal-transfer ribbons on the printer is both easy and inexpensive. And Shepherd says the company buys ribbons in bulk, so it's not a big expense. "It takes almost no time to change ribbbons," he said. "It's another reason why I say this machine is designed to be totally user-friendly."
Spare parts is another area that favors the Sharp equipment. "Some competitors have machines that use proprietary parts, so you have to buy from them," Shepherd said. "I think spare parts are a profit center for these companies, so not only are they exclusive, but costly as well.
"The Sharp machine is designed primarily from off-the-shelf stock parts that we can source locally. So this dramatically cuts our maintenance costs."
Service and training, too
Installation last spring went well, the company reports, with one factory technician working with the "local" Sharp representative. "They not only got the system up and running quickly, but they trained my crew on it and stayed several hours to make sure all our people could operate it well," Shepherd recalls.
A few days later, a glitch developed, caused by a single faulty part. The machine went down and the "local" Sharp representative flew from his Tampa office to Jacksonville the next day to service it, using a fresh part the factory had sent overnight. Statcorp was duly impressed.
Still, the major benefits are productivity and payback. "From a productivity standpoint, it's hard to measure what this system means to us," Shepherd said. "By freeing up two workers from packaging, we're now able to build more products per hour, so the number of units shipped is now way up since we began to use the machine.
"Today, it costs us less than one-tenth of a cent per unit to package our products, compared to 4.8 cents per unit before," Shepherd reports. "Based on that and our volume, we compute the payback on the machine at ten months. If you also add in the savings from the labels, payback would go down to about seven months. We're the kind of company that's a perfect application for this system."
Companies in this article