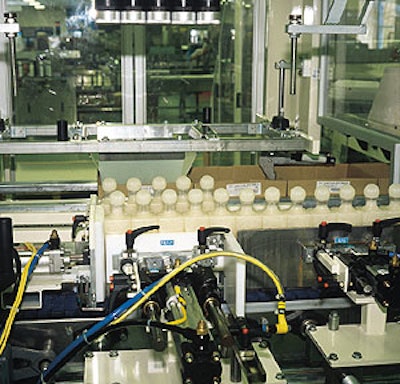 Faced with significant growth, Axxis Intl., a leading British contract manufacturer/packager of toiletries and cosmetics for prominent chains like Tesco and Marks & Spencer, recently had to choose between expansion and building anew.
"We considered upgrading our existing facility, but in the end new construction made more sense," says plant director Paul Taylor. "A fundamental part of the plan involved finding ways to reduce operating costs, specifically labor costs, and one way to do that was to purchase automated filling lines."
As the company designed its new facility in Trowbridge, England, management elected to install two key lines to handle the majority of the company's output.
"We looked at our sales profile," says project manager Jeremy Evans, "and decided we needed a high-variety line that wouldn't necessarily be built for speed but would allow us to jump in and out fairly quickly for changeovers. Complementing it would be a low-variety line for higher speeds and high-volume runs. With that decision made, we then sought a machinery manufacturer capable of assisting us in developing both lines and getting them to full operational capability."
The machinery manufacturer selected by Axxis was Masterfil of Aylesbury, England, represented in the United States by Masterfil USA (Chester, NJ). "They not only had advanced filling and capping equipment complete with servo motors and PLC controls, they demonstrated a very customer-friendly approach," Evans explains.
Pucks carry bottles
Both the new lines at Axxis use pucks to carry bottles through filling and capping equipment. All the pucks have the same diameter, so conveyor widths, starwheels, lane guides, and other bottle-handling components require no adjustments or modifications when a new bottle shape or diameter is introduced.
Supplied by Advantage Puck (Mishawaka, IN), the pucks have molded into their centers whatever shape a specific bottle takes: round, oval, square, and so on. As Evans puts it, "The container could be shaped like an 'S'. As long as it's in a puck, it will still be presented to the fill spouts the same as any other shape."
On the low-speed line built for flexibility, pucks are loaded by hand. A six-head Masterfil S500-AS volumetric filler hands bottles off to a single-head cap torquer. Caps are applied by hand. Bottles are depucked by an Advantage Puck unit and conveyed through a labeler from PLF (UK) Ltd., represented in the United States by Precision Coding Systems (Grantham, NH). Tray packing is done by hand. Maximum speed is 60 containers/min on bottles holding as little as 50 mL or as much as 500 mL.
The high-speed line is similar at the center but more automated at the front and back ends. Also, it has a top speed of 120 containers/min instead of 60.
Front-end automation takes the shape of a rotary unscrambler from Omega Design (Exton, PA). Bottles are dumped into a hopper, and the machine then automatically orients them before placing them into pucks.
Filling is done by a 12-head Masterfil system. Like the six-head volumetric system on the quick-changeover line, it's designed to cope with varying product viscosities. The system's programmable logic controller and software designed by Masterfil allow operators to select whatever fill profile they require at a touchscreen panel that provides human-machine interface.
Reliability
"The fillers on both lines have given us great reliability," says Taylor. "They handle anything from foamy liquid bath products to viscous creams, all at high levels of efficiency."
Filled containers are conveyed to the infeed starwheel of a Masterfil three-head rotary capping machine. Exiting a bulk hopper, caps are oriented and move along a conveyor until they are picked up by a starwheel that delivers them to a pickoff station. Here, one of the three capping chucks picks the cap and applies it to an incoming bottle as the bottle in its starwheel is guided through the machine.
Screw caps and press-on caps can both be applied. Changeovers between styles and sizes are simplified by push-button height adjustment of capping heads and color-coded change parts.
Leaving the capper, bottles move through a conveyor section where bottle necks are gripped from opposite sides. As soon as the necks are gripped, the conveyor on which the pucks ride declines at a 45° angle. Suspended this way, bottles soon land on a discharge conveyor while pucks circulate back to the Omega unscrambler for reloading.
Next is pressure-sensitive labeling by a Premier 400 labeler from PLF (UK) Ltd.
"We've standardized on PLF across the plant," says Evans. "Like the Masterfil equipment, they take advantage of servomotors and microprocessor control to provide extremely repeatable labeling. They're a great value for the money."
The PLF machine applies labels to the front, back, or front and back of any bottle sent through the line. A top-hold unit is adjustable to the height of the container and is used to maintain the pitch and alignment during label application. Microprocessor control gives the operator access to a preprogrammed label format database, allowing quick changeover from one container or label to another.
Automation at the back end of the high-speed line is in the form of tray erecting and tray loading on equipment supplied by the French machinery maker Cermex, a member of the Sidel group represented in the United States by Cermex Inc. (Norcross, GA). A Model F28 tray former picks magazine-fed corrugated blanks by vacuum pickup cups, forms them up, and hot melt glues them to form finished trays. These are conveyed to a Cermex Model E428 pick-and-place packer.
Collates & loads
The E428 typically handles 100-mL bottles in 54-count trays, 250-mL in 24-count trays, and 500-mL in 20-count trays. First it collates bottles with a "cross-push" action. In other words, for a 20-count tray, it allows five single-filed bottles in and then pushes them across to a transfer position. It does this four times to position 20 bottles in the transfer position. Then, the pick-and-place head comes down to lift the bottles and carry them to a waiting case.
In most cases, pneumatically actuated bladders are used to pick up individual bottles. But shortly after the machine was installed, Axxis began filling for a customer whose squared-off bottles and caps didn't lend themselves to the bladder pickup arrangement. So Cermex supplied change parts that grip bottles mechanically rather than pneumatically.
"Even on the most involved size changeover we do on the case packer, it still only takes about 20 minutes to complete the task and involves little more than a wrench," says Taylor.
According to Evans, this installation marks the first experience Axxis has had with Cermex equipment. "It's been terrific," he adds. Taylor agrees. "It's robust, it's well engineered, and it fit the overall cost picture," he says.
Emerging from the Cermex machine, trays make a right-angle turn and then move through a shrink-wrap system from EDL (Green Bay, WI). Palletizing is done off-line.
Comparisons between old and new operations are difficult, says Taylor, because new customers have brought so many new container shapes and sizes. But in many cases, he says, Axxis now uses half the people to fill at three times the speed.
Best of all, the new facility was built and ready for production within 48 weeks. If that's not a record, says Evans, "it must be pretty close."
Companies in this article