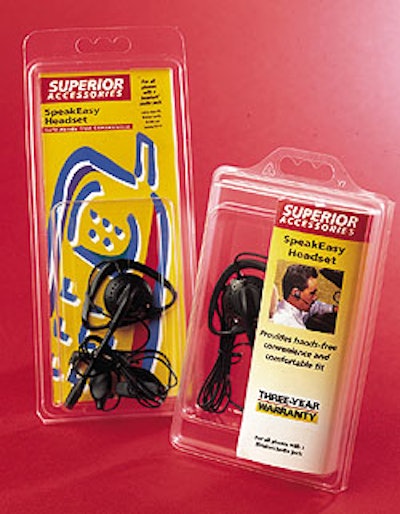 Imagine handling 40 unique brands of private-label consumer products, each brand having about 11 product categories with a variety of product sizes in each category. Your clients ask you to come up with form-fitting packages to show off their products. While you're at it, they say, please reduce the size of the current packages considerably and try to use as few different packages as possible so we don't pay an arm and a leg for a unique package for every one of our products. Oh yes, and please be sure that packaging can be done on automated equipment.
This was the situation faced last year by Superior Communications, a manufacturer, distributor, and custom packaging specialist of wireless phone accessories such as headsets, batteries, and charging devices. With the help of custom thermoformer Plastic Concept (Huntington Beach, CA), Superior in January of this year moved its own lines as well as all 40 of the private-label lines it packs from boxy, one-size-fits-all clamshells into smaller, form-fitting, curvy new vinyl clamshells. While it's too early to calculate sales increases resulting from the switch, Superior, based in Covina, CA, reports positive reactions from its clients, which include almost all the major carriers and manufacturers of wireless phones and accessories.
Old packaging
Packages used previously by Superior were also vinyl clamshells. Like all clamshells, they had a top and a bottom, and these were joined at the foot of the package by a hinge. The clamshell bottom was practically flat, while the top had a much deeper thermoformed cavity that contained the product. These cavities came in different configurations depending on the size of the product. A total of eight molds were used to produce these clamshells.
With the old package, says Marcelle Greene, vice president of marketing at Superior, the idea was to maximize cost efficiencies by fitting as many different products as possible into the smallest number of configurations. "The clamshell cavity was generic and square," says Greene. "It was the equivalent of throwing the product into a box."
The new clamshells are noticeably different. The hinge, for instance, runs along the right side rather than the foot of the package. More important, the boxy cavities have been replaced by 30 contoured shapes that hold products snugly.
Sizes are new, too. While the old clamshells came in just two sizes, medium and large, now there's a small size, too. Widths didn't change much on the medium or large sizes, but height did. These packages are now nearly 4" shorter. Three advantages come with the smaller size, says Superior's Mike Fosselman, vice president of distribution and logistics.
"First, more product fits less real estate in the retail setting. Second, we save because less plastic is used. And third, with a lighter package, we save when we ship air freight."
If there's a downside to the new pack, it's that 30 different molds are now required for thermoforming instead of the eight used previously. But Fosselman and Greene feel that the benefits of the new clamshells outweigh that wrinkle. Among those benefits, says Greene, is that the new package is more attractive. That counts for a lot, she says.
"Salespeople in the retail wireless stores devote whatever time they have with each customer to selling the handset and a rate plan. There's no time left to sell anything else, so with accessories, the packaging bears the selling burden. Looks, fit, shape, and size are what sell these accessories. From the marketing perspective, we had to go with a more form-fitting, streamlined package in order to add value and sell more product. It was a gamble that entailed some significant investment. We had to reconfigure our packing equipment and run smaller quantities of each new package than we did before. But we believe the new package will pay off with increased sales."
Simply the best
When Greene and colleagues called in Plastic Concept to discuss the new design, they brought along package samples from their competitors. The challenge to Plastic Concept was made abundantly clear. "We wanted to have the best package in the market," says Greene.
Plastic Concept produces Superior's thermoformed packages on state-of-the-art machines from Illig (Heilbronn, Germany). Vinyl film is Pentaform from Klöckner Pentaplast of America (Gordonsville, VA). Designs were first produced using computerized modeling programs, enabling Superior project managers to examine the design from all sides on the computer screen before prototypes were created. Plastic Concept was able to deliver finished packages generally two to three weeks after receiving product samples.
Producing 30 different clamshells represented a considerable challenge, says Ron Schulze, president of Plastic Concept.
"Superior might call and say they need 100 of one package, 2ꯠ of another, and 800 of another," says Schulze. "That means we have to be able to change molds rapidly, and to do that, consistency of the material is absolutely key. Plastic can form differently to each tool, so the more uniform the film, the easier it is for us to adapt to changeovers. The reliable consistency of Klöckner's material helps us keep up with the fast pace required in this application. If the material isn't everything they said it was, they replace it, no questions asked."
Klöckner's Pentaform TH 557/00 is a cosmetics-grade material and is silicone-coated on the outside. Three different thicknesses are used for the three different package sizes: 17.5-mil for the smallest, 18.5-mil for the medium size, and 24-mil for the largest. The cosmetics-grade quality means finished packs are crystal clear, says Plastic Concept vice president Aaron Scarnecchia. And the silicone coating, he adds, makes for easier denesting of the clamshell parts. This helps the package lend itself to automated packaging equipment.
Automated packaging
Running the new package on automated packaging equipment was one of the specifications Superior gave Plastic Concept at the outset. While the silicone coating helps the automation process, denesting lugs were also added at the corners of the package to further facilitate clamshell denesting. The result, says Schulze, is that clamshell parts separate cleanly in the chute of the packing machine.
The two packaging machines are from Minnesota Automation (Crosby, MN).
"The first one was installed in '98," says Fosselman. "When we redesigned the clamshell, we had Minnesota Automation modify their first machine as needed." The key modification was the addition of an ultrasonic sealing station. "When we ordered the second machine, it was designed to spec right from the start," says Fosselman.
Each intermittent-motion packaging machine sends conveyor-mounted pockets through a series of insertion stations. First, a pair of reciprocating placers, each fed by its own magazine, uses vacuum pickup cups to place two clamshells into two conveyor-mounted pockets. After product is hand-loaded into the contoured cavity in the bottom half of the hinged clamshells, another pair of vacuum cup pick-and-place units puts backing cards into the top half of the clamshell. First, a dot of glue is applied to the paperboard so that it won't shift once it's placed. Also, the backing cards are prescored so they readily conform to the curved shape of the clamshell.
As the conveyor-mounted pockets index forward, clamshell tops are plowed onto bottoms. Top and bottom halves of the clamshell are friction fit so they snap shut. Finally, a pair of sealing heads comes down to create an ultrasonic seal. This sealing station, however, can be deactivated for customers who prefer that salespeople and customers in the retail setting be able to test the compatibility of the accessory product with a particular phone.
Among the modifications made to the first packaging machine installed in '98 was a 5% increase in speed. "Over an eight-hour period, at 40 to 60 clamshells per minute, that really adds up," says Fosselman.
Fosselman also appreciates how easy it is to change from one clamshell size to another. "It's all done with springs and slide-type mechanisms," he points out. "No tools are needed."
As for the material cost savings gained by going to a smaller package, Fosselman estimates a savings of 4 cents per unit. "When you package millions of units annually, that's a pretty big deal," he says.
Superior's Greene is confident that the new package will make a difference. "The new packaging was only launched for all product lines at the end of January, so it's too early to tell. But already some important customers, such as Cingular, have given the new package rave reviews. We expect it will be very successful." (PR)
Companies in this article
Videos from Klöckner Pentaplast Pharma, Health & Protection and Durables
Videos from Graphic Packaging Intl.