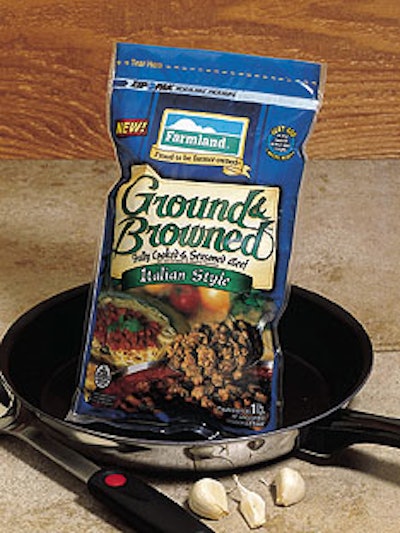 Called Ground & Browned, the line was scheduled to begin a nationwide rollout in select markets in April. Suggested retail price for the 12-oz packages (the equivalent of 16 oz of raw ground beef) is $3.49.
"We believe this can change beef meal preparation time much like bagged, fresh-cut salads revolutionized the lettuce industry," says David Hall, senior vice president of FNB's Consumer Products Div. "We guarantee retailers a 30-day shelf life," adds new product development manager Ann Oades.
The only technical information available from FNB is that the multilayer bag is formed from rollstock on a horizontal form/fill/seal machine that also backflushes each package with a modified atmosphere to extend shelf life. The reclosable zipper obviously comes from Minigrip/Zip-Pak® (Manteno, IL), since that registered brand name is prominent on the package. Vivid graphics are gravure-printed in eight colors. Package design is by IQ Creative Communications Group (Chicago, IL).
The package has no gussets, nor is it a stand-up pouch. Still it can be displayed stacked horizontally or shingled vertically. Either way, it is FNB's preference that it be merchandised with the fresh ground beef.
Companies in this article