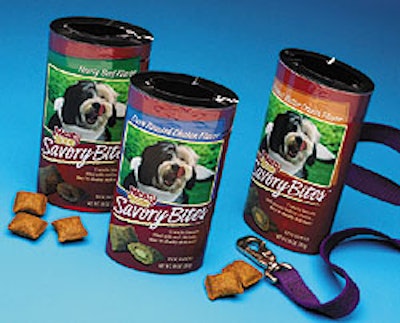 Management at Heinz Pet Snacks, an H. J. Heinz Co. affiliate, is changing the shape of dog snack packaging with this month's launch of Meaty Bone Savory Bites. The oval container stands apart from the flexible pouches, folding cartons, and rigid plastic jugs that dominate this pet food category.
Heinz makes the 10-oz container from 103/8" W x 81/16" H flat blanks at its Topeka, KS, facility. The Vektor™ container is made from blanks supplied by Huhtamaki/Sealright (Desoto, KS). Heinz leases an FM-1600 machine from Huhtamaki/Sealright to form the blank and heat-seal an oval bottom to the container. From the inside out, the blank includes polyethylene sealant/aluminum foil/18-pt SBS/PE. On an offset press, Huhtamaki/Sealright prints the outside PE layer in six colors. Huhtamaki/Sealright also provides the easy-to-grip plug-style lid. It outsources the manufacture of the black injection-molded copolymer lid. A clear 2-mil polyvinyl chloride shrink band tops the package. It comes from American Fuji Seal (Bardstown, KY).
"Savory Bites is a good example of a strategic speed-to-market imperative that Heinz is pursuing based on the notion of getting product to market quickly," notes Jeff Watters, general manager of new ventures for Heinz Pet Snacks. "It's focused on innovation, on getting a product from the concept stage to commercialization and in front of the consumer as quickly as possible."
The speed-to-market initiative requires a change in attitude at Heinz and throughout its distribution chain, says Michael Mullen, communications manager. "It's all about shortening turnaround time. Our customers love it because they see us coming to market with new products. Suppliers see that there's action and that we're serious about innovation, and they jump on board. We're changing the attitude, and the way people do business with our company."
Watters estimates that the industry average for a product launch is between 18 and 24 months. The speed-to-market initiative, in development for about the last year and a half, aims to shorten that to less than a year. Savory Bites, for example, reached the market in a scant five months. (See sidebar on p. 33 for a look at another speed-to-market success story.)
Package selection, advantages
Heinz sells three Savory Bites varieties. Each has a crispy outer shell and a soft creamy inside. The container's front sidewall includes the product name and images of the snacks positioned beneath a rectangular photo of a dog. The back provides more product details, ingredients, and a bar code. Heinz credits graphics to The Chesapeake Group (Cincinnati, OH). "They're one of our top vendors in terms of packaging design," Mullen says.
He continues, "There are an awful lot of similar-looking packages on the shelf today, with pouches being the norm, so there was definitely an effort on our part to make the package different. We did in-home trials with the product, and it scored off the charts. We knew we had a one-of-a-kind product, but we had to find a package that was visually appealing, maintained product integrity, and was practical for retailers to handle."
The decision to use an oval container was based on the results of consumer testing. "We considered a pretty extensive range of package options," Watters recalls. "We looked at 10 or 12 different possibilities, and based on consumer research, this was clearly the most appealing and provided the most differentiation. We exposed this package to well over 300 consumers nationwide through a combination of focus groups and rigorous quantitative research. The oval container came out as the most preferred, leading the next-closest package three to one."
Strategic partner
Once the company was convinced that the oval container had consumer appeal, Heinz looked for a vendor that could supply it. Watters says, "Our R&D department has experts in current packaging and technological advances, and they suggested we contact Huhtamaki/Sealright to review packaging options for Savory Bites.
"We began to work directly with Huhtamaki/sealright, and they were instrumental in helping us implement the machine at our plant," he continues. "They worked seamlessly with our cross-functional brand team that went above and beyond the call of duty." Huhtamaki/Sealright is also located fairly close to Heinz's Topeka facility, which further helped the process.
While differentiation serves as the key marketing advantage for Heinz, the container also had to provide the necessary barriers. "We needed to prevent moisture from getting out of the product, and we needed a barrier to oxidation, to punctures, and to crushing," Watters explains. "The product has a shelf life of 18 months," which, he believes, is similar to that of other comparable dog snacks.
Heinz and Huhtamaki/Sealright worked together to determine the most appropriate structure for Savory Bites. "We took recommendations from Huhtamaki/Sealright based on our barrier requirements," says Mullen.
In-house manufacturing
Space considerations led Heinz to make the containers in-house rather than ordering them pre-made. "The main advantage to making them ourselves is that it frees huge amounts of warehouse space that we don't have to fill with the cans," says Mullen. But why lease equipment rather than buy it? "Leasing is not unusual for Heinz," Mullen relates. "In this instance we have a time-based contract with Huhtamaki/Sealright. It helps us economically because we don't have to make a capital investment in order to develop a new product." That's important, he notes, because gaining authorization for large capital investments has a way of bogging down a product launch.
The Huhtamaki/Sealright FM-1600 functions as the first machine in the straight-line operation that produces the Vektor container. The FM-1600 uses vacuum cups to pull a container blank from a magazine. In the series of steps that follow, heating elements activate the PE layers of the blank while it's mounted on an oval-shaped mandrel.
Once a side seam is made by a side-seam clamp, the oval-shaped tube enters a station where vacuum cups pick an oval-shaped bottom from a magazine. This bottom, made of virtually the same materials as the container body, is crimped to the body by a combination of heat and pressure.
Mechanical fingers and air pressure then drive the oval off the mandrel and onto a discharge conveyor. Containers are conveyed upright onto another conveyor that carries them about 10' to the filler.
Filling, capping, and banding follow. All of it is done on equipment the firm already had in place. "We don't want to identify the equipment," Mullen says. "But we use the equipment for all kinds of pet treats. We did not need to modify any of the equipment, but we did modify the structure of the line."
More specifically, a new line was set up for Savory Bites. It includes the FM-1600 as well as filling and capping equipment that the company already was using for other products. Watters says, "For the product introduction, we used a pre-made shrink band that we apply manually. The capped container then passes through a shrink tunnel. We plan to put in a shrink bander and apply blanks automatically from a roll."
Pallet loads of the product are shipped to Heinz distribution centers, then to customer locations. The snacks are being distributed to grocery, pet, and mass merchandise outlets, with suggested retail prices ranging from $2.50 to $2.99. Savory Bites began shipping this month, with nationwide distribution expected by summer.
Confident of success
"We're very excited about this package," says Watters. "We've had very positive responses from retailers as a result of the sell-in process that's going on now."
Watters also believes that the oval container is not the last to benefit from the company's speed-to-market philosophy. "We can't afford to wait two or three years to develop a package that we need to get into the market in months," he says.
See the sidebar that goes with this story: Heinz 'Pounces' on resealable pouch
Companies in this article