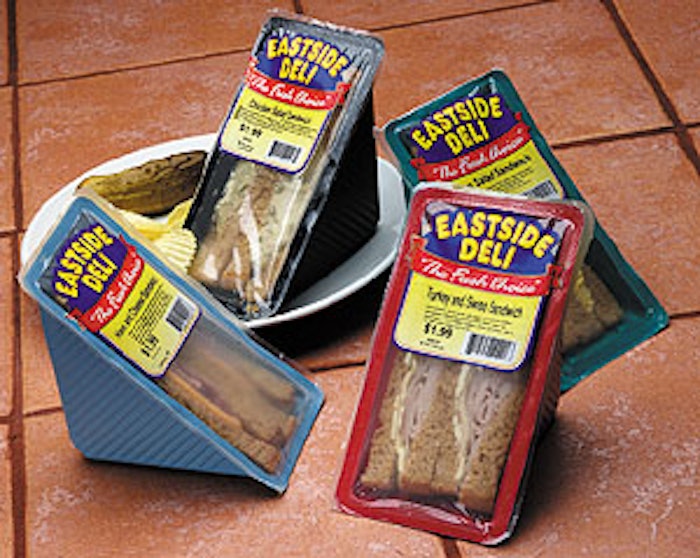 In an effort to make its fresh, New York deli-style sandwiches more attractive to convenience store patrons, Lansing, MI-based East Side Deli Supply installed a modified atmosphere tray sealer to pack its wedge-shaped sandwiches into preformed trays.
The company cites quality, appearance, and shelf life as factors that led it to replace an aging tray sealer with the Inpack 3180 from Ross (Midland, VA). Owing to the machine's modified atmosphere packaging (MAP) capabilities, the wedge sandwich's shelf life jumped from about 13 days to 18.
"We were looking to maintain the freshness of our product throughout the duration of the shelf life," says Jeff Jacobs, president of East Side Deli Supply. "We were interested in making it appear that the sandwich was made today."
Installed last June, the Inpack operates in East Side Deli's 12ꯠ-sq' headquarters facility. The machine was purchased through Robert Reiser (Canton, MA), a distributor and machinery manufacturer that proved especially helpful in this application (see sidebar).
The tray sealer produces sandwich packs that are made up of
3½"x6" semirigid, color-coded preformed trays from Preferred Packaging (Duluth, GA). A clear film is heat-sealed to the tray. "We chose to keep the preformed trays we used previously. Not only did we feel they looked better than trays produced on a thermoform/fill/seal system, but they're also semi-rigid. We feel that they protect the product better than nonrigid formed trays would," Jacobs says. "We also did it for commercial reasons because we like to use different color containers. We may use a light blue container for ham sandwiches, a red one for turkey, and so on."
Packing process
After sandwiches are prepared, they're placed by hand into the preformed trays. The trays are then set into holding dies positioned four-across on the Inpack 3180. A top platen descends over the sandwiches, connecting lidding film to the mouths of the trays. This creates a chamber around each sandwich. During the process, the machine pulls a vacuum and introduces nitrogen and carbon dioxide into the chamber. Modifying the atmosphere adds to shelf life. The previous sandwiches were not MAP-packed. Also supplied by Preferred Packaging, the two-layer polypropylene-based film is heat-sealed to all four packs simultaneously. The 2-mil film is then die-cut around the trays.
East Side Deli uses a thermal-transfer print-and-apply labeler from Koch (Kansas City, MO) that prints the logo, sandwich type, weight, price, and code date on pressure-sensitive labels. Four printed labels are automatically placed onto the film so that when the lidding is sealed to the trays, a label is accurately positioned on each of the sandwich packs. "The whole machine is perfectly timed," Jacobs says.
The packed sandwiches are transported via conveyor to an off-chute belt conveyor where they are placed manually into plastic bread trays. The trays are carried into a staging area before being shipped to convenience stores throughout Michigan, Indiana, and Ohio.
While Jacobs believes the Ross machine can process sandwiches at speeds to 60 packs/min, East Side Deli is producing 35 sandwich packs/min, which is still 15 packs faster than the old tray-sealing unit.
A good investment
The Inpack runs one shift per day, Monday through Friday. With the increased speed and shelf life the unit provides, Jacobs believes East Side Deli could see a return on its investment within two years.
"We definitely feel that we will see our sales increase throughout the summer months, mostly because we can increase our inventory in the field. Obviously, the more product we put on the shelf, the better chance we have to increase our sales," Jacobs states.
See the sidebar that goes with this story: Reiser helps distribute packaging solutions
Companies in this article