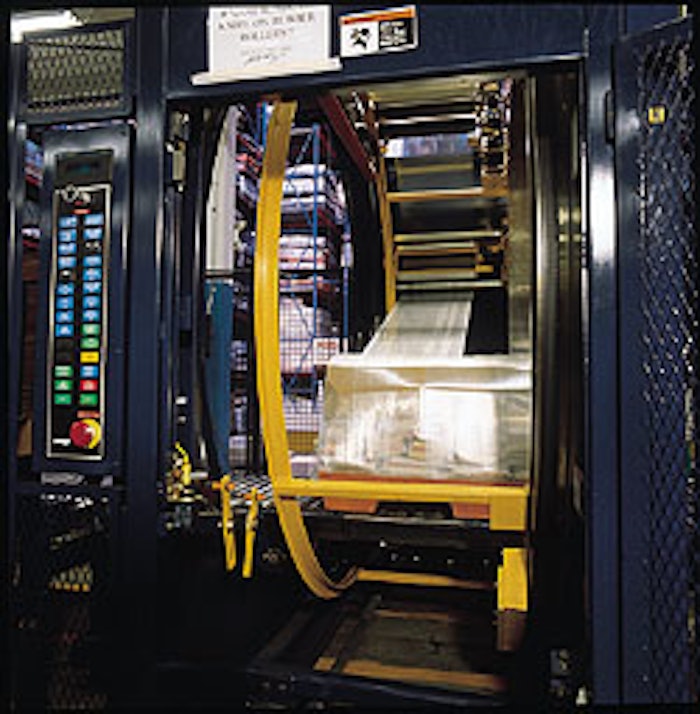 By using two stretch wrapping machines in sequence, Spencer Press now protects pallet loads of its mail-order catalogs and newspaper inserts on six sides, by applying film around each pallet's four sides, top, and bottom. The equipment increases the printer's output to 700 pallets/day, compared with the 480/day capability it had using both a stretch wrapping/banding machine and manual banding.
The new machines are supplied by Lantech (Louisville, KY). Spencer Press began using them in '99. The first wrapper is a Lan-ringer Series 200 stretch wrapper with a 90" ring, which wraps the top, bottom, and two sides of the load. Wrapping a pallet load is unusual for an orbital machine like this, which typically is used to wrap unusually shaped products.
Afterward, an S-3500 Straddle wrapper applies film around the four sides of the pallet, thereby covering the two sides not wrapped in film by the Lan-ringer. That creates a six-sided protective film wrap around each pallet that protects the load and gives it the necessary structural stability.
Increased speed and capacity were critical for the Wells, ME, company after it added five web presses and related bindery equipment in '99 to meet a 50% increase in business volume at the 450ꯠ-sq' facility. At the plant, Spencer Press prints and ships retail catalogs for retailers like Macy's, Lord & Taylor, and LensCrafters. Spencer's business depends on expedient shipping of its customers' catalogs, flyers, and inserts.
"We saw a considerable increase in our business volume, so we had to add new high-speed machines that could outproduce any other press and bindery equipment we had at the time," recalls John McCurry, Spencer's director of warehouse and traffic. "We knew with our volume going up, we'd have to be able to wrap those loads and move them out the door efficiently."
To do that, the printer realized it had to improve upon its previous wrapping methods, which included an automatic stretch wrapper/strapper combination that could wrap 20 to 25 pallets/hr, and separate manual banding of loads.
"We did at least 50 percent of our pallets by hand-strapping them with metal banding," McCurry says. "With the additional volume we would have had to add 16 people to keep up with the banding. We run 24 hours a day, seven days a week." That would have added nearly $400ꯠ to the company's annual payroll.
Distributor steps up
McCurry tells Packaging World, "We looked at different equipment from different companies and compared throughputs," he says. "And we also looked at our pallet heights. We separate outbound shipments by postal code and send them to a section center facility or bulk mail center. Each plastic-wrapped bundle on the pallet might carry enough catalogs or flyers for one block in a particular town. If it's a small town, our load might be as small as 12 inches high, or it can stand up to five feet high. So we had to have a stretch wrapper that could handle those pallet height ranges. Some machines had an 18-inch minimum height requirement."
McCurry contacted Brown Packaging (Adams, MA), the distributor that had supplied the company with its other stretch wrapping machinery and materials. Spencer Press was satisfied with that equipment but realized it
wasn't designed to keep pace with its growing volume demands. The distributor again led Spencer Press to Lantech (Louisville, KY).
"We decided to continue to use the Lantech machinery because we already had a good rapport with them from the previous equipment we used from them," McCurry notes. "It operated well and had little downtime."
Before committing to the equipment, however, Spencer Press put the Lantech machinery through its paces. At its own facility, the supplier had to recreate the conditions that the stretch wrapping equipment would face in daily operations at Wells. Spencer Press sent a truckload of material to Lantech to test loads from 9" to 60" H. Once the loads were wrapped, they were sent back to Spencer via different carriers to test load integrity. "They passed with flying colors," McCurry states.
The installation at Wells took about a week, with Spencer Press and Lantech personnel working side by side while operations continued. "They were really great," McCurry remembers. "We run 12-hour shifts, and they'd come in during the second shift to check our progress and help our late-shift personnel learn how the machines work, and to answer any questions."
Six-sided wrapping
Before wrapping, groups of printed materials are overwrapped in film and placed on a pallet in a bindery area upstream of wrapping. Postal facilities supply Spencer with the reusable 40"x48" plastic pallets it uses to ship to mail centers nationwide. Some wooden pallets are still used, too, as seen in the photos accompanying this article.
The loads are delivered by automatic guided vehicles or forklifts to the Lan-ringer. The machine includes a power stretch film delivery system that prestretches film from 150% to 200%, depending on the application. Spencer Press uses an 80-ga linear-low-density polyethylene film made by Pactiv (Lake Forest, IL). The printer also orders the Max I film through distributor Brown Packaging.
Initially, "Lantech recommended a 110-gauge film, but we've gone down to 80-gauge film without losing protection or structural integrity," notes McCurry. "It's a blown film and it's working quite well. It is a one-sided cling film and it provides puncture resistance. Another big advantage of the film is that it runs quietly. That's a nice benefit to those of us working in the plant."
The film is mounted on a roll carriage that orbits the load as it is slowly conveyed through the 5' "wrapping tunnel." The 20"-wide film is applied over the top of the load, across one side, under the conveyor, and across the opposite side. An automatic clamping and cutting device cuts the film, which attaches to the load.
The wrapped load is then conveyed out of the S-200. There is about a ½" gap between its conveyor and another conveyor section. When the load conveys past this gap, the film lifts free from beneath the conveyor and "snaps" upward, adhering to the bottom of the pallet.
The pallet is conveyed about 10' to the S-3500 Straddle wrapper, where the load is automatically centered on the machine's turntable. The wrapper moves around the load, its carriage traversing up and down to apply film around the four sides of the load, thereby covering the two sides unwrapped by the S-200 machine upstream. Spencer uses the same Pactiv film for both machines. Wrapped loads are delivered to a shipping area for distribution by truck to postal facilities nationwide.
McCurry is happy to report that the new stretch wrapper combination produces about 35 pallets/hr, and is capable of 70/hr. Even at its current rate, the equipment nearly doubles the combined output of the previous stretch wrapper/bander and the manual banding of loads with metal strapping. We don't use the older wrapping equipment often, but if volume demanded it, we could use it in addition to our new machinery and be able to produce a maximum of 90 loads an hour," notes McCurry.
Benefits aplenty
The increased speed of the new machines helps Spencer Press ship at least 700 pallets/day from Wells, with the capability of reaching 1겨/day. The added speed helps get orders to customers quickly, which is vital to Spencer's business.
In addition to the speed and output advantages, the new wrapping system eliminates the need to add workers to band loads. "We want to keep that previous off-line banding work to none, because that's pure labor cost," McCurry emphasizes. The new wrapping system saves labor costs the company incurred when loads were manually banded, though Spencer prefers not to divulge specific savings figures.
Manual banding also presented the possibility of injury. While that never became a problem, it's an issue Spencer Press no longer needs to consider.
The previous wrapping procedures also called for a wooden pallet top to be secured by banding to hold the heavy loads of catalogs in place. While the top added stability, its weight, combined with the tight banding, caused occasional damage to portions of the load. The six-sided film wrap provides load stability without causing damage. Eliminating the wooden pallet cap also saves costs for Spencer, as did downgauging its stretch wrap film. McCurry estimates that those steps reduced costs by roughly one-third.
The combined savings helped Spencer Press realize a quick one-year return on investment in the Lantech wrappers. The speed and efficiency of the equipment, says McCurry, led workers to nickname it "the Ultimate. They love it." (JB)
Companies in this article