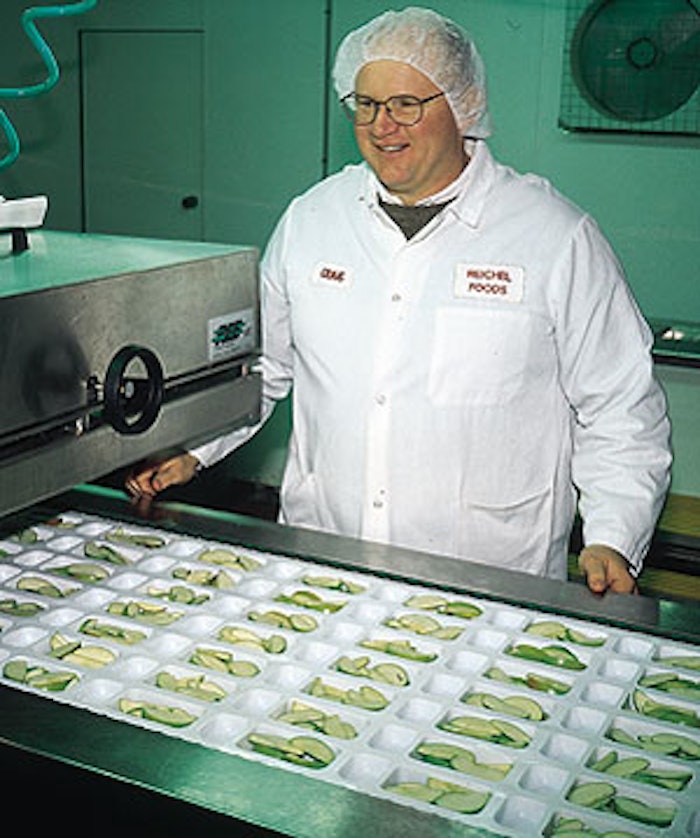 Used, rebuilt packaging equipment has played a pivotal role in helping Reichel Foods of Rochester, MN, grow quickly from a starry-eyed startup to a trusted supplier of cartoned snacks and fresh produce kits sold nationwide. Its customers include the likes of Wal-Mart, Kwik Stop, and Kroger stores. (For more on Reichel Foods's modified-atmosphere packaging techniques, see next month's issue.)
Reichel first forayed into the used equipment arena when it purchased a Goring-Kerr metal detector and Hi-Speed Checkweigher from Schneider Industries (St. Louis, MO) and a Ramsey metal detector from Lehman Equipment Sales (Sun Prairie, WI).
"Schneider Industries helps liquidate inventory for, among other clients, General Mills," says Reichel Foods president Craig Reichel. "They post available equipment on their Internet site, and that's where we saw one of the metal detector/checkweighers we bought."
The metal detector/checkweighers were only a start. A third piece of rebuilt packaging equipment now at the very heart of Reichel's business is a Tiromat horizontal thermoform/ fill/seal machine that Reichel bought from Kwalyti Tooling (Batavia, IL). It's used for modified-atmosphere packaging of fresh carrots, celery, and apples. Reichel explains how Kwalyti operates.
"They pretty much strip it down to the frame and start over. If it needs new stainless, they replace it. They'll replace motors, vacuum pumps, and belts, too. In this case, the tray we thermoform is a custom shape, so we got a new heater plate, vacuum box, forming plugs and cavities, and all new chains and gears, too."
Built and originally installed all the way back in 1985, the htf/f/s system was discovered by Kwalyti at a plant in South Carolina.
"They're the ones that qualified it as a machine capable of meeting our needs, because they're the ones that were going to do the rebuilding," says Reichel. "We pretty much bought it sight unseen."
In addition to costing significantly less than new equipment, the htf/f/s system was delivered to Reichel's plant just eight weeks after it was ordered. "New equipment we looked at might have taken as long as nine months," says Reichel. "We're a small company, so as we ramp up an operation, we can't wait nine months to generate revenue. Response time is critical, not only for our own new products but for contract packaging business, too. If a project is hot, a contract packaging customer doesn't want to wait."
So pleased was Reichel with the first rebuilt htf/f/s system, he just took delivery on a second. Again, it's a Tiromat system rebuilt by Kwalyti.
"This second system adds a lot of flexibility to our operation," says Reichel. "We can co-pack sliced pepperoni or salami in flexible pouches. We're also experimenting with sliced apples for schools and other foodservice accounts."
Moving into new segments like these is best done quickly, and once again, specifying rebuilt equipment was a sure way to increase speed to market. "It took 7½ weeks from date of order to delivery," says Reichel. "That sure beats nine months of waiting for a brand new machine."
Companies in this article