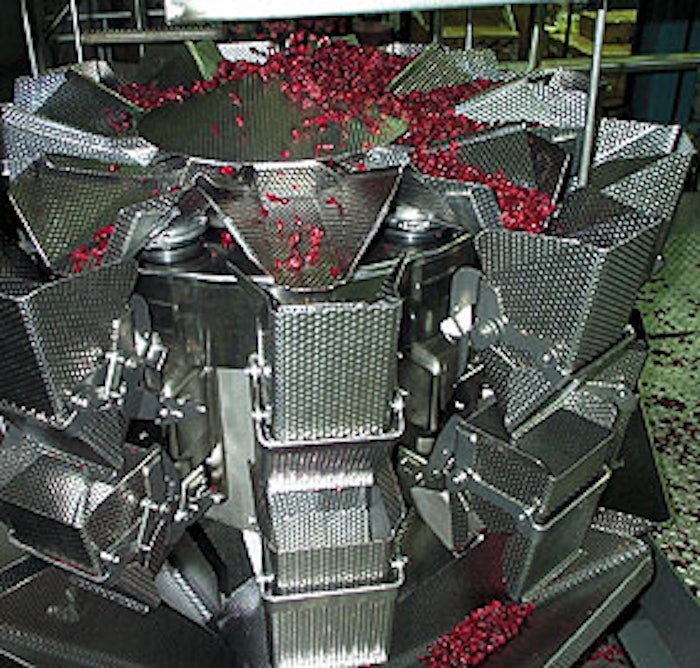 Cereal marketers, muffin makers and other large food processors have taken a real shine to Ocean Spray Craisins® sweetened dried cranberries lately. So much so that the bulk packaging line used for years by Lakeville, MA-based Ocean Spray to pack these tasty morsels had to be upgraded and automated. Manual insertion of bags into boxes and the use of an outdated filler and old case taper just couldn't keep pace any longer.
The new line, installed at Ocean Spray's Tomah, WI, plant, packs Craisins in 10- and 25-lb boxes. (For a related story on the controls package that governs the line, see Packaging World, Oct. '00, p. 66 or packworld.com/ go/ospray.) Speeds are up sharply. Before the new equipment went in, 25-lb boxes were packed at about 5/min, and four operators were required. Now just two operators run the same size box at 15/min. Frequently the line runs around the clock, so when it came to machine selection, a certain kind of supplier was squarely in mind.
"We looked for suppliers whose equipment is durable enough to function in a 24/7 world," says Dave Frenz, senior process engineer.
Among the more obvious differences between the new line and the old is the filler, a 10-bucket Ishida combination scale from Heat & Control (Hayward, CA). It replaces a simple in-line filler that weighed the entire contents of a box in one go and then dropped the contents into the box.
"With our old filler, we were lucky to be less than a half pound over our target on the 25-lb box," says Frenz. "Now we're consistently within six grams. The filler paid for itself in about five months."
Sophisticated conveying
Ahead of the filler is a complex but efficient system of conveying from Key Technologies (Walla Walla, WA). It takes the Craisins through sorting, grading, slicing and drying processes before depositing finished product on an incline conveyor leading to the packaging equipment.
"The product changes forms several times in its life and becomes increasingly difficult to handle as it gets stickier and tackier," says Bob Lowder, senior project engineer at Ocean Spray. "Key did a great job of helping us get it to the packaging area." Ocean Spray was so impressed with Key's performance that management named Key its 2000 Supplier of the Year in the capitol equipment category.
Emerging from the drier, a Key belt conveyor takes fruit to an overhead level. There a pneumatic gating device sends fruit down one of two Key vibratory conveyors. One leads to the Ishida combination scale on the bulk line, the other leads to two horizontal form/fill/seal pouching systems from Klöckner (Sarasota, FL). Depending on marketplace requirements, Ocean Spray can direct product to any one packaging machine or to all three at once.
On the bag-in-box side, the Craisins move through a bulk-and-dribble vibration process until they tumble onto the dispersion cone of the Ishida scale. The product fans out to 10 weigh buckets, and the automated system selects which combination of buckets to dump, as well as how many dumps are needed to fill a case.
Upstream from the filler are case-erecting and bag-inserting machines. The case erector is a Model WFT from Wexxar (Delta, British Columbia, Canada), selected largely for its ability to reliably handle the heavy, double-wall corrugated cases specified by Ocean Spray.
From several suppliers, the RSC case is made of 350#-test B/C-flute corrugated. With material this heavy, the case blanks must be firmly and positively grasped if case forming and bottom taping is to proceed smoothly. So rather than relying on vacuum pickup cups to pull blanks from the magazine and square the blank into a case, the WFT uses a forming system that relies on a series of pin-and-dome fixtures mounted on the plates of the forming jaw. At each of these fixtures, several steel pins enter the fluting and press against the steel dome. Only then does the forming jaw swing open, erecting the blank from its knocked-down position. The result is an unfailing grip on the linerboard.
Bag insertion
Erected cases make a right angle turn into an automated bag inserter from Pearson Packaging Systems (Spokane, WA). Roll-fed gussetted bags are made of a 4-mil blend of low- and high-density polyethylene. The machine uses vacuum cups to pull a bag open and tear it along its perforation line to separate it from the roll. The bag-opening arm then plunges into the bag, opens it fully, inserts it, and retracts for the next cycle.
As boxes exit the filling station, they make another right-angle turn to enter a Pearson uncuffer /flap closer. In its first station, mechanical fingers close in along the sides of the box just below the point where the bag cuff ends. The fingers then rise straight up, bringing the plastic bag material with them.
Next, as the case is conveyed forward, its major flaps are plowed down along the sides of the case. This allows mechanical side folders from opposite sides to stroke in and fold one side of the bag over the other. The case indexes forward again, and as it does the major flaps return to their vertical position.
Next is another right angle turn, this time into a top taper from Pearson. Cases discharge from the taper into a pressure sensitive labeler. The Model 400 Final Touch thermal-transfer print-and-apply unit from NJM/CLI (Lebanon, NH) applies date and production code information. Manual palletizing is all that remains.
The new line's circular configuration means that typically just one or two people are required to operate it. "The loop configuration not only fit our available space but also minimizes the amount of walking an operator must do," says Frenz. "About all the operators do is feed box stock and stack finished cases," says Frenz.
Installed last May, the new line was quickly integrated into the Tomah plant. Senior project engineer Lowder gives some of the credit to Packaging Management (Hartford, WI), a line integrator and equipment manufacturer representative. "We were able to review a lot of equipment options with them and visit machinery manufacturers like Wexxar and Pearson," says Lowder. "Their assistance enabled us to cover a lot of ground quickly."
It's a good thing, too, because there was no time to waste.
"We shut down the packaging of these bulk cases completely until the new line was installed," says Frenz. "That meant we didn't have a lot of time for this not to run. But the transition was very smooth, and at this point we feel we've achieved all of our objectives."
Companies in this article