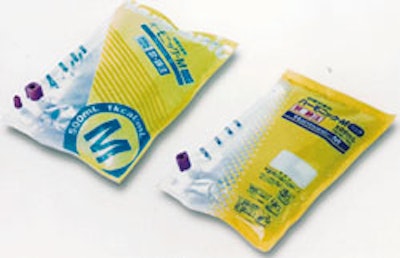 Elopouch was developed through a strategic alliance between Elopak (New Hudson, MI) and Robert Bosch (Bridgman, MI) GmbH. The outer nutriBag® was designed and developed by Nutrichem, of Ross, Germany.
Relying on ultraclean packaging equipment, Nutrichem places the filled Elopouch into the nutriBag. In use at the hospital, a special fitment on the nutriBag penetrates the Elopouch, releasing its liquid contents into the nutriBag. The fitment on the nutriBag also has a tube through which the liquid is delivered directly to the patient's stomach or small intestine. Unlike glass bottles traditionally used for enteral nutrition, the nutriBag is light, it won't break and it eliminates the need to fill into another container. Its cost relative to other delivery systems was not available at press time.
The 130-micron (5.1-mil) Elopouch material used for this application includes high-density polyethylene/polyester/aluminum foil/PE. The high-barrier structure provides an 18-mo nonrefrigerated shelf life for the aseptically filled product. Supplied by Elopak in Norway, the Elopouch material is sent to Nutrichem as rollstock.
On a customized Elopak E-P 4000 aseptic twin-tube vertical f/f/s machine, Nutrichem forms the material into pouches and fills them with the mineral/vitamin-based liquid food, before heat-sealing the pouches closed. The 500-mL pouches are filled at speeds to 4ꯠ/hr (67/min).
Companies in this article