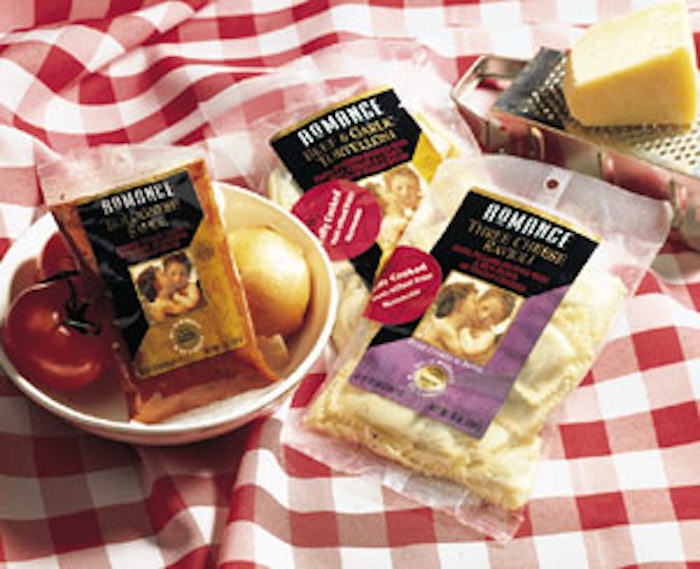 Romance Foods knows that its microwave/convection pasteurization process to extend product shelf life isn't new. It is, however, unusual in the U.S. And, with an assist from nitrogen gas flushing during filling, the process yields a 75-day refrigerated shelf life for the Kenosha, WI, company's cooked pasta products, which do not use preservatives. That extended shelf life is longer than competitive products in the fresh, cooked pasta category, says company president Robert Ramsay.
Romance Foods also uses the process for a cold-filled pesto sauce. However, the pasteurizing equipment is not used for any of the company's other sauces, which are hot-filled into flexible layflat packs. Sauces have a refrigerated shelf life of 80 to 120 days, attributable to cooking time and temperature.
Romance Foods uses a microwave pasteurizing system that was developed by Italian engineer Guiseppe Ruozi. Ruozi and The Classica Group (Lakewood, NJ) signed a three-year agreement in 1999 to further develop similar systems.
The equipment uses a combination of microwave and convection heating to pasteurize the pasta, sold in both filled and unfilled varieties. To kill bacteria, packs are conveyed through the pasteurizing equipment for 15 to 20 minutes, with product temperatures reaching 165°F. Romance Foods runs two of the in-line pasteurizers at its 25ꯠ sq' plant in Kenosha. The side-by-side processors measure approximately 50' long x 5' wide.
The units at Romance Foods are two of only three such machines in operation in the U.S., Ramsay believes. "There are many of these systems in operation in Europe," he says. When asked why so few are in operation in the U.S., Ramsay points to economic and marketing factors. Also helping to make such technology more widespread in Europe is that chilled foods with extended shelf lives are far more popular there than in the U.S.
"Microwave pasteurization for long shelf life is a key for our business," continues Ramsay, who purchased the company in late 1999 from Johnsonville Foods. "All of our pasta goes through the pasteurization tunnel because we can't achieve a good shelf life without it," he notes. "We also use it for our pesto sauce, as it's cold-filled so that the product retains its texture rather than turn mushy."
Johnsonville began using the system not long after it started the company in 1989. Before using the system, refrigerated shelf life for cooked pastas was 20 days.
Three zones
Quality assurance manager Cheryl Poisl describes the pasteurizing process: "The machines have beginning, middle and end zones, with about 30 individual power settings. We use different powers for different packs, which are time- and temperature-dependent. The larger the pack, the longer it stays in the tunnel."
Poisl says that packs are conveyed through the zones in 15 to 20 minutes, with as many as 700 packs fitting into a machine at one time. Temperatures in the oven are usually around 194°F. "We heat product inside the packs to about 165°F and maintain that temperature. We try to get the main bacteria kill right at the beginning of the process," Poisl adds.
The heat generated during pasteurization stresses the film, as do the 32°F to 40°F temperatures in a cooler, where the filled packs are placed downstream. The film used to withstand the wide temperature range is supplied by Curwood (Oshkosh, WI).
The approximately 3.2-mil unprinted Liquiflex® Grade 8146-I film is designed to work in applications up to 210°F, provide good seal/bond strength and minimize stress cracking, according to Romance Foods. From the outside-in, the structure includes 60-ga biaxially oriented nylon/adhesive/2 ½-mil coextrusion of linear low-density polyethylene and ethylene vinyl alcohol.
Fed by separate lines
The pasteurizing tunnels accommodate pasta after it's packaged on one of three lines:
• A 10-head Ishida combination scale system from Heat and Control (Hayward, CA) that feeds into a Model SB6C vf/f/s machine from Triangle Package Machinery (Chicago, IL). Packaging is done at speeds of 45/min.
• A 14-head Ishida scale system and another Triangle SB6C vf/f/s machine that operates at the same speed as the first line.
• A Multivac (Kansas City, MO) thermoform/seal machine. Romance Foods operators manually fill machine-formed trays with product before sealing. All packs are ink-jet coded with a freeze-by or use-by date. Pasta packs (and pesto sauce packs) pass through a metal detector before they're conveyed through a wall to one of the two pasteurizers.
The fourth line at the plant is a vf/f/s machine that hot-fills sauces, such as the new Pizza Creations!™ sauce for Sargento Foods (see sidebar, p. 55).
Next is labeling
As packs are conveyed out of the pasteurizers, a series of fans blow ambient air at them to help cool them down. Packs are then manually placed on the infeed of an off-line, customized labeling system from Label-Aire (Fullerton, CA). The machine prints and applies two pressure-sensitive labels to each pack, one on top, another on the bottom.
To the bottom is applied a colorful front-panel label preprinted with the Romance Foods logo with its musical staff and cherubs. Product name, description, weight and a violator that reads "boil or microwave in just two minutes," are also printed onto the label. An ingredient and nutrition label, printed in black, is applied to the top of the pack.
Operators place labeled packs onto carts that are wheeled into a cooler. Once cooled, packs are manually case-packed, palletized and stretch-wrapped before being transferred into trucks for common carrier distribution to stores that carry Romance Foods' products. Ramsay says that some of these downstream tasks, case packing in particular, may become automated once sales volume justifies purchasing the equipment.
Romance Foods continues to develop distribution throughout the country. It sells its pasta in 10-oz packs for around $3, and 6-oz sauces for about $2.50. It produces other sizes for its private-label customers.
Looking ahead
Ramsay estimates that Romance Foods' business is split evenly between retail and foodservice. About 60% of the products produced by the company are for Romance Foods brands; the balance is for private-label or contract-packaged offerings.
To help increase sales, the company plans to build a second plant in Kenosha. Ramsay says the 38ꯠ sq' facility will open in the second quarter of this year. "We will be buying new packaging equipment for sauces," he adds. While he has yet to commit to specific machinery, he admits, "it will likely mean adding at least two machines very similar to the [vf/f/s machine] we have now.
"Our principal philosophy regarding packaging," Ramsay summarizes, "is that it should provide consumers with convenience and options. We've had some consumers who have asked for a gusseted pouch, or a flat-bottom package, and others who've questioned if we can provide resealability to our packages. Those are all options we'll be evaluating."
Companies in this article