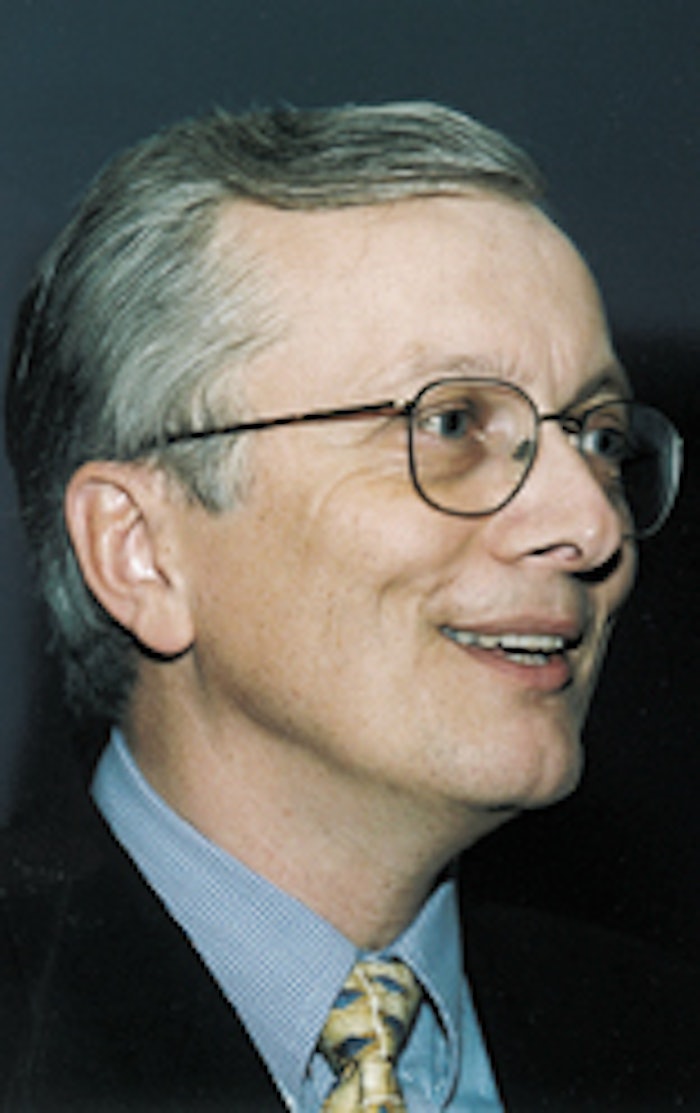 That became clear at the most recent OMAC Motion for Packaging meeting. Held in November at Pack Expo Intl. 2000 in Chicago, the meeting also revealed that educators are keen to participate. Also at the meeting, each of the working group's subcommittees issued progress reports, which were covered in part one of this report (see Packaging World, Dec. '00, p. 30, or packworld.com/go/omacpe 2000). Meeting attendee Chris Sullivan from coding/marking supplier Markem Corp. (Keene, NH) asked whether OMAC is too focused on motion control. Another audience member, Fred Putnam of Labtech (Andover, MA), a supplier of data acquisition/process control software, said his interest was more in peer-to-peer and peer-to-enterprise (from the packaging line to the corporate information systems) network connectivity vs motion. He asked if there were any relevant application programming interfaces (APIs) specific to packaging. The response came from Bob Martell, motion control technology leader at Procter & Gamble and chair of the OMAC packaging working group's connectivity/architecture subcommittee. He affirmed that his subcommittee was indeed looking at the whole connectivity picture, not just motion. "My committee's work has focused on the packaging automation system as a whole, from enterprise [corporate information systems] down to the device level, so connecting to a bar-code machine would happen at an intelligent device-level or peer-to-peer network," Martell said. Regarding packaging-specific APIs, Keith Campbell, chairman of the packaging working group, didn't envision a packaging-specific API. "I encourage the larger OMAC group to think about that, but I'm not sure we want to develop [an API] for packaging, a different one for discrete [control] and a different one for process [control]." Another audience member asked about the integration of machine vision in APIs. "I don't think there's anything for vision in the existing OMAC APIs, but that would be a good extension," responded Jay Clark, who leads the programming languages/API subcommittee. Clark, who is from controls software supplier Roy-G-Biv (Bingen, WA), added, "Right now [the programming languages/API subcommittee] is just focusing on motion."
Keep schools involved Two educators in the audience asked the OMAC packaging working group to keep the schools and universities involved. "We can't move forward with our curriculum development without learning what you need," said Laura Caldwell, associate professor, mechanical engineering technology, University of Cincinnati. That sentiment was echoed by Ken Ryan, who directs the Manufacturing Automation Research Lab at the Center for Automation & Motion Control at Alexandria Technical College, Alexandria, MN. "The sooner we as educational institutions know what is needed, the sooner we can develop curriculum," said Ryan. He stressed that "a progress sheet that would tell us where we are" in terms of favored technologies or emerging standards would be useful. "We're picking horses at this point." Dennis Daniels of ARC Advisory Group (Dedham, MA), a research firm that facilitates the OMAC group, pointed out that the OMAC Web site (www.arcweb.com/omac) always contains up-to-date information on all OMAC working groups. Maria Ferrante, educational subcommittee leader and director of technical services for the Packaging Machinery Manufacturers Institute, affirmed that "how we can best work with universities in getting curricula developed" was definitely on her subcommittee's agenda.
Plea for standards Finally, Wen Jiang, senior electrical engineer from Angelus Sanitary Can Machine Co. (Los Angeles, CA), issued a plea to the OMAC group that some standard is needed immediately, not at some vague point in the future. Otherwise, it's difficult for machine builders to select controls technologies that may end up not being adopted as an industry standard. P&G's Martell responded: "We feel the same pain that you do as a machine builder. When we buy machines from different vendors, they use their own standards and then we have to manage multiple systems. I think there's a lot of commonality among end users and OEMs. That's one of the reasons I think this working group exists, to try to distill some win-win-win solutions. "As far as this working group being a standards-defining organization," he continued, "that's a touchy subject. There's already a number of such organizations in existence: Profibus, SERCOS, ODVA (Open DeviceNet Vendor Assn.). The focus of this group will be to leverage the standards of those groups and not become another standards-defining organization." Martell summarized, "My committee is wrestling with this, and we're trying to define our direction. I see us defining needs and functionalities and conveying them to technology suppliers more than setting a specific technology standard." Editor's Note: For an explanation of OMAC, see www.packworld.com/go/omac.
Companies in this article