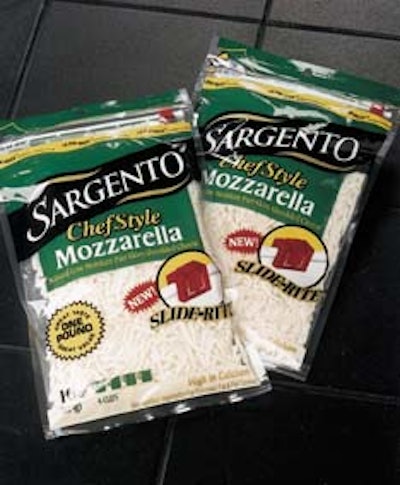 Earlier applications were done only on premade bags. The reclosure system and the retrofit kit for f/f/s machines are supplied by Pactiv (Lake Forest, IL). Pactiv and Sargento made the announcement Nov. 6, during Pack Expo Intl. 2000.
Sargento has a multiyear exclusive license for the reclosure system for the cheese category. Pactiv and Sargento installed the application system on a Bartelt horizontal f/f/s machine supplied by Klöckner (Sarasota, FL).
"The application takes place at line speeds, with no adverse effects on efficiencies," says Brad Rostowfske, senior business manager for Sargento's consumer products. The package also maintains the geometry of the pack it replaces.
The retrofit unit is mounted between the unwind stand and the folding plow. It applies the Slide-Rite in three steps. The key to easy opening of the sealed bag is a tear notch that produces a clean tear of the bag's sealed hood, exposing the slider.
The goal, says company chairman Louis Gentine, was an easy-open, reclosable package for seniors and for children. In focus group testing, Gentine reports that 95% said they preferred a slider on the package. Pactiv reports it is actively seeking other licensees.
Companies in this article
Videos from Klöckner Pentaplast Pharma, Health & Protection and Durables