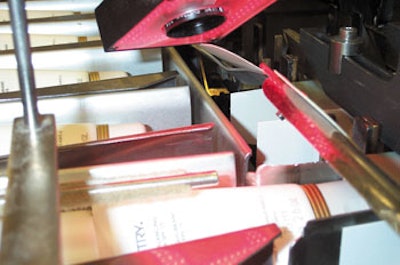 Ada, MI-based Access Business Group, Inc., uses economical vision sensors to bring its cosmetics operations new levels of speed, accuracy and automation. Access and sister company Amway Corp. are subsidiaries of Alticor Inc. Effective Oct. 24, 2000, Access is the new name for the research and development, manufacturing and logistics operations for Amway products.
Access uses F30 binary vision sensors from Omron Electronics (Schaumburg, IL) to confirm the placement of literature into cartons on three lines. On another cartoner's infeed, the F30 unit confirms label presence on lipstick and mascara tubes.
"Sensors are cheaper, smarter and more user-friendly than ever before," explains Bob Farmer, senior cosmetics facility engineer.
The units conform to Farmer's purchasing philosophy of "The Three T's." "They must require no time, no talent and no tools....they can't be too complicated," he sums up. Through a team approach, Farmer led the automation upgrades within the cosmetics operations.
Insertion confirmation
One key area where vision sensors have helped make Access' automation upgrades viable was with cartoners, which were upgraded from manual literature insertion.
"In the past, we've used four or five workers to place the literature into cartons, but for drugs and cosmetics, we've gotten away from that as it's crucial to place the literature and then confirm it with high accuracy," says Farmer. "Those lines are now automated."
Thus far, Access has installed the 510x492 pixel vision sensors on three German-made IWK (Fairfield, NJ) cartoners to check product literature as it is pushed into the carton.
For example, in fall '99, Access, whose operations were then under the name Amway Corp., began using Omron's mid-range F30 vision sensor on an IWK CP-80 cartoner. It had been upgraded earlier in the year with a German-made automatic literature insertion unit. Farmer says literature is included in about 90% of the cartoned products. The upgrade supplanted the visual confirmation that went along with manual insertion. The company needed to automate inspection, which Farmer says was a "real challenge," the biggest of which centered on figuring out where to locate the sensor (see sidebar). "At a rate of up to 80 cartons per minute, there's only a split second to check the literature as it's pushed into the carton," he notes. Farmer credits senior set-up engineer Bernie Waring for his efforts in the upgrade.
"The sensor must be versatile enough to read a range of folded literature, from thick inserts to some as thin as rice paper," says Farmer. And in various hues, too: Subtle literature hues interpreted successfully by the vision sensor in gray scale include off-white and even a yellowish-gold paper.
Access now has 100% inspection of every single carton for literature presence. When asked about the viability of the system, "the proof is in complaints from the field, and there have been none," Farmer replies. Before, when literature insertion was done manually, the company would occasionally receive a complaint about the lack of an insert, Packaging World is told.
More than lipstick service
Access also uses an F30 vision sensor for label presence installed this past summer on the infeed to an IWK cartoner for tubes of lipstick and mascara. A photocell was not practical for this application because the company wanted to do more than detect the presence of a label, Farmer says; it also wanted to check placement accuracy. He says they set the parameters for placement tightly, therefore they receive frequent false rejects. "It's a fail-safe system," explains Farmer, "as we even reject ones that are borderline good." Farmer reports that they reject several products out of every hundred. Rejected products are then manually inspected.
The F30's sensing head is mounted in a position beyond where a pressure-sensitive label is applied to the bottom of the lipstick tube. The circular, product-identifying label measures 7/16'' in dia. PW observed mascara being run, with gold labels preprinted in black ink and embossed online with a production code. Some lipstick labels are even smaller, just 3/8'' in diameter, Farmer says.
The sensing head is aimed at a small opening in the inclined metal infeed that holds the tubes just before they drop into a cartoner flight. The label can be seen through the opening.
The self-contained unit includes camera, light source, lens and controller. It carries a list price of $2긮 to which Access added a 9'' black-and-white monitor. The system offers 256-gray scale level inspection. The adjustable shutter camera has image capture speeds to 1/3000 of a second. It inspects labels on tube bottoms as they roll by at rates between 35 and 40/min. Those without a label are then tracked by the cartoner's PLC and rejected downstream.
Access' continuing vision for the future includes more of these low-cost vision sensors.
See sidebar to this article: A detailed look
Companies in this article