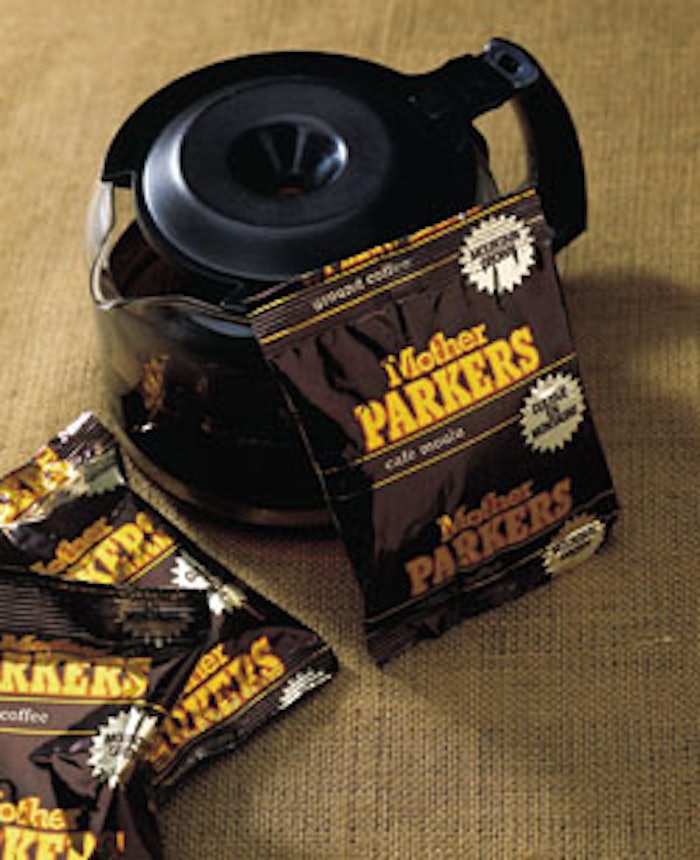 Hotel guests and restaurant patrons may not pay much attention to the individual packs those businesses use to make pots of fresh coffee. But Mother Parker's Tea & Coffee sure does. The Mississauga, Ontario, Canada-based firm recently added two vertical form/fill/seal machines to meet the growing demand for portion-packed ground coffee shipped to foodservice and institutional customers in both Canada and the United States. Mother Parker's uses the equipment primarily for the private-label brands it packages, though it also sells its own brands.
Added about two years ago, the two Model B-2 vf/f/s machines operate side-by-side in the Mississauga facility. They were supplied by Triangle Package Machinery (Chicago, IL). Mother Parker's purchased them through distributor M & M Packaging Associates (Richmond Hill, Ontario, Canada). Each machine is equipped with an auger filler from All-Fill (Exton, PA). The vf/f/s machines communicate with one another via an Allen-Bradley controller from Rockwell Automation (Milwaukee, WI).
The vf/f/s machines produce ground coffee packs ranging from 1 to 2 ? oz, each of which is sized to make one pot of java using institutional equipment. "As our business continued to increase, we needed more production capacity," recalls Manny Costa, the company's engineering manager. The tea and coffee maker runs each machine at 90 bags/min, so the two "paired" together deliver 180/min.
Pairing pays dividends
"We pair two machines less than a foot apart, to create a 'line,'" he says. "We believe that by having them programmed together, we can increase our efficiency. If one machine shuts down or if we shut it down for whatever reason, the other will continue to run. Pairing also saves on labor costs because one person can essentially handle the output of two machines, while a helper can change a film roll on the other."
The equipment runs 52 weeks/year, five days/week, on three daily shifts. Hundreds of varieties are produced, primarily for private-label brands, but also for different Mother Parker's blends. The paired machines produce up to 9ꯠ lb/shift, though the company won't divulge specific volumes.
Step-by-step process
From a grinder, coffee is conveyed through a filter/receiver before it's drawn by vacuum into a feed tank. Coffee is fed into the All-Fill B150 volumetric auger filler. Meanwhile, film is driven from an unwind around a forming collar. Heat is used to create a lap seal on the back of the pack.
Stepper-motor-driven vacuum pull belts pull the film downward on the intermittent-motion machine. Heated seal jaws create a cross seal that forms the bottom of the first "bag" on the film roll. The auger revolves, dumping the ground coffee into the bottom-sealed material. "The auger filler is preferable on ground coffee because it allows simple operation," Costa expounds. "We maintain accurate density of the coffee during grinding and roasting, and we control filling accuracy within one one-hundredth of a revolution."
The film is pulled downward a predetermined amount, and the heat-seal jaws seal the top of the filled film pack, simultaneously creating the bottom seal for the next pack. A knife cuts between the seal area, releasing the bag onto a discharge conveyor.
Mother Parker's uses different film structures from multiple vendors that it prefers not to identify. The 1 ?-mil structures often include metallized nylon or polyester laminated to a sealant layer of linear low-density polyethylene or LDPE. Product shelf life is six months. Price, availability, as well as barrier properties and strength all factor into material/vendor decisions.
Costa points out that nitrogen flushing is done at three points during the filling process: in a cone-shaped hopper near the top of the machine, near the forming collar and at the cross-seal area. That's the only way to get sufficient nitrogen in to displace the oxygen, he points out. "Otherwise, we'd have to blow so much nitrogen in at one spot that the coffee could fluff up and prevent us from getting a good seal. If little particles of coffee land in the seal area, the bag could leak."
Downstream functions
Mother Parker's had Triangle customize the controls for the filling machines in a "master/slave arrangement." The machines are synchronized primarily for counting purposes. That's important because the company usually packs 128 or 64 bags into each corrugated shipping case. With the paired fillers producing 180 bags/min, synchronization of the machines helps operators keep pace downstream.
The side-by-side machines are mounted about 18" off the floor. Each filled and sealed bag is counted by a counter mechanism in the machine's control system. By synchronizing the two fillers, "they know what the target count is and can pick up the count if one machine goes down," says Costa. "So if we have a target count of 128 bags and one machine stops when 60 has been reached, the other machine picks up at that count."
Bags from both machines discharge onto a chute made and installed by Mother Parker's. The chute allows bags to fall onto one of two parallel conveyors that run perpendicular to the B-2 machines. The conveyors are manufactured in Sweden but were assembled and installed by Tops Conveyor Systems (Burlington, Ontario, Canada). A conveyor carries bags about 8' around a corner where they descend into an open shipping case.
"When we reach the targeted count, the machines are set for about a half-second pause so that the discharge chute diverts bags to the other conveyor," Costa says. "The operator can take the filled case and move it aside and set up a new case for the other conveyor."
The worker slides the filled box onto an off-line case scale that verifies the proper weight. If the weight is off, a bag will be added or removed. An automatic taper uses pressure-sensitive tape to shut cases, which are manually palletized. Pallets are taken by a forklift truck to an automatic stretch wrapper in another part of the plant to ready the load for distribution.
Sales forecasts purchases
The B-2 machines represent the fourth "set" of Triangle vf/f/s machines Mother Parker's has added to the facility in the past 12 years. Each set was installed in response to growth in projected sales.
"We evaluated equipment features and pricing," says Costa. "There were others that could keep up with these for speed, but for various reasons and benefits, we selected the Triangle machines. They're not the cheapest, nor the most expensive machines, but they are rugged. They've been easy to maintain, and they're a good value for the money."
Gaining efficiency
Along with four sets of paired Triangle machines, the Mississauga plant still uses some aging vf/f/s units. Compared to them, the new Triangle machines are both faster and more efficient. While each B-2 runs the small bags at 90/min, the other machines operate at 55/min. "They're single machines, and if you monitor them closely, they work okay. But they're old workhorses and parts are hard to find, and they're difficult to service. They can't keep up with the Triangle machines, which offer us much better economics," Costa explains.
He adds, "If we don't do many changeovers, the Triangle machines run at close to 90-percent efficiency." Changeover frequency varies at Mother Parker's, depending on customer orders. "If we have one long run from a major customer, we could run it the whole week," he says. "But there are other times where we might make as many as 10 changes a day. We try not to change the width of the film in the machine so that when we run, all we need to do is splice in a new roll. There are many factors that we have to consider as a contract packager."
Quantifying the advantages of the Triangle equipment, Costa says, "We can run the equipment faster [than the older machinery] and improve our output. And the efficiency is much better because there are few breakdowns. So we've increased our uptime by as much as 15 percent. Now, we're using our older equipment for smaller runs.
"The new Triangle machines provide labor savings for us because our operator costs-per-pound of coffee are much less," he says. "I would say we save almost 50 percent in labor costs compared to the older machines. We do what's best for the company, and we've been very happy with these machines," he concludes.
See sidebar to this article: New Texas plant turns to vf/f/s machines
Companies in this article