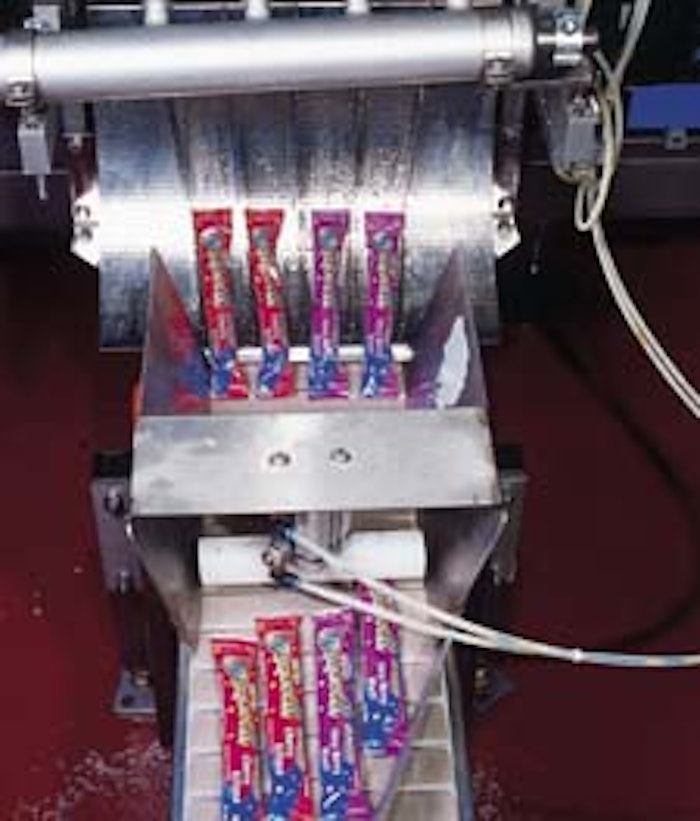 Perhaps the most recognizable characteristic of Stonyfield Farm's Yo Squeeze™ yogurt tube is what can't be seen: a fin seal or a lap seal on the bottom of the package. Instead, Yo Squeeze tubes rely on a separate strip of unprinted film that's heat-sealed inside the pack where the two edges of the outer printed film "butt" together.
The seal is much like taking a piece of notebook paper and joining the two long sides together to form a tube shape, then taping the two sides together on the inside.
This unusual "butt seal" is created on an SVL 16/24 vertical form/fill/seal machine from Hassia (Morganville, NJ). Londonderry, NH-based Stonyfield Farm is the first U.S. user of this SVL (stick/vertical/liquid) machine in a yogurt application. The equipment is used exclusively for Yo Squeeze, an all-natural children's yogurt introduced last July (see Packaging World, July '00, p. 2, or packworld.com/go/yosqueeze).
The inside film strip and the outer film are supplied by Curwood (Oshkosh, WI). The 4½-mil strip structure includes a 2-mil coextrusion of linear low-density polyethylene/48-ga oriented polyester/2-mil LLDPE coextrusion. The material is heat-sealed to the 3-mil outer printed film that includes a 1¾-mil layer of coextruded LLDPE and white (for additional opacity) ethylene vinyl alcohol/10# white PE extrudate/48-ga polyester that's reverse-printed flexographically in eight colors.
The printed film's oxygen barrier is 5 cc/100"2 per 24 hrs at 73°F and 80% relative humidity. Moisture vapor transmission ratio is 0.5 g H2O/100"2/24 hrs at 100°F and 90% RH. For the inner film strip, the O2 barrier is 9 cc/100"2/24 hrs at 73°F and 50% RH. MVTR is ½ g H2O/100"2/24 hrs at 100°F and 90% RH. Stonyfield Farm selected the oxygen and water vapor barrier properties of the film based on Curwood's recommendations for the product, according to John Daigle, Stonyfield Farm's vice president of operations.
Differentiation
"The butt-seal technology makes a firmer tube and a nicer-looking package," believes Daigle. "We also like not having a fin seal, because it's easier on the mouth for children, because there's no fin seal that sticks out. It's even more noticeable if you put the tube in the freezer and eat the product frozen, where the fin seal would be harder." Yo Squeeze is targeted toward kids aged 6 to 12.
Sold in the refrigerated dairy case, with a pull date 50 days from date of manufacture, Yo Squeeze can be consumed refrigerated or frozen. Stonyfield Farm sells eight stick packs in a colorful folding carton (see sidebar p. 69). Three flavor combinations are sold, with suggested retail prices ranging from $2.39 to $2.69. The yogurt rolled out initially on the West Coast, moving eastward to Stonyfield's largest customer base on the other coast. The gradual rollout was conducted so that as yogurt production capacity increased, it would match the product's sales demand.
The "invisible" butt seal helps to differentiate the pack from General Mills' Go-Gurt™ brand of yogurt, which Daigle says uses a fin seal. Minneapolis-based General Mills' Yoplait Div. debuted Go-Gurt in '98 (see PW, Oct. '98, p. 200, or packworld.com/go/yoplait-gogurt).
A key advantage the seal provides is extra space for graphics. "The outside looks very nice and helps give us a pack with a strong graphics presentation," adds Daigle.
Yo Squeeze was developed after "we saw what was going on with Go-Gurt and how well it was doing," Daigle recalls, "and we started talking about putting yogurt into a tube." And why not? Go-Gurt supermarket sales topped $118 million for the 52-week period ending Sept. 10, 2000, becoming the fifth-ranked refrigerated yogurt brand according to Information Resources (Chicago, IL).
Stonyfield believes Yo Squeeze is the first offering to compete with Go-Gurt. "Children's products show some of the strongest sales growth going on, and we've experienced it with our multipacks [of yogurt cups for kids]," Daigle says. "And convenience is the big issue in packaging right now," he says. "People are looking for the ultimate in convenience and a stick pack offers just that. You don't need a spoon, and the pack is portable. And because Yo Squeeze is all-natural, without gelatins or starches, we decided we could provide an alternative."
Creating the seal
Yo Squeeze is produced at Londonderry, where separate unwinds are used for the printed film and the film strip. Above the filling area of the Hassia machine, both webs are slit into four individual lanes to accommodate four-up filling. The process is similar to most vf/f/s machines, but instead of forming around a large collar, the film forms around a stainless-steel tube.
The 8-mm-wide (0.31") film strip is fed continuously between the tube and the film, precisely along the longitudinal area where the two edges of the printed film meet. The strip overlaps both film edges and is heat-sealed tightly across the area where those two edges butt up against each other. The sealing is completed by a seal bar that contacts the printed film precisely along the vertical plane where the film strip joins the film edges. The combination of heated seal bar pressing the film against the stainless-steel tube creates the butt seal. The horizontal heat-sealing jaws below the fill area pull the material down one tube length with each cross seal.
Two flavors at once
Once the horizontal cross seal is made, filling begins in all four lanes. Yo Squeeze is available in three varieties: Strawberry Stratosphere, Rocket Raspberry/Planetary Punch and Cherry Eclipse/Very Berry Blast. To accommodate the two-flavor varieties, both Hassia machines are equipped with two separate product tanks. One hopper feeds yogurt into a manifold that delivers it to two positive displacement piston filler heads, while the second hopper feeds the second flavor through a manifold to the other two filler heads. The servo-motor-driven filler system helps deliver accurate fills of 2 oz (57 g) per tube.
After filling, the horizontal sealing jaws move upward, to grip the material and pull it downward while they make the heat-seal for both the top of the filled tube and the bottom of the next tube. The assembly is outfitted with two knives. One cuts an easy-open tear notch into the seal area while the second knife separates the sealed tube from the web. Four tubes fall at once through a discharge chute onto a conveyor for downstream packing operations.
Compliance issues
Compared to some of its yogurt competitors, Stonyfield Farm is a fairly small company. Its modest size, however, provides the advantage of being nimble. Once it decided to produce yogurt in a tube, or stick, it moved swiftly to find the appropriate packaging equipment.
Trouble was, both the materials and machinery had to be approved for what Daigle describes as "Grade-A" sanitation requirements that require compliance with the Food and Drug Administration's Pasteurized Milk Ordinance and satisfying the needs of the Interstate Milk Shippers so that product could be shipped out of state.
"There had been so little yogurt in a flexible package before that we didn't have many options available to us either in materials or equipment to conform to the various compliance issues," he recalls.
Stonyfield's first step was to find suitable f/f/s equipment. "There was really only one company," he says. "We went to them first, but they had an exclusive arrangement with Go-Gurt."
The company evaluated several other vf/f/s suppliers. Daigle says he attended the Worldwide Food Expo in Chicago last fall and talked with Hassia. The supplier was the only one to pass muster. "They make vertical machines and they understand what PMO is. They have PMO machines in the U.S. that make coffee creamers and portion packs. No one else had that combination," Daigle reports. On the materials side, Daigle says, only Curwood had some experience with Hassia.
Future looks strong
Since its introduction, Yo Squeeze has done well. "We had our first machine installed last June," Daigle explains. "We realized how strong our opportunity was for Yo Squeeze, and we wanted to maximize that, so we bought a second SVL 16/24 in August."
Both machines run five days/week, on two shifts. Asked about payback on the equipment, Daigle says, "return on investment is something we keep to ourselves, but it should provide a quick return." ROI is based in large part on promising sales forecasts for the product.
"We're a pretty small company, so making this kind of investment was a huge gamble for us," Daigle asserts. "We worked with a German company whom we'd never dealt with, making a product that we never made before in a package format we'd never tried before. We weren't sure what was going to happen. But the convenience, the differentiation, the product attributes and the growing children's market provide the biggest opportunity for yogurt and we made the leap of faith."
See sidebar to this article: Cartoner delivers downstream
Companies in this article