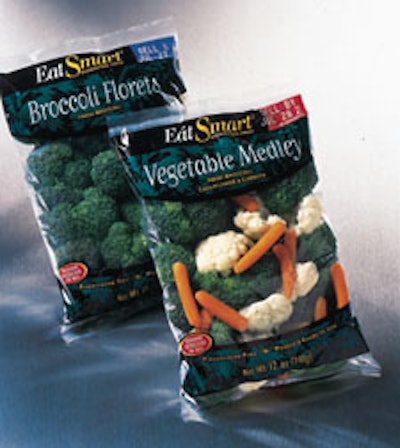 Already a leader in the marketing of fresh-cut produce, Apio of Guadalupe, CA, has expanded its "Eat Smart" product line yet again (see Packaging World, Sept. '99, p. 22, or packworld.com/go/apio). A 12-oz package is produced from rollstock on vertical form/fill/seal machines. Seven varieties, available in more than 4ꯠ supermarkets and club stores nationwide, sell for about $1.99 each, says Apio CEO Nick Tompkins. Shelf life is 17 days.
Like the other items in the Eat Smart Line, the new package incorporates the Intellipac™ patch from Apio's parent company, Landec (Menlo Park, CA). Applied to the rollstock, which Landec describes as "a 2-mil oriented polypropylene lamination with anti-fog properties." The patch optimizes oxygen ingress and carbon dioxide egress according to the vegetable in the pack and prevailing temperatures. As temperatures rise, produce respires more rapidly, so the patch allows oxygen in and carbon dioxide out at a higher rate.
Landec applies the Intellipac patch to the bag material and then sends it to an unidentified converter for flexo printing in six colors. Secondary packaging is a simple, unwaxed, corrugated shipper requiring no ice. Bags are packed either nine or 12 per shipper.
Companies in this article