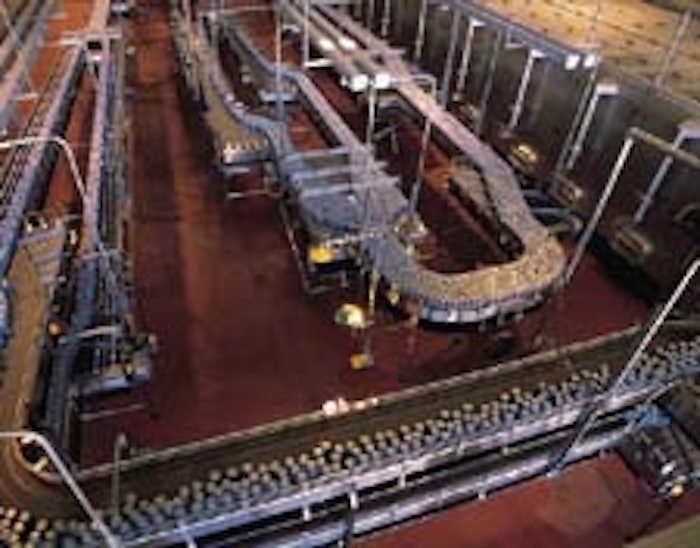 With an output of 1ꯠ bpm of beer on one packaging line alone, Canada's Toronto-based Labatt Breweries has no time for shut-downs and no room for errors. In early 1998, though, aging drive technology throughout the conveyor network in Labatt's London, Ontario, plant and a lack of network communications forced periodic system shutdowns that were untimely and difficult to correct.
Labatt partnered with drives manufacturer Rockwell Automation (Milwaukee, WI) and systems integrator SNA Automation (Waterloo, Ontario, Canada) to improve packaging line speed, diagnostics, motor control and communications.
The solution meant upgrading conveyor systems on multiple lines with Rockwell's compact Allen-Bradley variable-speed drives that are networked via DeviceNet™. Redesigned operator interface screens have brought simpler programming and troubleshooting, too. Overall line control and network communications were also enhanced.
Benefits include centralized control from a central human/machine interface (HMI) along with system status updates and trending information. Changeout of drives is also simplified on the rare occasions when one needs replacing.
With an annual production capacity equivalent of 28 million 24-count cases of 341 mL (11.53 oz) bottles, the London brewery brews and packages around a dozen major brands such as Labatt Blue and John Labatt Classic. The facility operates four packaging lines, three dedicated to glass bottles and one for cans. Each glass line comprises several intricate conveyor systems to guide bottles through the cleaning, filling, crowning, pasteurizing, drying, labeling and secondary packaging.
Essential monitoring
"It's essential for us to be able to monitor the conveyor system as bottles run through the line," explains Bruce Padfield, packaging engineer, Labatt Breweries of Canada. "Without accurate control of motors, we risk damaged or wasted product, which means lost revenue."
To improve motor control and monitoring capabilities on one glass line, Labatt worked with SNA Automation to integrate more than 120 Allen-Bradley Smart Speed Controller AC drives. With horsepower ranging from ¾ to 1 ½ hp, the drives control the speed of conveyors as bottles move through the filler and labeler. The drives are housed in control cabinets near the area of the line they control.
All drives are networked via DeviceNet, software that makes programming and troubleshooting possible right over the network from a centralized operator interface (see sidebar). Operator interface hardware consists of Rockwell's new Allen-Bradley RAC6000 series industrial computer. Rockwell Software RSView32™ HMI software runs on this PC, which is located near the filler. The RSView software, with its graphical interface on a 21'' touchscreen, "supervises" the entire line starting from the beer supply tanks.
On one of the production lines, the upgrade to the new HMI system involved the reconfiguration of 4ꯠ "tags" on nearly 40 screens. A tag refers to any single PLC input/output signal such as the tripping of a sensor.
"We worked closely with Labatt engineers to identify the information that plant maintenance personnel needed to access from the system," notes Fritz van Vlymen, SNA senior electrical designer. Drive information easily accessible from the HMI includes the fault status of all drives in the panel. This permits easy identification of any drive problems, along with fault messaging.
'Simple access'
Frequently used parameters such as acceleration, deceleration, maximum frequency and overload current are also displayed. Changes can be made without opening up a panel door or reading a user manual, van Vlymen emphasizes.
"On the new system, each drive is assigned a number that corresponds with a conveyor," says Ron Schiepan, packaging maintenance manager. "Because all of the drives communicate over the DeviceNet network, operators can simply access a conveyor via the operator interface, then access the corresponding drives on that conveyor for information on faults or parameters."
Previously, the conveyors' speed was managed by drive/motor combinations that didn't have networking capabilities. Engineers had to go from drive to drive to make operational adjustments.
This setup also made drive replacement time-consuming and costly. Although a rare occurrence, Shiepan says, operators spent as much as an hour removing a failed drive and replacing it. That's because each new drive required reentry of every parameter and configuration that had been modified since the original drive installation.
The Allen-Bradley drives allow operators to save and store parameters remotely—a key time saver for installation and troubleshooting. The networked drives are constantly polled, with parameters saved back to the system's Allen-Bradley PLC-5™ controllers. Thus, when a new drive is installed, the previous settings are downloaded from the PLC. Typically, a dedicated PLC controls the conveyors, but in some cases conveyors adjacent to the machine are controlled by the machine PLC. Drive replacement now takes just minutes.
Because SNA Automation prebuilt and integrated much of the drives cabinet, which took about six weeks, commissioning of the new conveyor drives took only a few days—helping Labatt to reduce costly downtime.
Prior to the system start-up, SNA Automation conducted an on-site training class, which helped introduce operators to the system.
See sidebar to this article: Sophisticated HMI
Companies in this article