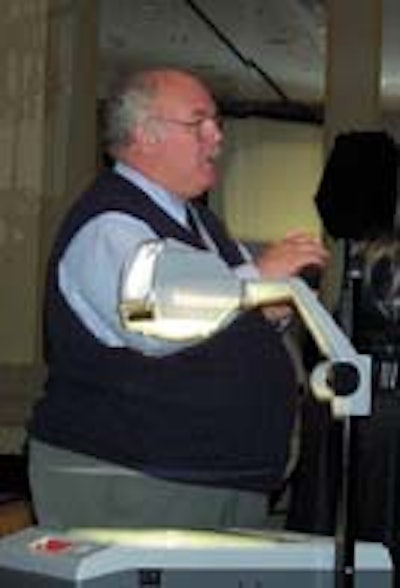 It's easy to get caught up in the frenzy that some have hailed as "the e-commerce revolution." But what implications will e-commerce have regarding the packaging function? Packagers, suppliers and logistics companies made presentations related to that topic at a June conference called Packaging for e-commerce direct-to-consumers.
Held in San Francisco, the conference was hosted by Michigan State University's School of Packaging. Joe Kornick, principal at packaging design and development firm KornickLindsay (Chicago, IL), chaired the event. Packaging World sponsored the program.
More than 140 people attended the conference, a figure considerably higher than the 80 to 100 originally anticipated by MSU. The strong turnout appears to support the escalating interest in everything e-commerce. It's also prompted MSU to host another conference on the topic (see sidebar).
Among the notable packaged goods manufacturers sending representatives to the recent conference were: The Coca-Cola Co., Ralston-Purina, Ross Products, Motorola, Hewlett- Packard, Nestlé USA, General Mills, Con Agra Grocery Products and The Clorox Co.
While all speakers at the conference addressed the e-commerce subject, this report focuses on presentations given by packagers Reflect.com and Ethan Allen.
'Whole new environment'
Thomas Lowery, manager of the diagnostic research lab for Danbury, CT-based Ethan Allen, told the audience that e-commerce represents "a whole new and different environment" compared to traditional product distribution.
Ethan Allen is well-known for its home furnishing retail stores. But in the last year the company quietly began to make its goods available for purchase on its www.ethanallen.com Web site. Before it did that, Lowery said the company had to take a hard look at its packaging.
Much of the packaging challenge at Ethan Allen stems from the diverse sizes and weights of the products it, and its outside vendors, make. These range from smaller accessories such as pictures or pillows to large upholstery items and wooden furniture.
"We use corrugated, polyethylene, polypropylene, polystyrene, newspaper—nearly every material you can think of," Lowery said. "And we found that one of the biggest problems we had to overcome was package consistency.
"We use different materials in different countries," he continued. "We found that loosefill didn't work for certain lines. And in foam-in-place, we found that while one package would have enough protective material, another might only have a half-inch of foam between the product and side of the shipping case instead of the two inches it needed, so the item failed [was damaged]."
Lowery told the audience members that the home furnishings company decided to form an alliance with Sealed Air (Danbury, CT) to develop materials that could be used to consistently safeguard shipments in transit.
Making 'switches'
Before it offered products on the Web, Ethan Allen had to make four key changes, or switches, as Lowery called them. The first, he said, "was that we had to make sure every item we were going to sell on the Internet was designed to go through the small-parcel environment. That's a rough environment, and we had to develop a relationship with a small-parcel carrier of our choice." The company selected United Parcel Service (Atlanta, GA).
The second switch was to verify that there was inventory of the item. If so, "we'd bring it online," he noted. The third switch concerned products passing rigorous certification testing to make sure they measured up to Ethan Allen's criteria for the small-parcel environment. The tests are based on a variety of established shipping standards for the furniture business, as well as internal company testing. There are different tests for different products. If product passes its test(s), it's one step closer to becoming available for sale on the Web site. The fourth and final switch, said Lowery, was for Marketing or Advertising to develop the appropriate information on the product about to be sold through cyberspace.
Distribution system changes
Ethan Allen also developed special standards for packing Internet orders. To accommodate e-commerce orders, Lowery said the furniture maker employed special cantilevered racking systems, mechanical hand trucks, multi-level conveyors, sensors and shrink tunnels to make its downstream warehousing functions more efficient. For example, Lowery pointed out that "we used to hand-shrink, and it took us 15 minutes to pack a sofa and six or seven minutes to do a chair. With a shrink tunnel, we can do those in a minute. And instead of inventorying product, more and more we're going straight from manufacturing into a truck."
With the prodding of e-commerce, the company also made changes to the way it handles product shipments. "Before we handled things in bulk," Lowery noted. "Now we have to handle them individually. For example, we have 7ꯠ lamps. We had to come up with five packs to fit all those lamps in our system. And we only have four tray sizes to fit every sofa we make. They're designed to fit in a trailer so that they use the cube perfectly.
"We have mixed loads with lamps, pictures, upholstery and cased goods," he added. "And we have a guarantee that we'll get an order to a customer in 10 days. We've revamped the whole distribution process—anything to do with efficiency and speed."
Ethan Allen has also made it easier for its stores or consumers to return damaged goods. "We've looked for materials that make it easy for consumers or retailers to pack back into a box to protect the product," Lowery explained. "They really haven't any packaging expertise, but if we make it simple and minimize the types of materials, they're able to repack it properly and send it back to our distribution center."
One way to simplify the return of orders to company DCs is through the use of Sealed Air's Instapak® Quick™ foam packaging material that is used to make different-sized bags to cushion such shipments.
All of these actions helped Ethan Allen overcome its concerns about Internet orders, which were understandable. "This was the first time that we were not going to be able to control our total environment," Lowery recalled. "Once we start shipping [via a small parcel carrier], it's out of our control. We became very scared about that. We had to make sure that the design and construction of the packaging met that type of environment."
Differentiation
Consumers receive Ethan Allen furnishings in corrugated containers with little, if any, graphics. Lowery cited studies that showed that the possibility of theft was greater when shipping cases used graphics because people then could determine what was in the case. On the other hand, he says Ethan Allen is aware that other companies, like Gateway, have used external graphics as a marketing advantage.
While Ethan Allen feels somewhat torn on the use of graphics on secondary packaging, San Francisco women's beauty "e-tailer" Reflect.com makes it quite clear that graphics are a vital part of the consumer experience with the company's product, for both primary and secondary packaging.
Alex Zelikovsky, chief logistics officer for Reflect.com, developed the logistics operation that ships the company's custom women's beauty products direct to consumers who order them on the www.reflect.com Web site. His mix of Internet and logistics savvy gives him an interesting perspective on what e-commerce means to packaging. He shared some of his thoughts as the keynote speaker at the June conference.
"Mass customization" is how Zelikovsky referred to the company's approach to packaging. In other words, personalizing packages on a widespread basis. "The product and package is made to order for the individual consumer after she orders it." As reported last month in PW, reflect.com consumers can select among closure styles and container graphics after customizing hair or skin care products (see PW, July '00, p. 46, or packworld.com/go/reflect.)
In an exclusive interview with PW, Zelikovsky noted that business-to-consumer (B2C) packaging requires "packaging a product for a specific order and making sure it arrives in pristine condition every time and making it part of the consumer experience."
Possible scenarios
While it's difficult to gauge how much packaging will benefit from e-commerce orders in the future, the potential looks strong. In one of his presentations, Joe Kornick cited research from The International Data Corp. On a global scale, IDC forecasts B2C growing from $31 billion in '99 to $178 billion in 2003. IDC also forecasts B2C spending in the U.S. will soar from $24 billion last year to $75 billion in 2003. At another point, Kornick cited Forrester Research estimates that the 3 million e-commerce-ordered packages delivered per day last year will more than double to 6.5 million in 2003.
If those numbers prove fairly accurate, substantial changes may be in store for packagers trying to accommodate consumer Internet orders. Most of these will be in the areas of warehousing and distribution. Materials that will likely be in greater demand for B2C packages include corrugated cases, shrink film, dunnage products, tape and labels.
Not surprisingly, suppliers of some of these materials gave presentations at the San Francisco conference. The first speaker, for example, was Ken Hinett from Pactiv (Lake Forest, IL). His focus: Sell it on the Internet, Get it there with Packaging. Sealed Air's Bill Armstrong and Scott Douglas addressed Problems in packaging materials and methods for direct-to-consumer e-commerce/internal material supplies.
E-commerce's focus on individual packages also means breaking from traditional pallet load shipments. That's likely to increase the need for logistics and delivery firms. At the conference, presentations were delivered from representatives from FedEx and UPS. Other speakers represented a research firm, supply chain management and an online business-to-business (B2B) packaging materials procurement company. For more information on the conference, contact Dr. Robert LaMoreaux at MSU by phone at 517/355-3603, or by e-mail at lamoreau@msu.edu.
See sidebar to this article: E-commerce, take two
Companies in this article